These Cardamom Scones are tender and light and buttery and sweet without being too rich or cloying. Use a cookie cutter to make hearts or other shapes.
E
verywhere I look, I see hearts, pink and red and perfect in their symmetry. No breaks, no bruises, no scars. In February, it seems, only flawless hearts will do.
But let's be honest: hearts fracture, hearts break, hearts shatter. If you tell me your heart beats free of baggage, I'll call you a liar.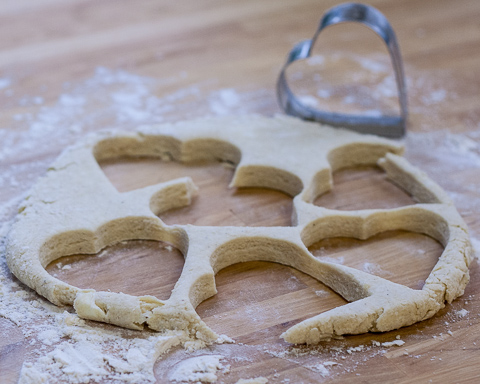 I'm not suggesting that anyone dwell on heartache. I think, rather, that we should acknowledge heartbreak's role — albeit a painful one — in shaping who we are. Our hearts' scars and imperfections give us empathy and compassion. They teach us how to love.
In honor of scarred hearts, healed or otherwise, I give you heart-shaped cardamom scones.
These scones enter the oven symmetrical and flawless but emerge less than picture perfect. They may be crooked and cracked, but they're also tender and light and buttery and sweet, all without being too rich or cloying. And the black specks of cardamom that mar their surface also infuse them with flavor that pairs marvelously with strawberry jam.
Here's the best part about them: their most desirable qualities spring from imperfection. If you mix and mix the dough into submission, incorporating the ingredients into a perfectly uniform consistency, the scones bake into smooth, unblemished hearts as dense as stone. But a gentle touch and respect for the dough's uneven and ragged terrain cultivates a delicate texture that makes them well worth eating.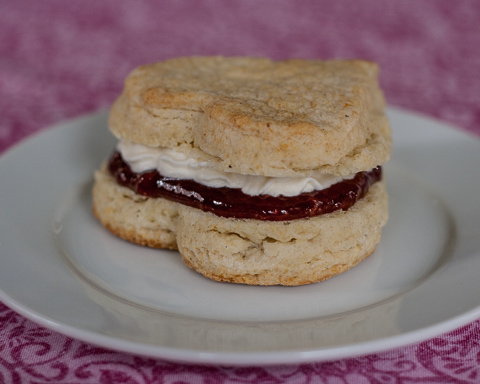 I understand how tender attention and care work with dough, and I'm thinking this approach might yield a more delicate texture with real hearts as well. Treating our hearts' flaws and fissures with a little gentleness instead of trying to beat them into submission might do us all some good. Let's learn a lesson from the scones.
Happy Valentine's Day from my imperfect heart to yours.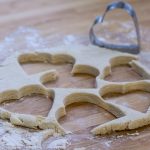 Print Recipe
Cardamom Scones
Ingredients
2

cups

unbleached all-purpose flour

1

tablespoon

baking powder

3

tablespoons

sugar

1/2

teaspoon

salt

1/2

teaspoon

ground cardamom

5

tablespoons

cold unsalted butter, cut into 1/4-inch cubes

1

cup

heavy cream
Instructions
Combine flour, baking powder, sugar, salt, and cardamom in the bowl of a food processor fitted with the metal blade. Whirl for several seconds to combine.

Remove the lid and scatter the butter evenly over the dry ingredients. Cover and process with 12 to 15 short pulses of about 1 second each. The mixture should resemble coarse meal and retain some peanut-sized lumps of butter.

Transfer the mixture to a large bowl and drizzle the heavy cream evenly over the top. Stir with a spatula until the dough begins to form. Turn the mixture out onto a large piece of plastic wrap. Use the plastic wrap to help you bring the dough together; fold the edges toward the center and press down until it holds together, taking care not to overwork the dough.

Roll the dough about 3/4 of an inch thick. Cut as many 3-inch hearts as you can. Re-roll the scraps and continue cutting hearts. Alternatively, pat the dough into a 3/4-inch thick circle; cut the dough into 8 wedges. Transfer cut scones to a parchment-lined baking sheet and bake in an oven preheated to 425° F until pale golden, about 12 to 15 minutes. Cool on a wire rack for at least 10 minutes before eating.
Some of the links in this post are affiliate links. If you click through and make a purchase, I earn a small commission for my referral at no additional cost to you. Thank you for supporting Flour Arrangements.