The deep sweetness of salted-caramel frosting pairs perfectly with the intense chocolate flavor in these triple chocolate cupcakes.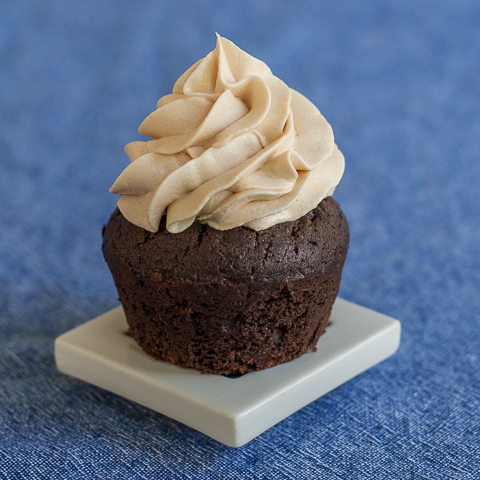 C
upcakes. They're small, awesome, and delicious. Baking a batch of tiny cakes seems like the perfect solution when, for no special reason at all, you find yourself in need of a little treat.
But then you remove two dozen cupcakes from your oven. You realize that you want to eat every single one, especially once you've topped them with salted caramel frosting. Your solution has suddenly created a new and dangerous problem.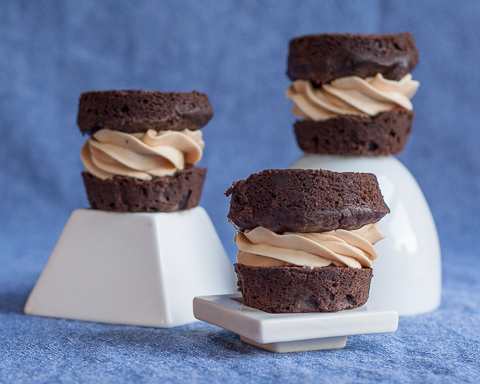 Weeks later, after you've sufficiently recovered from your binge and feel the need for another cupcake, you remember the error of your ways. You decide to make a half recipe but despair when you realize that you need to figure out — while plagued with low blood sugar — how to split three eggs in half.
If this resonates with you, rejoice! This triple chocolate cupcake recipe bakes into 12 perfect cupcakes. The thick batter spoons easily into greased muffin cups without making a huge drippy mess, a major benefit, especially if small children like to assist you in the kitchen. Since these cupcakes pop right out of the pan so easily, I usually skip cupcake liners, but you can use them if you like.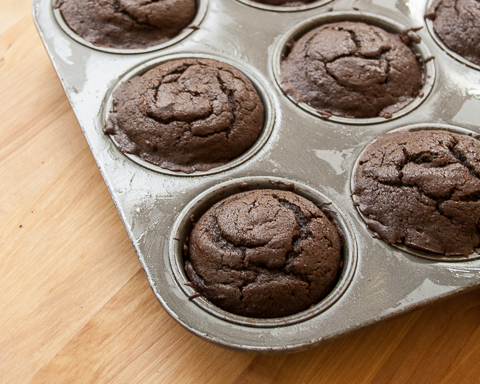 Once baked, these cupcakes cool right in the pan, making it easy to tuck them out of harm's way and/or transport them to a friend's house if you choose to share rather than hoard them all for yourself.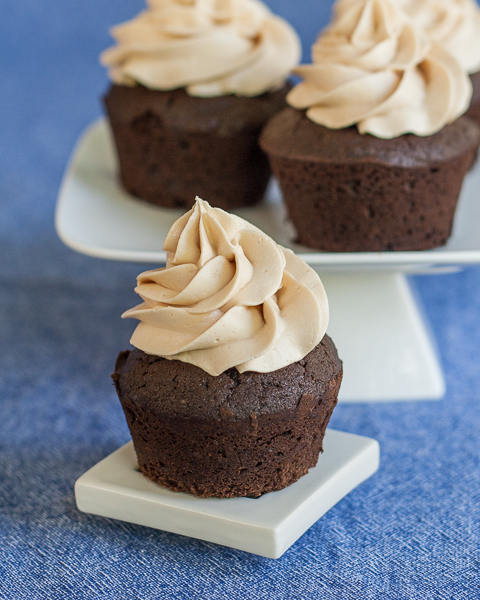 Now that we've dispensed with the problem of too many cupcakes, let's solve the age-old cupcake-eating conundrum of how to balance the frosting-to-cupcake ratio in every single bite while keeping your nose clean.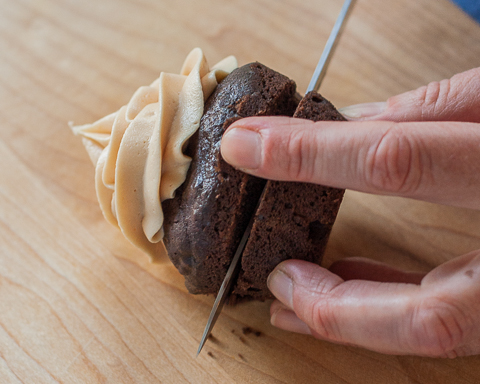 A quick lengthwise slice through the cupcake's middle enables you to flip over the frosted top and, with a few deft movements, transform it from cupcake to dessert sandwich. This distributes the airy frosting evenly throughout your cupcake and keeps it away from your face while you indulge. Once you try it, I swear you'll never eat a cupcake any other way.
The deep sweetness of the salted-caramel frosting pairs perfectly with the intense chocolate flavor that comes from a blend of cocoa powder, baking chocolate, and semi-sweet chocolate chips. After your first bite, you may well regret that you decided to bake a mere 12 cupcakes.
But despair not; it turns out that baking an even dozen of these cupcakes — for no special reason at all — works out perfectly after all. Shared among family or friends, these chocolate cupcakes with salted caramel frosting are gone before you can possibly over-indulge.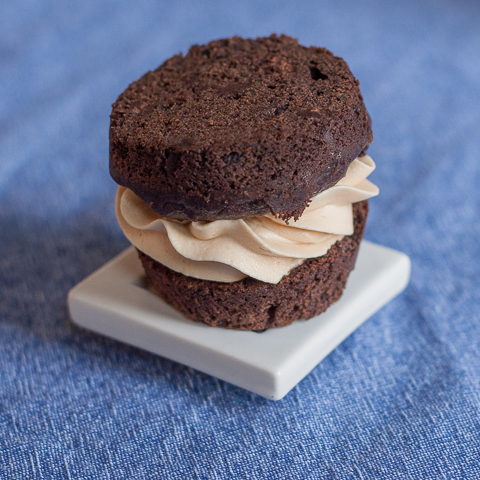 Triple Chocolate Cupcakes with Salted Caramel Frosting
Using mini chocolate chips makes it much easier to slice the cupcakes in half for dessert sandwiches. If you don't have minis on hand, substitute an equal amount of regular chocolate chips and take extra care if slicing to keep the cupcakes intact. Frosting recipe adapted from Gimme Some Oven.
Print Recipe
Triple Chocolate Cupcakes with Salted Caramel Frosting
Ingredients
For the cupcakes:
2

ounces

unsweetened baking chocolate

chopped

1/2

cup

buttermilk

1

cup

unbleached all-purpose flour

1/4

cup

unsweetened cocoa powder

3/4

teaspoons

baking powder

1/4

teaspoon

baking soda

1/4

teaspoon

salt

6

tablespoons

butter

softened but still cool

1

cup

granulated sugar

2

large eggs

1

teaspoon

vanilla extract

2/3

cup

mini chocolate chips
For the frosting:
1/4

cup

sugar

2

tablespoons

water

1/4

cup

heavy cream

1

teaspoon

vanilla extract

1/4

teaspoon

salt

3/4

cup (1 1/2 sticks)

butter

softened but still cool

2

cups

powdered sugar
Instructions
To prepare the cupcakes, warm baking chocolate and buttermilk in a small saucepan over low heat, mixing occasionally, until the chocolate has melted and the mixture is evenly combined. Turn off heat and set aside.

Whisk together flour, cocoa powder, baking power, baking soda, and salt in a small bowl. Set aside.

In the bowl of a standing electric mixer, beat butter and sugar together on medium speed until light and fluffy, about 5 minutes. Add eggs, one at a time, mixing well after each addition. Continue beating until creamy and smooth, about 2 minutes more. Add vanilla extract and mix to combine.

Add half the flour mixture and stir briefly before stirring in the buttermilk-chocolate mixture. Add remaining flour mixture and chocolate chips, stirring until just combined. Divide batter evenly among 12 greased or paper-lined muffin cups.

Bake cupcakes at 350° F for about 20 minutes, until well risen and a skewer or toothpick inserted into the center of one emerges with nearly done-looking chunky crumbs clinging to it; if the consistency looks gooey, continue baking for another minute or two.

Set pan on a cooling rack and cool cupcakes completely in the pan. Just before frosting, insert a thin spatula down the side of each cup to help you lift cupcakes from the pan.

To prepare the frosting, combine sugar and water in a small saucepan. Bring to a boil over medium-high heat, cooking without stirring until the mixture turns dark amber in color.

Remove sugar mixture from heat and slowly add the cream, stirring carefully with a wooden spoon until combined (the mixture will steam and bubble up quite a bit). Add vanilla and salt and stir until completely smooth. Set the caramel sauce aside, uncovered, until cool to the touch, at least 30 minutes.

In the bowl of a standing electric mixer fitted with the paddle attachment, beat butter on medium-high speed until light and fluffy, about 3 minutes. Reduce speed to low and add powdered sugar, mixing until completely incorporated. Turn off the mixer and scrape in the caramel sauce. Beat frosting on low speed to combine before increasing the mixer speed to medium-high. Beat until airy and evenly mixed, about 2 minutes. If the frosting seems too soft to use right away, refrigerate for 10 to 20 minutes to stiffen it up a bit.

Pipe frosting atop the cooled cupcakes or frost them generously with a small spatula. Refrigerate to set the frosting, if desired.