Lemon and raspberry's flavors play off one another in these moist, tangy lemon-raspberry muffins.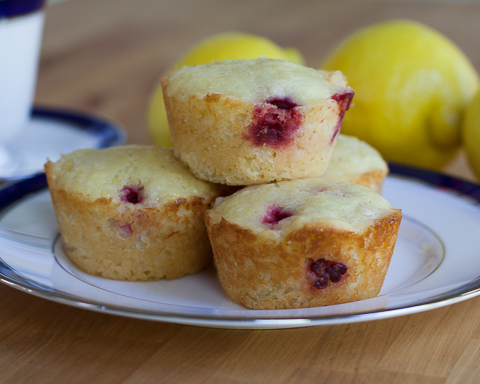 We spent most of last weekend digging and planting in our front yard. Bit by bit, we've been filling in the bare dirt left behind when we removed truckloads of juniper bushes.
In addition to making our yard look better, our landscaping project has had the unintended benefit of helping us get to know people in the neighborhood. Dog walkers, families out strolling, and shoppers on their way to Trader Joe's stop to introduce themselves as they pass by. In addition to chatting with passersby, we call out encouragement across hedge and street to others out working.
On Sunday afternoon, one of our neighbors strolled the block offering beers to those of us outside. Pretty soon, a group gathered mid-block to take a well-earned break. With a beer in one hand and a container of cookie dough brownie bonbons in the other, my husband arrived offering sweets. Another neighbor ran off to grab bags of lemons for anyone who wanted them, and I unloaded the extra society garlic that we'd dug up from my parents' yard. We swapped stories and stuff before finally getting back to work.
I felt ecstatic about the huge bag of lemons I scored and couldn't wait to incorporate their bright flavor into our meals. We squeezed wedges over the abalone my husband caught on the north coast Sunday morning, we enjoyed them in lemon arugula pasta, and in several batches of lemon-raspberry muffins.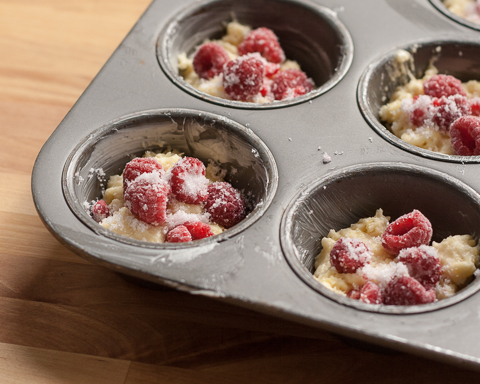 Lemon and raspberry's flavors play off one another in these moist, tangy treats. To showcase the muffins' gorgeous yellow hue, instead of folding in the raspberries, which creates pink streaks, I filled muffin cups part way and added a layer of raspberries before spooning the remaining batter over top. Be warned, licking the spoon at this point may well prevent you from turning the light and airy batter into muffins at all; taste if you dare.
After baking, a drizzling of lemon syrup adds a fresh, assertive burst to these citrus-packed muffins. The zesty fruit flavor somehow sanctions calling them muffins instead of cupcakes, a major benefit which means you can eat them all day long without the slightest remorse.
Just like good neighbors, these muffins brighten your spirits. If you lived nearby, I'd bring over a plateful to let you see for yourself.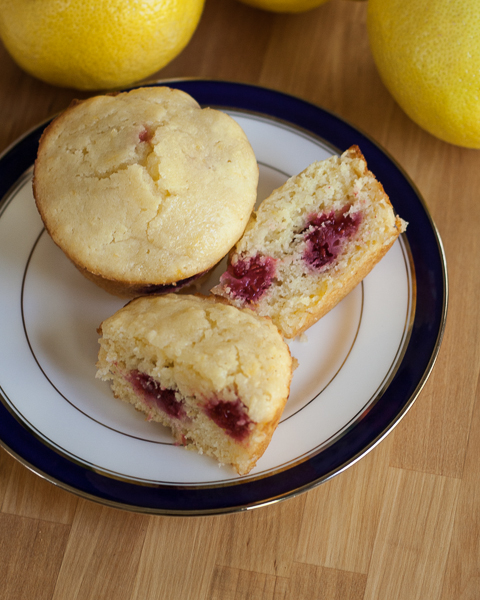 Lemon-Raspberry Muffins
Adapted from The Bread Bible.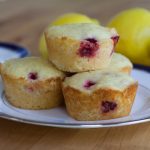 Print Recipe
Lemon-Raspberry Muffins
Ingredients
Muffin Batter
1 3/4

cups

unbleached all-purpose flour

1/2

cup + 1 tablespoon

granulated sugar

divided

1 1/2

teaspoons

baking powder

1/2

teaspoon

baking soda

1/4

teaspoon

salt

8

tablespoons (1 stick)

unsalted butter

melted

4

lemons

zested

2/3

cup

fresh lemon juice

1

teaspoon

vanilla extract

2

large eggs

1

cup

raspberries

fresh or frozen
Lemon Syrup
1/4

cup

fresh lemon juice

1/4

cup

granulated sugar
Instructions
Grease or line 12 cups of a standard-size muffin pan. Set aside.

Whisk flour, 1/2 cup sugar, baking powder, baking soda, and salt in a large bowl. Set aside.

In a separate bowl, whisk together butter, lemon zest, lemon juice, vanilla extract, and eggs. Stir the wet mixture into the dry ingredients until just moistened. Add a spoonful of batter to each of the prepared muffin cups.

Toss raspberries with 1 tablespoon sugar in a small bowl and divide them between the muffin cups. Sprinkle any sugar remaining in the bowl over the raspberries in the pan. Top the raspberries with remaining batter. Don't worry if the raspberries aren't covered completely. Bake in an oven preheated to 400° F until lightly browned around the edges and springy to the touch, 20 to 25 minutes.

While the muffins bake, prepare the syrup. Combine lemon juice and sugar in a small saucepan. Warm over low heat until sugar just dissolves.

Spoon lemon syrup over the muffins as soon as you remove them from the oven. Cool completely in the pan to allow syrup to absorb.
Some of the links in this post are affiliate links. If you click through and make a purchase, I earn a small commission for my referral at no additional cost to you. Thank you for supporting Flour Arrangements.