Create bite-sized party snacks with little rosemary-cornmeal cracker cups. Fill with anything from chopped salad to pasta to dip and veggies.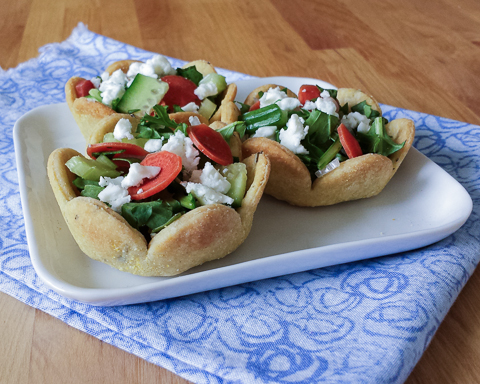 For the last two weeks, the internet service at our house has worked for maybe 20 minutes a day. Writing a post about this daisy cake took entirely too long. Whenever the internet timed out, I lost everything.
As that frustrating exercise tested my patience, my camera began flashing error messages as I tried to photograph the little cracker cups I'd baked. It refused to take a single picture.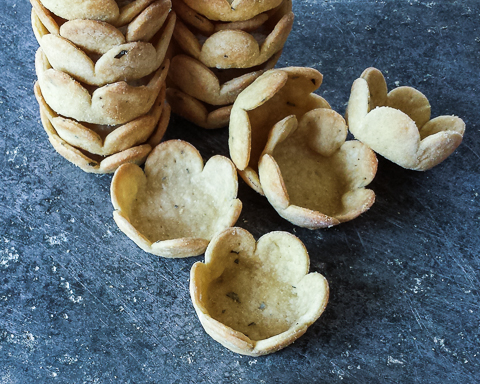 When my oven started moaning like a dying animal, I realized that this streak of technological decay signified more than mere bad luck. As any English teacher will tell you, when things begin happening in threes, it's time to pay attention.
The most obvious interpretation suggests giving up on photographing and writing about my baking projects. The more I think about this take on my situation, though, the more I feel like a whiner and a brat. I feel much better when I see these inconveniences as reminders of my larger good fortune.
For instance, I married a guy who — with an unfailing sense of humor and a cluttered garage full of tools — can fix nearly anything. A guy who thinks nothing of crawling under the house to run cables as a temporary solution while AT&T and Sonic sort out what's wrong with our internet connection.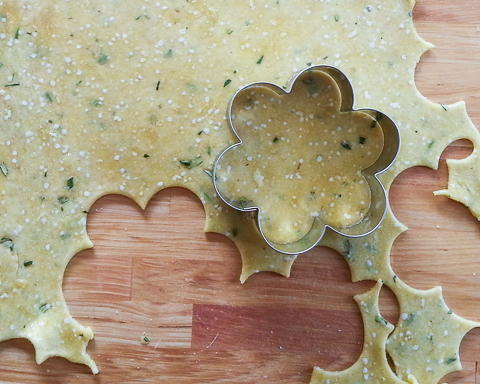 Additionally, like many people I know, I am lucky enough carry around a small miraculous device that allows me to talk with friends anywhere in the world, a device that can help me find my way around an unfamiliar city or help me decide where to find the best sushi if I'm in the mood to eat raw fish. This gadget also lets me document simple, precious moments everyday — Eliza sketching pears in an orchard or Tessa flying a kite at the Berkeley Marina.
This fancy contraption snaps and conveniently uploads photos that I can view and share nearly effortlessly. Can I use this crazy device to take pictures of cakes and pies and cracker cups while I decide what to do about my broken camera? Why, yes, I can.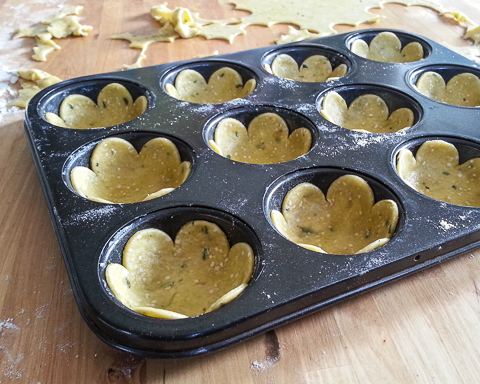 And as for my moaning oven, it's still under warranty and getting a new fan. How lucky am I that it started acting up sooner rather than later?
With all this luck on my side, you better believe that these cracker cups are damn good. They're cute. They're functional. They're tasty. What more can I say?
A bit of cornmeal gives them texture, and a handful of fresh rosemary adds awesome flavor. My daughter contentedly eats them empty as crackers, but I recommend like turning them into salad bites. Since they requires no utensils or plates for eating, they're perfect party food.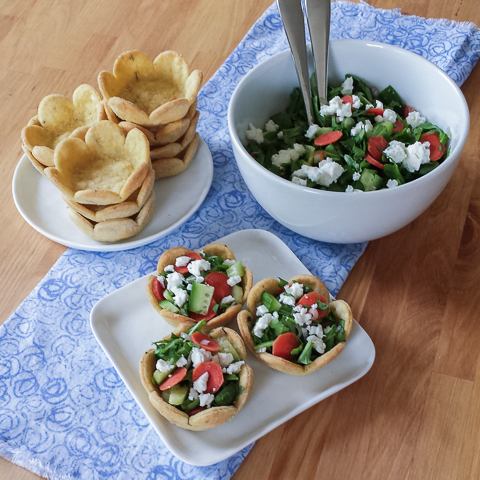 Any kind of salad will do, from egg to chicken to the leafy green variety, so long as the ingredients are well-chopped. I'm partial to a combination of arugula, celery, cucumbers, carrots, shallots, and feta tossed with lemon juice and olive oil. Take a close look at those paper-thin carrot rounds, achieved with the use of vegetable peeler! I had no idea that preparing tiny salad fixings could be so satisfying.
The possibilities for these cute little cups are really endless. Aside from salad, you could fill them with dip and and diminutive veggie slices, and I'm thinking they'd be a great vehicle for small dollops of mac 'n cheese, too.
All you need to turn delicious crackers into cups is a flower-shaped cookie cutter, a muffin tin, and an oven. Hopefully an oven that that doesn't moan.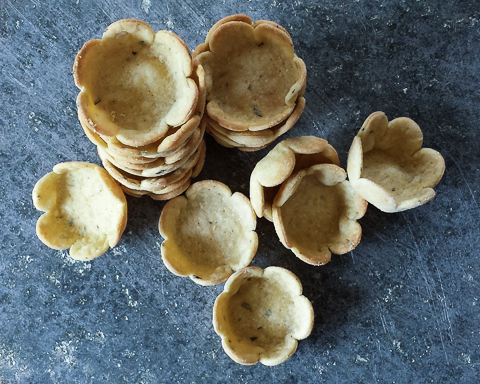 Rosemary-Cornmeal Cracker Cups
If filling with salad, chop lettuce and veggies finely for mess-free eating. I used a vegetable peeler to make paper-thin carrot slices.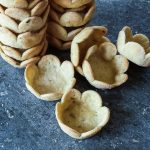 Print Recipe
Rosemary-Cornmeal Cracker Cups
Ingredients
1 2/3

cups

unbleached all-purpose flour

1/4

cup

cornmeal

1/2

teaspoon

baking powder

1

teaspoon

salt

1

tablespoon

chopped rosemary

1/2

cup

water

1/3

cup

olive oil
Instructions
Stir together flour, cornmeal, baking powder, salt, and rosemary in a medium bowl. In a spouted measuring cup, whisk together together water and olive oil.

Make a well in the center of the dry ingredients and add oil and water gradually while stirring with a wooden spoon. Stir until dough forms. Knead dough gently 4 or 5 times.

Roll dough 1/8-inch thick on a well-floured surface. Cover with plastic wrap and let rest for 20 minutes.

Meanwhile, grease the wells of 24 standard-sized muffin cups. Dust with corn meal, swirling pan to allow it to stick to the sides of each well. Invert pans over the sink and tap the edge to remove excess cornmeal.

Using a 3 3/4-to 4-inch flower-shaped cookie cutter, stamp out as many flowers as possible. Gently transfer the dough to prepared muffin tins, tucking each flower gently into one of the cups. Gather the scraps, re-roll, and allow the dough to rest again before stamping out additional crackers.

With a toothpick or sharp skewer, prick holes in the dough on the bottom and up the sides of each cup, about 1/8 to 1/4 inch apart. Bake in an oven preheated to 450° F for about 10-12 minutes, until golden around the edges, shifting the baking sheets halfway through for even baking. Remove cracker cups with a thin metal spatula and cool on a rack. Fill as desired.
Some of the links in this post are affiliate links. If you click through and make a purchase, I earn a small commission for my referral at no additional cost to you. Thank you for supporting Flour Arrangements.