A holiday classic with a twist — brighten your celebrations this season with Cardamom-Lime Sweet Potato Pie!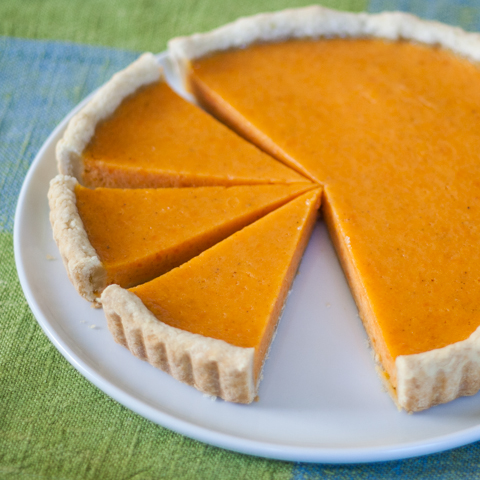 Have you ever squeezed lime juice over a roasted sweet potato? With a sprinkling of chopped cilantro and a pinch of coarse salt, it makes for an amazing flavor combination.
This sweet-sour obsession was rattling around my brain when I set out to make sweet potato pie the other day — and am I ever glad. Instead of adding a splash of vanilla and the usual spices, I opted for lime juice and cardamom.
The pie tastes as bright and dazzling as it looks. Its vibrant orange sweet potato filling — unsullied by a mix of dark brown spices and flavorings — bakes into a rich custard with a subtle hint of lime and warm cardamom spice. The addition of lime zest in the flaky, buttery pie crust tastes so good that I'm tempted to make cookies with the recipe. And as long as we're working lime into this dessert, we might as well mix a bit more zest into lightly sweetened cream to complete the effect.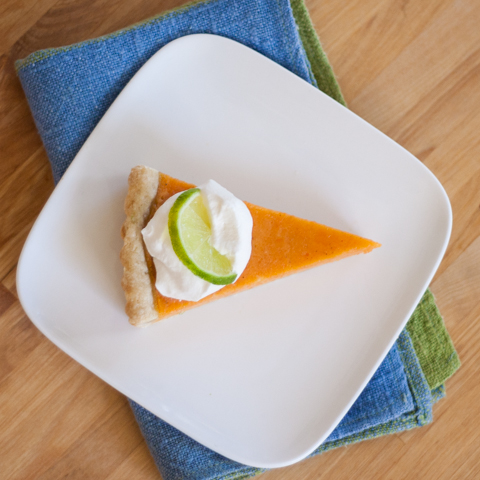 If you're looking to add some zing to your holiday pie line-up this year, this cardamom-lime sweet potato pie is a great place to start.
And if you need more holiday pie inspiration, check out the holiday pie round up I put together for Bonbon Break — there's something there for everyone!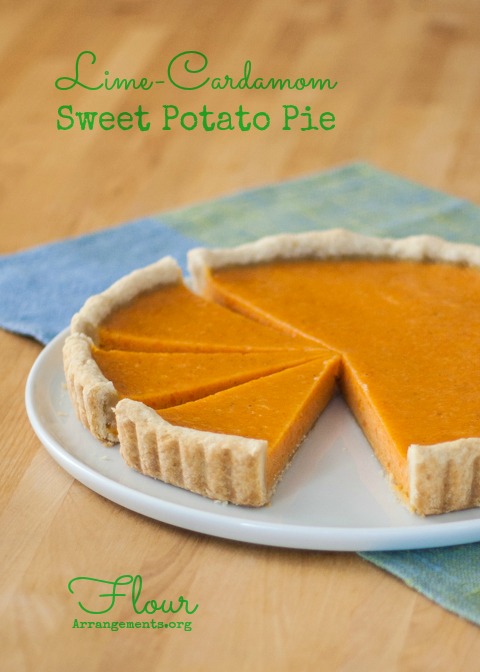 Cardamom-Lime Sweet Potato Pie
Makes one 10-inch pie.
Pastry Dough
1 1/4 cups all-purpose flour
1 1/2 teaspoons powdered sugar
1/2 teaspoon salt
1 lime, zested
1 1/4 sticks butter (10 tablespoons), cut in 1/4-inch slices
3 tablespoons ice water, strained
Filling
1 1/2 cups mashed sweet potato (about one large, roasted)
1 tablespoon butter
1/2 lime, juiced (about 2 tablespoons)
2 eggs
2 egg yolks
3/4 cups granulated sugar
1 teaspoon ground cardamom
1/4 teaspoon salt
1/2 cup milk
1/4 cup brown sugar
Whirl flour, powdered sugar, salt, and lime zest in food processor with the blade attachment. Add several slices of butter and whirl until no chunks remain. Add remaining slices and whirl briefly to chop them up slightly. Turn food processor on again and quickly drizzle ice water through the feed tube, stopping before the dough comes together. Pinch some crumbs together between your fingers; if they don't stick together, add a bit more water and whirl briefly. Turn the mixture out onto a large piece of plastic wrap. Use the plastic wrap to help you bring the dough together; fold the edges of the dough toward the center and press down until it holds together, taking care not to overwork the dough. Wrap tightly in plastic and refrigerate for at least 30 minutes.
While the potatoes are still warm, transfer them to a medium bowl and mix in the butter (if you are working with cold sweet potatoes, melt butter before adding). When the butter has melted, mix in lime juice. Set aside.
In a separate bowl, whisk together eggs, yolks, granulated sugar, cardamom, and salt. Add milk and whisk until well combined. Gradually add the egg mixture to the sweet potatoes, whisking gently to combine.
Roll out the dough into a 13- to 14-inch circle. Transfer carefully to a 10-inch fluted tart pan with a removable bottom. Fold overhanging edge of the dough down inside the tart pan, pressing gently to help it adhere. Place tart pan on a baking sheet. Scatter 1/4 cup brown sugar evenly over the pastry dough, spreading it all the way to the edges. Pour the filling into the tart pan over the brown sugar layer. Bake in the middle of an oven preheated to 425° F for 15 minutes. Reduce oven temperature to 350° F and bake for 20 to 25 minutes more, until the filling is set around the edges but the center jiggles slightly when shaken.
Cool the pie to room temperature, and then refrigerate until ready to serve. Mix lime zest into lightly sweetened whipped cream, if desired, and serve.