This simple Caesar salad recipe packs serious garlic-lemon-umami flavor along with great crunch from homemade croutons.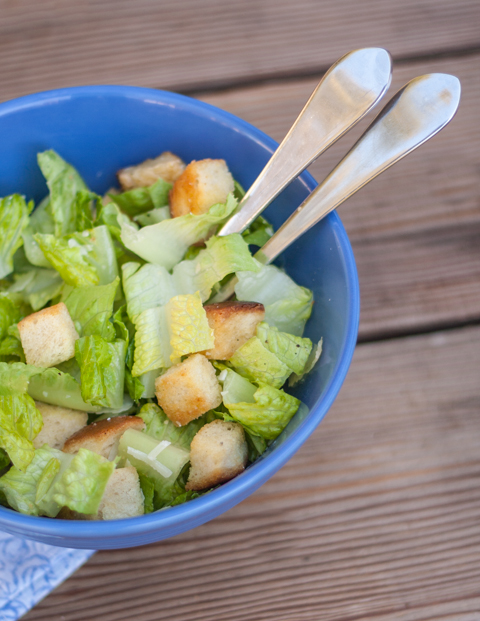 Public service announcement: if you're not slicing up stale bread to freeze for later use, you're missing out on some serious food opportunities!
Thanksgiving's almost here, and bags of cubed, frozen bread are great to have on hand for making amazing stuffing. If you haven't started stockpiling, it's time to get on it!
But wait, there's more! You can turn cubed bread into HOMEMADE CROUTONS any day of the year, and you should because it's so easy.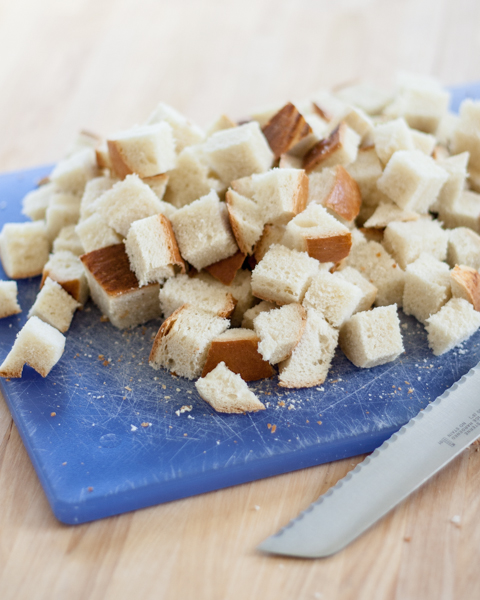 Last Sunday, when my husband felt inspired to make his dad's famous Caesar Salad recipe, I did my part by preparing homemade croutons. Tossed in the garlicy-lemon-umami goodness of Caesar dressing and nestled amongst the crisp romaine leaves, freshly toasted croutons may well be the best part of a Caesar salad.
Here's the funny thing, though. I almost didn't have enough croutons for our salad when dinner-time arrived. As soon as they hit the cooling rack, my daughters circled the pan like blood-thirsty sharks in a feeding frenzy.
It turns out that toasting stale bread mixed in melted butter, olive oil, garlic, and salt transforms it into an addictive substance, one that might — in my house at least — need some regulatory guidelines.
At the rate we're going, we might not have any more bread in the freezer by next week, let alone Thanksgiving. I'd better start baking.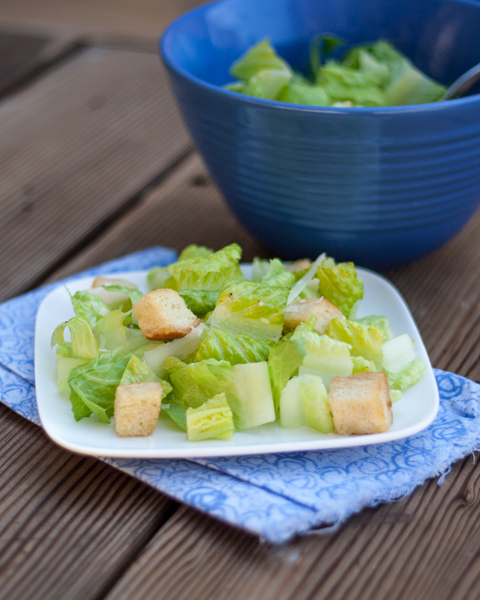 Caesar Salad with Homemade Croutons
I chopped the Romaine for ease of eating, but my father-in-law likes to paint the dressing on whole leaves with a pastry brush. Also, his original recipe includes a raw egg, which we usually omit; while I have no qualms about egg in cookie dough, I feel squeamish eating it in anything that doesn't contain chocolate. If you're a Caesar salad purist, whisk in a raw egg with the other dressing ingredients. Adapted from John O'Donnell's recipe. Serves 8 to 10.
Croutons
8 to 10 ounces bread, sliced in 1/2 to 3/4-inch cubes
2 tablespoons unsalted butter
2 tablespoons olive oil
2 to 3 garlic cloves, smashed in a garlic press
1/4 to 1/2 teaspoon salt, to taste
Dressing
2 to 3 garlic cloves, smashed in a garlic press
2 teaspoons anchovy paste
1 1/2 tablespoons red wine vinegar
2 tablespoons Grey Poupon mustard
1/2 lemon, juiced (about 2 tablespoons)
dash of Worcestershire sauce
1/4 cup olive oil
salt and pepper, to taste
Salad
2 heads Romaine lettuce, sliced in bite sized pieces
1/2 cup shaved Parmesan cheese (about 2 ounces)
To make the croutons, combine butter, olive oil, garlic, and salt in an oven-safe skillet over medium heat. Once the butter melts, toss in bread cubes and stir to coat evenly. Toast in an oven preheated to 350º F for about 15 minutes, tossing several times during baking. Bread should look pale golden brown around the edges and feel crisp but not rock hard. Remove to a rack and cool completely.
To prepare the salad dressing, combine garlic, anchovy paste, wine vinegar, mustard, lemon, and Worcestershire sauce in a small mixing bowl. Whisk well to combine. Slowly pour in olive oil while whisking vigorously. Season to taste with salt and pepper.
Combine lettuce, croutons, and most of the Parmesan cheese in a large bowl. Add dressing and toss gently to combine. Top with remaining Parmesan cheese and serve.