Espresso powder and Kahlua work their magic in these dense Chocolate Espresso Brownies. Kahlua frosting and a chocolate-Kahlua glaze make them irresistible.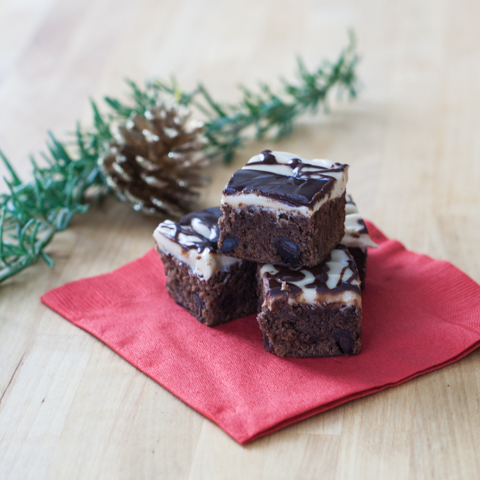 If there's any chance you'll be up late on Christmas Eve with toy-assembly duty, you're going to need these Chocolate Espresso Brownies. I know you're already up to your eyeballs in cookies and cakes, but trust me on this one.
They'll save you time and effort since they combine your coffee and chocolate in convenient bite-sized pieces. And if you can get your kids to load up a plate for Santa before they go to bed, you can even save yourself a trip to the kitchen.
Both espresso powder and Kahlua infuse these dense chocolate brownies with coffee goodness. They're studded with chocolate chips, topped with Kahlua frosting, and drizzled with a chocolate-Kahlua glaze. Even without the caffeine-hit to keep you going, these brownies will deliver you through the "some-assembly-required" proceedings with enough composure to keep everyone around you in the holiday spirit.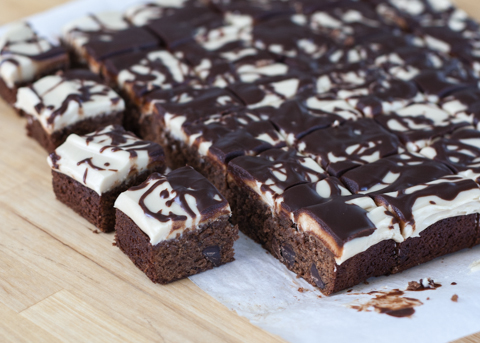 For example, when you find that the bike you're building doesn't include all the required screws, take a moment to sink your teeth into one of those brownies sitting by the fireplace.
The mocha goodness in your mouth will prevent you from cursing as you consider the jenky fixes available to you in this hour of closed hardware stores. Eat at least one more as you consider which fix is the least likely to endanger your dear child's life. You'll thank yourself come Christmas morning.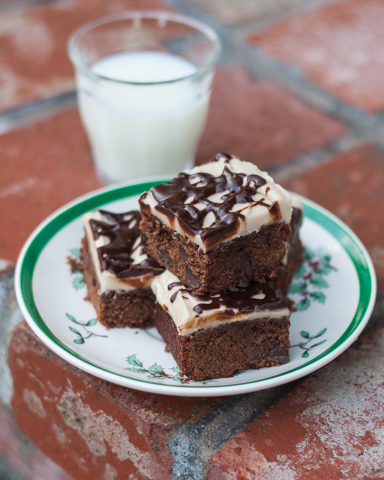 Three toys later, when you finally resort to checking the directions for that six-story doll house sent by a far-away relative and find that they're written in German, put another brownie in your mouth instead of calling said relative to ask for a translation. Since you're (hopefully) on the home stretch now, why not chase that brownie with a shot of Kahlua? I find that my German always comes back to me after a few drinks.
Don't worry if there aren't any brownies left for Santa when you finally finish. I hear he's on a diet. He can eat the carrots the kids left out for the reindeer.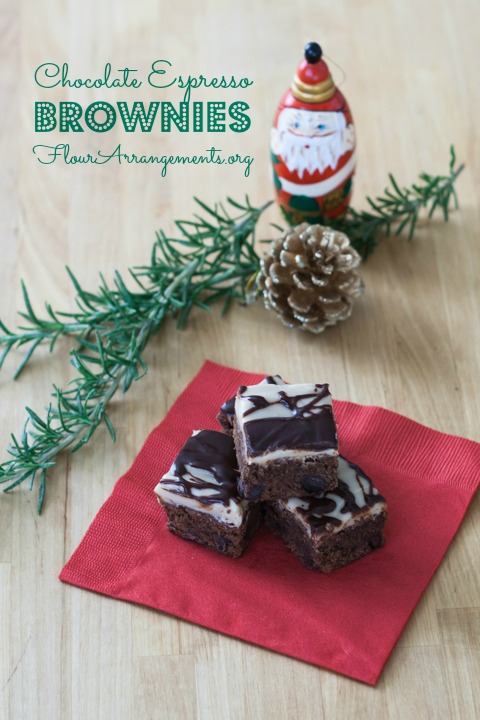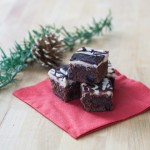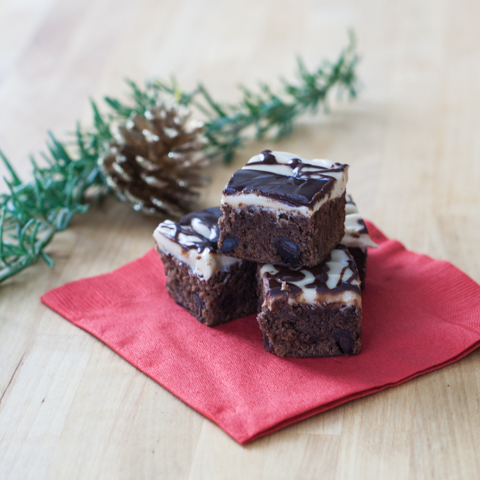 Print Recipe
Chocolate Espresso Brownies
Makes about three dozen.
Ingredients
Brownies

2

ounces

unsweetened chocolate, chopped

8

tablespoons

1 stick unsalted butter

2

teaspoons

espresso powder

2

tablespoons

Kahlua

1

cup

granulated sugar

1/4

teaspoon

salt

2

large eggs

1/2

cup

chocolate chips

1/2

cup

unbleached all-purpose flour

Frosting

2

cups

confectioners' sugar

pinch

salt

4

tablespoons

unsalted butter, melted

3

tablespoons

Kahlua

Glaze

2

ounces

bittersweet chocolate

2

tablespoons

butter

1

teaspoon

Kahlua
Instructions
Preheat oven to 350º F. Generously butter a 9-inch square metal baking pan. Add a layer of parchment paper, leaving the edges long enough to lift the brownies out of the pan once cool for easier slicing. Butter the parchment paper, pressing it down to help it adhere smoothly to the pan. Set aside.

To prepare the brownies, melt chocolate and butter together in a double boiler or in short bursts in the microwave. While still warm, mix in espresso powder and Kahlua, stirring until well combined. Set aside.

In a medium-sized mixing bowl, combine sugar, salt, and eggs. Mix well with a wooden spoon. Add chocolate mixture and chocolate chips, stirring until well combined. Gently stir in flour, taking care not to over mix.

Pour the batter into the prepared pan and bake for 25 minutes. Remove from the oven and cool to room temperature.

To prepare the frosting, combine confectioners' sugar, salt, melted butter, and Kahlua in the bowl of a standing electric mixer. Beat until smooth. Spread the frosting evenly over the cooled brownies.

For the glaze, melt bittersweet chocolate and butter together in a double boiler or in the microwave. Once melted, mix in Kahlua until well combined. Drizzle glaze over the frosted brownies.

Refrigerate until well chilled. Lift the brownies from pan using the parchment paper and slice into 1 1/2-inch squares. Serve chilled or at room temperature.
PIN IT FOR LATER