Millet seeds give these subtly-spiced, hint-of-citrus crackers extra crunch. Serve Ginger Millet Crackers with double cream brie and hot pepper jelly for a great party snack.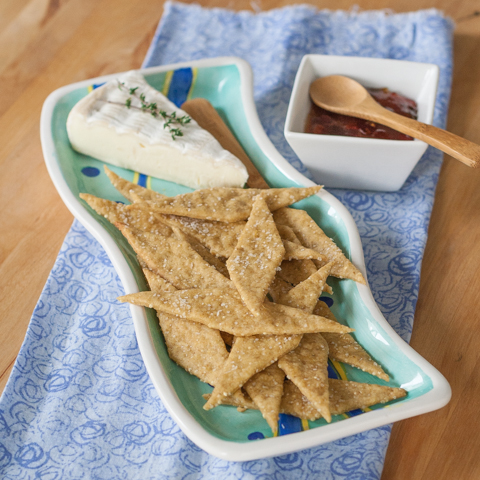 So much festivity these days. I love gathering with friends and family to catch up and EAT, EAT, EAT!
Am I the only one who tries unsuccessfully to get extra exercise at this time of year so I can dig into everyone's holiday fare with serious gusto?
Call me a glutton, but I dig in anyway. I figure I'll make up for my bad behavior in January with all the standard resolutions about getting to the gym and eating healthier food.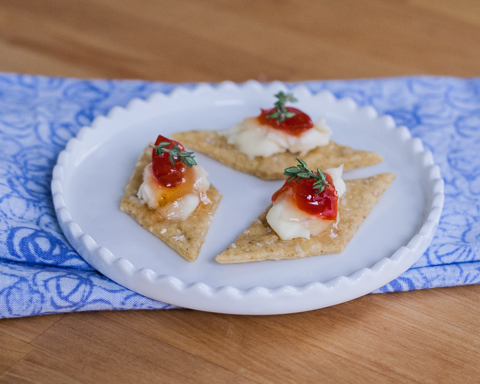 And just in case you're thinking that these Ginger Millet Crackers — made with hippy seeds and no added sugar — seem amiss at this indulgent time of year, never fear. We're going to serve them with double cream brie and hot pepper jelly!
You can prepare these little savories in about 30 minutes, and the process couldn't be easier.
If you're about to suggest that it would, in fact, be easier to buy fancy crackers at the store, technically, you might be right. Let's just think about it in a different way: serving freshly-baked crackers may well be the easiest way to make you feel totally gourmet with very little effort.
Check out the simplicity: mix, roll, slice, bake, cool, serve.
Scatter your handcrafted, made-with-love crackers on a plate with a wedge of brie and a small dish of pepper jelly. Let the snacking begin! Now is the time to open that bottle of wine if you haven't already done so. Cheers!
The millet seeds give these subtly-spiced, hint-of-citrus crackers a sort of double crunch. There's the crunch from the crispy cracker and crunch from the delicate seeds popping between your teeth. All that crunchiness offsets the smooth, rich creaminess of the brie and the burst of heat from the pepper jelly. It's perfection!
If you're feeling like you have extra time on your hands and want to get fancy, skip the pizza wheel and use cookie cutters instead. My daughter had a great time making mini gingerbread men-shaped crackers the other day. She even used different kinds of seeds to give her ginger-men faces and outfits.
This tedious work kept her occupied for hours. If you need that kind of kid-diversion in your life right now, I recommend these crackers. Picking up sesame seeds and getting them in all the right places on one-inch ginger-men is tough business, but apparently it's very satisfying to to nine-year-old set. And it gives them all the fun of decorating Christmas cookies without the sugar.
Not that I've got anything against sugar. We'll make up for lost time for that kind of snacking when we make our gingerbread house this weekend. Happy Holidays!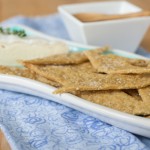 Print Recipe
Ginger Millet Crackers
Ingredients
1 1/2

cups

unbleached all-purpose flour

1/4

cup

cornmeal

1/4

cup

millet

2

tablespoons

ground ginger

1

teaspoon

baking powder

3/4

teaspoons

kosher salt

plus more for sprinkling

1

lemon, zested

1/2

cup

water

1/3

cup

olive oil
Instructions
Combine flour, cornmeal, millet, ginger, baking powder, salt, and lemon zest in a medium bowl.

Whisk together water and olive oil. Pour liquid into the dry ingredients in a steady stream while stirring with a wooden spoon. Continue stirring until a dough forms.  Gently knead the mixture until it is smooth, about 5 to 6 times.

Divide the dough into three pieces.  Working with one piece at a time, roll dough as thinly as you can between two pieces of parchment paper (lift the paper on each side and reapply it once or twice during rolling to prevent sticking).

Remove the top piece of parchment paper and scatter salt over the surface. Press salt down gently with the rolling pin to help it adhere.

Using a pizza cutter or sharp knife, slice the dough into diamonds.  Leaving the crackers intact on the bottom sheet of parchment paper, slide it onto a baking sheet.  Repeat with remaining dough.

Bake crackers until pale golden and slightly browned around the edges, about 10 to 12 minutes. Cool and serve.

If not serving right away, cool crackers completely and store in an airtight container for up to two days. Refresh crackers in a warm oven.