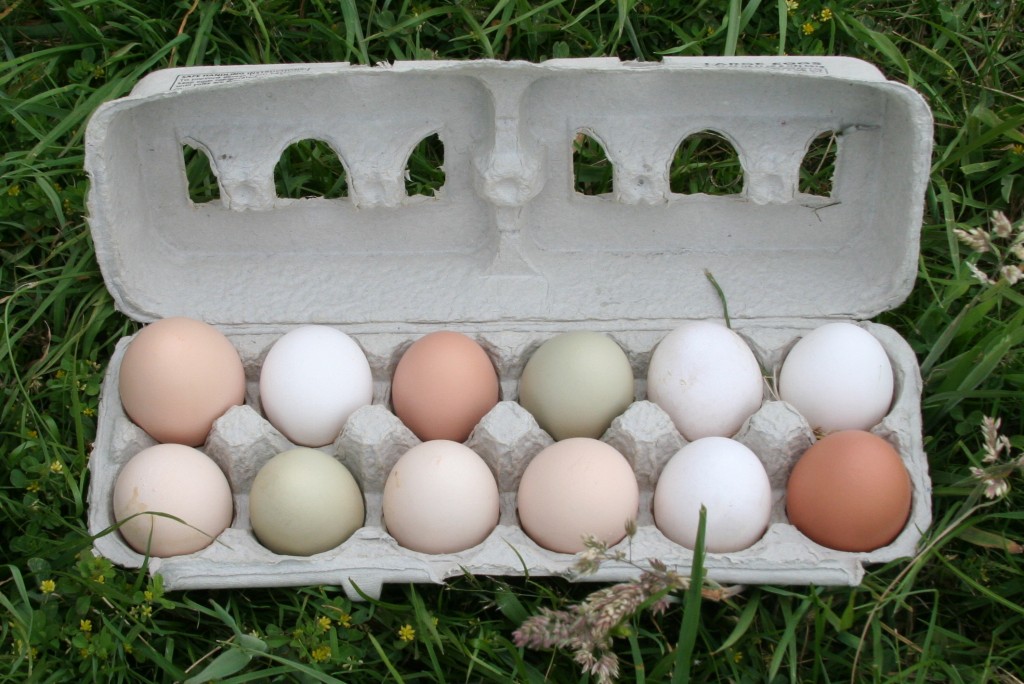 Every week or so, my friend asks me if I need eggs. If I say, "Yes," I often find a carton on my kitchen table when I get home from work.
I feel like a little kid opening it up to find out what different shades and sizes it contains. Sometimes the the lid isn't even closed because the presence of an enormous egg or two simply won't allow it. No kidding. If you cracked one of these eggs, or two, or three, you would blink in disbelief at the yolks' deep orange. Well, maybe you wouldn't, but I often do. Eggs. Who ever thought I would gush about them.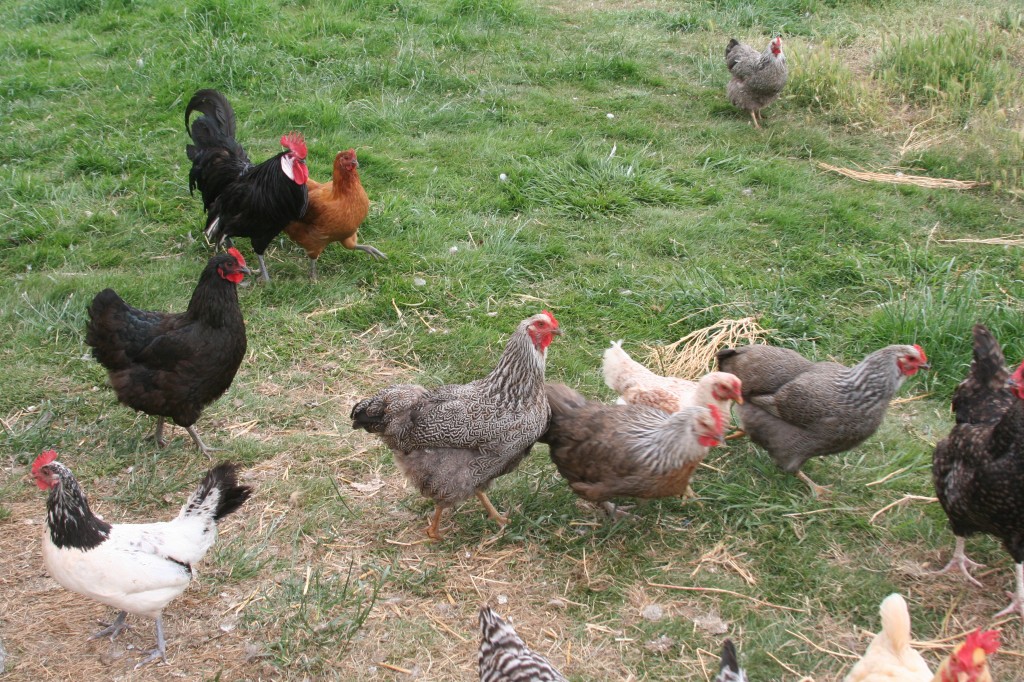 So our friends have chickens. Lots of chickens. I have lost count of how many, but I do know several chickens by name. Soon after the chicks arrived, each of my daughters picked one out as her very own. My older daughter named hers Eliza. My younger daughter named hers Tessa. These happen to be my girls' names as well. And yes, it does get confusing. Wanna guess what our friends' daughter Ellie named her chicken?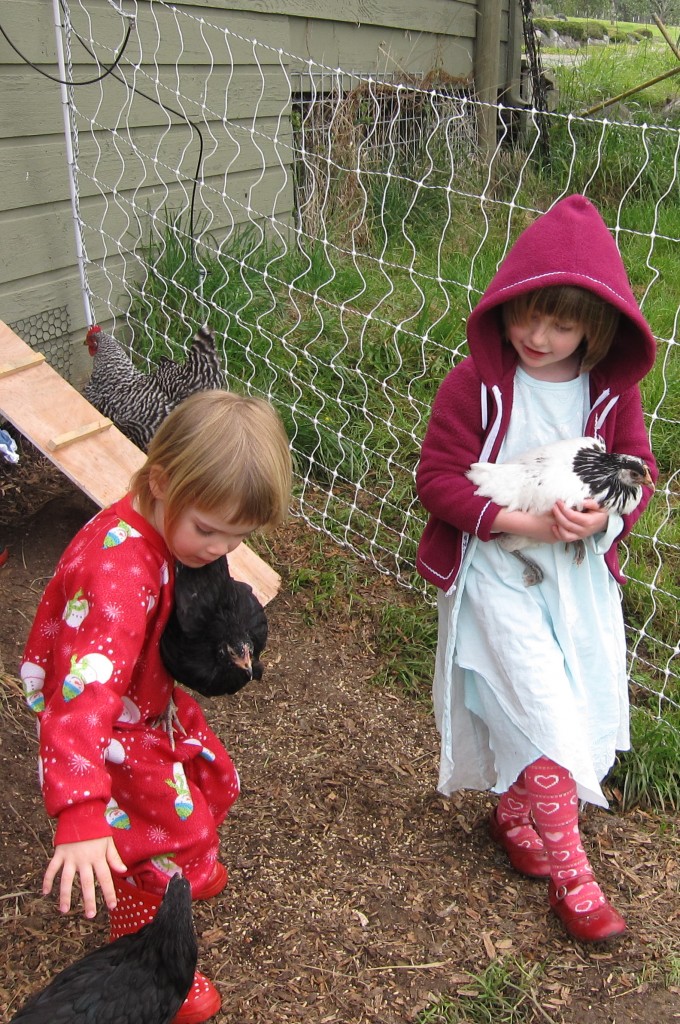 For months, the girls wanted to commune with their chickens 24-7. They held them, talked to them, and carried them around the coop like babies. If they could have figured out a way to put doll clothes on them, they would have done it.
I worried at times that the chickens might need a little space. The girls meant well, but sometimes it looked like they hugged them a bit too tightly. But when the chickens finally started laying, guess which chickens produced eggs first? Eliza, Tessa, and Ellie. If memory serves me correctly, they started laying at least a week before the other hens began earning their keep. Who knew? If you ever decide to raise chickens for eggs, make sure you involve some children in the project.
These eggs, of course, are divine. Every time I crack one into batter, the cake seems to bake at least a half inch taller than it would with conventional eggs. And foods with only a few ingredients, like pancakes, custard, or pavlova truly shine when made with them; I'm always especially excited to use them in recipes that will only taste as good as your eggs.
Like pasta.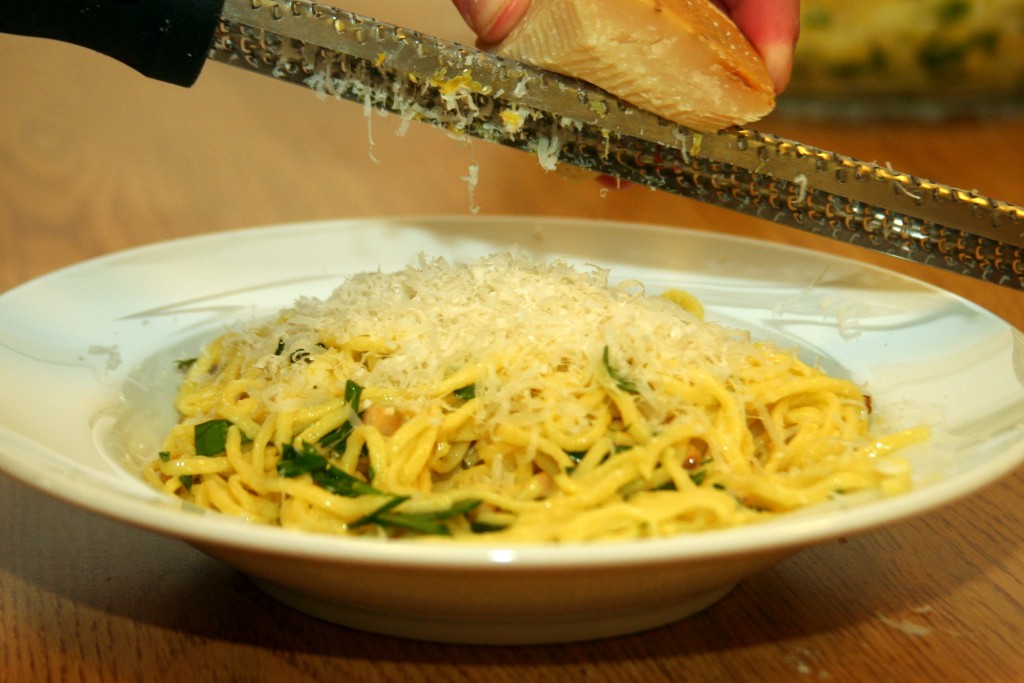 We used to make fresh pasta all the time before we had kids, and then somehow we got out of the habit. Just as these amazing eggs came into our lives, we realized that our babies had turned into small children excited about making a mess in the kitchen with their parents. So we dusted off the pasta maker and had a go at it.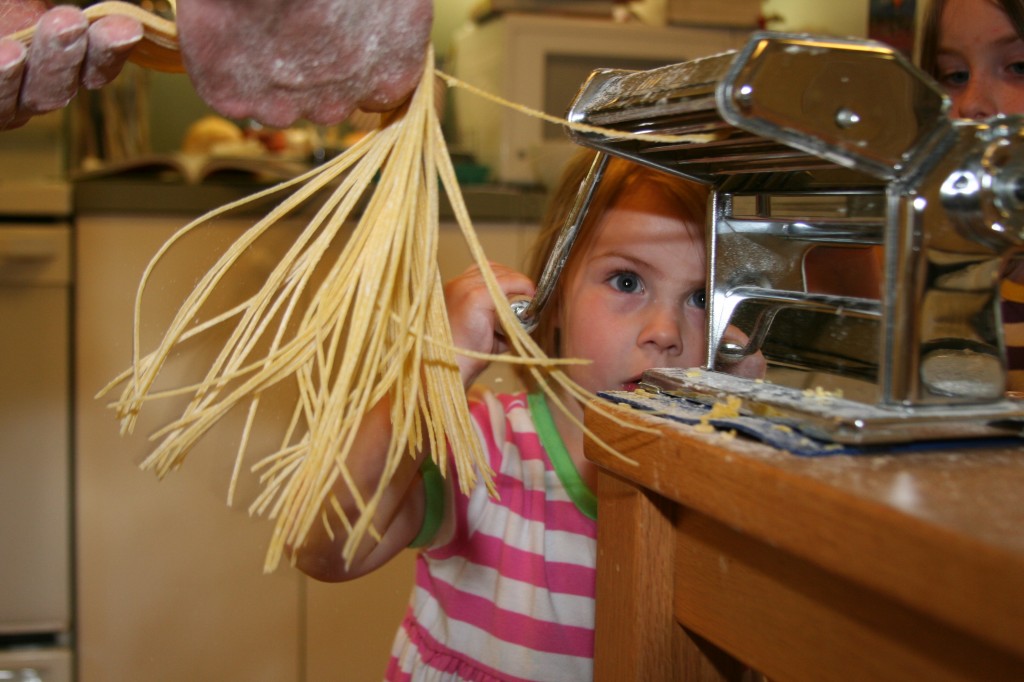 Now we often try to make pasta when our friends with kids come over. It's fun, it's easy, and it's messy. And best of all, when kids have a hand in making their own dinner, they usually eat it.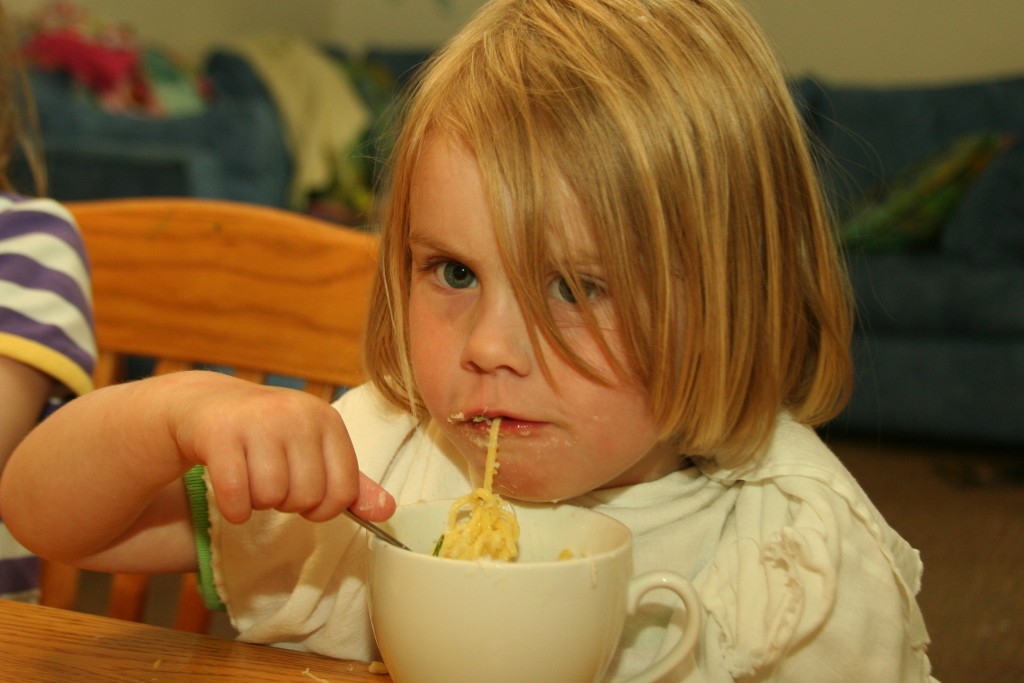 Fresh Pasta with Lemon and Parsley
Makes about 4 servings.
Pasta
3/4 cup semolina flour
3/4 cup all purpose flour
1/2 teaspoon salt
2 large eggs
2 tablespoons water
2 tablespoons olive oil
Sauce
2 garlic cloves, thinly sliced
1/4 cup olive oil
1 cup fresh parsley, coarsely chopped
2 lemons, zested and juiced
1/2 cup pine nuts
3/4 cup Parmesan cheese, grated
salt and pepper, to taste
Combine flours and salt in the bowl of standing mixer with the paddle attachment. Lightly beat eggs, oil, and water together in a small measuring cup. While mixing on low speed, drizzle the egg mixture into the flour very slowly. Stir to combine, adding more semolina flour if necessary until the dough comes together and is no longer sticky. Remove dough from the mixing bowl and knead by hand for about five minutes, adding additional flour only if needed to prevent sticking. Let dough rest for at least 20 minutes before forming pasta.
In the meantime, prepare sauce. Heat olive oil over medium-low heat. Add garlic and stir until fragrant, about 1 to 2 minutes. Set aside. Combine remaining ingredients in a large bowl. Add garlic-olive oil mixture and stir.
When ready, roll pasta dough thinly and cut into strips by hand, or feed the dough through a pasta machine.
Cook pasta until tender–1 to 4 minutes–in a large pot of salted water. Drain, reserving 1/2 cup of the pasta water. Add pasta to the lemon-parsley mixture and toss well. Add pasta water if it seems too dry. Serve, topping with additional Parmesan cheese.