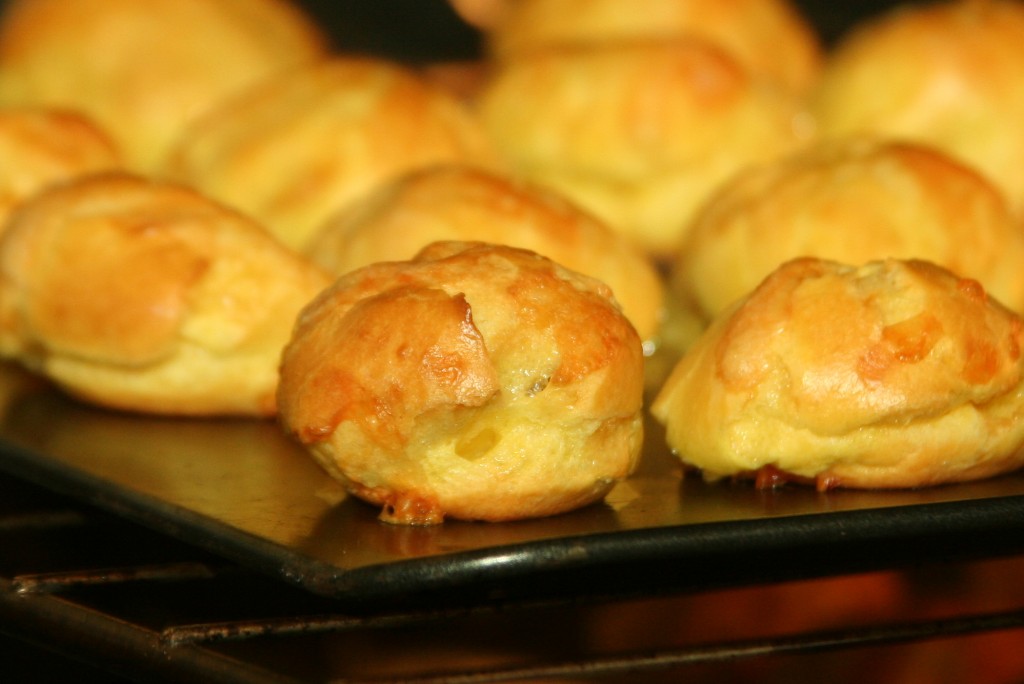 Over an impromptu picnic dinner, our friends explained how they reverse-engineered a grapefruit-basil martini they'd enjoyed last summer at Backdoor Kitchen, one of my favorite restaurants in Friday Harbor.
When they found themselves home in the Bay Area craving their favorite island cocktail, they headed to the internet to find a recipe, and then another, and still another, until they finally nailed it and felt satisfied.
"How did people figure out how to make anything before the internet?" my husband asked.
Without skipping a beat, my six-year-old daughter replied, "They read cookbooks."
After we'd all finished giggling, someone said, "You're right, these days, you can do both. Cool, huh?"
Later, when I tried to figure out what to bring to the cocktail party our mixologist friends decided to host, I realized that inspiration for recipes comes not only from favorite restaurants, quirky cooking blogs, fabulous cookbooks, or in-season produce: in our house it sometimes comes from children's books.
Months ago, while reading Lilly's Purple Plastic Purse
, my youngest daughter asked me to make the "No Frills Cheese Balls" Lilly's dad bakes for her to bring to class after she's been a jerk to her teacher. I said, "Sure," and consulted, not the internet this time, but the Joy of Cooking. I remembered seeing a recipe for cheese puffs in there at some point; I'd wanted to try it at the time, and now I had my excuse. Sure enough, right there under "Anchovy Toasts" on page 162, I found, "Gougeres," AKA Cheese Puffs.
You start with choux paste, add Gruyere cheese, pipe out little balls, and bake. There you have it: "No Frills Cheese Balls." My husband teases me about this recipe. He thinks because you start with choux paste, it's darn frilly. I disagree. The name sounds intimidating, but choux paste is easy to make, and if you haven't tried it, you really should.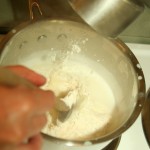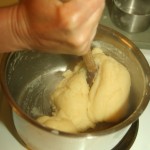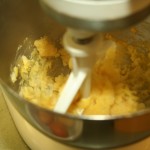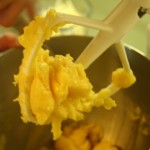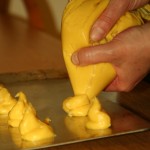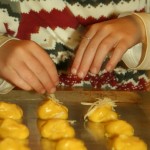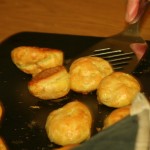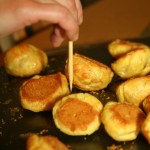 Every now and again, my daughter requests "No Frills Cheese Balls." She loves them almost as she loves the book that inspired them. When I suggested that we make them for the party, she looked like she thought I was the best mom on the island, which is saying quite a bit because she knows some pretty awesome moms. I just thought her favorite cheese balls would pair well with grapefruit-basil martinis. Lucky me. I made my daughter's day and brought home an empty plate at the end of the evening.
No Frills Cheese Balls (AKA Cheese Puffs — Gougeres if you're feeling frilly)
Makes about four dozen.
Adapted from The Joy of Cooking
(1997 edition).
1 stick butter, cut in small pieces
1/2 cup water
1/2 cup milk
1/2 teaspoon salt
1 cup flour
4 large eggs
2 1/2 cups grated Gruyere cheese, divided
Preheat oven to 400 degrees Fahrenheit.
Combine butter, water, milk, and salt in a large saucepan. Bring to a full boil over medium heat.
Add flour all at once and stir vigorously with a wooden spoon until mixture pulls away from the side of the pan. Cook, stirring constantly for 1 minute.
Transfer to the bowl of your electric mixer and let cool for 5 minutes, stirring occasionally. Beat in eggs, one at a time, making sure the paste is smooth before adding each additional egg. Beat until smooth and shiny. Stir in 1 1/2 cups of cheese and mix to combine.
If you don't have a pastry bag, place a large zip lock bag in a measuring cup to hold it still while you scoop in the paste. Press the mixture into one of the corners. Snip a 1/2-inch hole in the appropriate corner with sharp scissors. Pipe into 1-inch rounds onto an ungreased baking sheet. Use a moistened finger to smooth down the pointy top on each round. Sprinkle a bit of remaining cheese on the top of each one.
Bake for 15 minutes, reduce the oven temperature to 350 degrees, and bake until golden brown and firm to the touch, about 15 more minutes. Turn off the oven and remove baking sheets to a rack. Flip cheese puffs upside down carefully with a spatula. With a skewer, poke a small hole in the bottom of each one. Return cheese puffs to the oven to dry in for 10 minutes. Remove from oven and cool to room temperature.
Some of the links in this post are affiliate links. If you click through and make a purchase, I earn a small commission for my referral at no additional cost to you. Thank you for supporting Flour Arrangements.