This recipe makes three French bread loaves: one to eat right away, one to share with a friend, and one to eat tomorrow.
B
efore I went back to teaching again last year, I used to bake bread several times a week. We ate plenty and shared plenty.
Working messed with my bread rhythm, though, and finally I started buying bread. It wasn't the same, but we all got used to it.
When June brought summer freedom, I thought I'd start baking again. I did bake a few loaves here and there, but I just never seemed to get back into the bread-baking habit.
As the summer drew to a close, I found some time to bake French bread. Eliza nearly ate a whole loaf in one sitting. She would have eaten more if I'd let her.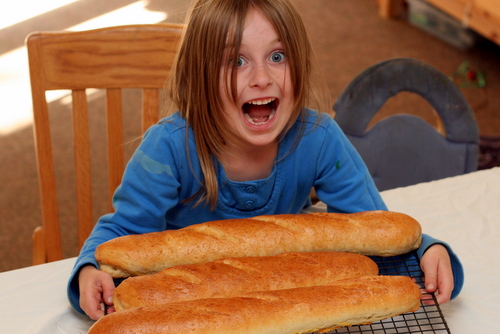 The next day she asked for a peanut butter and jelly sandwich on one of the remaining loaves. Baguettes are not my go-to for peanut butter and jelly, but she went crazy for them. She wanted them day after day after day. The bread didn't last long.
This week, Eliza started school, and so did I.
My daughter's enthusiasm for fresh bread prompted me to make a back-to-school decision I hope I can live up to; I will make time each week — somehow — to bake bread for the peanut butter and jelly sandwiches I'm putting in my first grader's lunch box.
I may not be able to pull off an edible alligator or the three little succulent piggies like my friend Kimi, but at least it's something.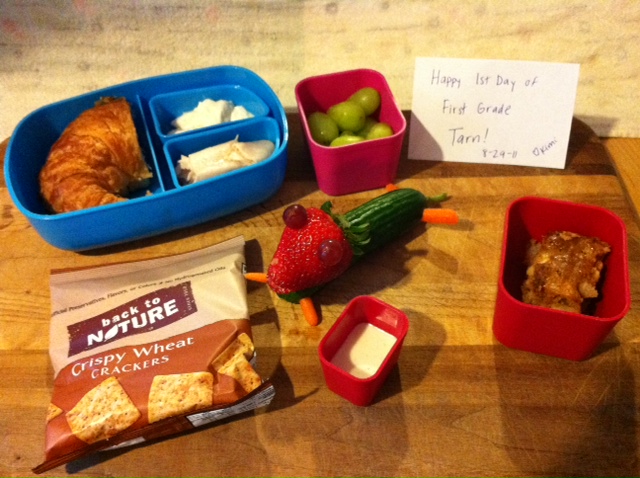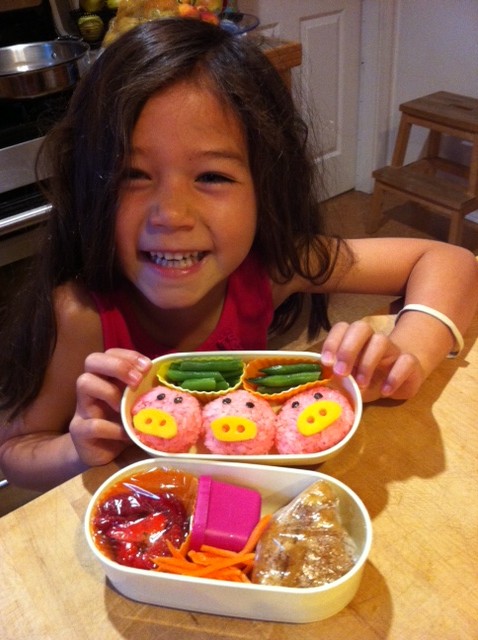 One week down, 39 to go. By then, it'll be a habit. Here's hoping, anyway.
French Bread
From The Bread Bible. Makes three long baguettes or round boules.
2 cups warm water (105º to 115º F)
1 1/2 tablespoons active dry yeast
1 tablespoon sugar
3 cups bread flour
1 tablespoon salt
2-3 cups unbleached all-purpose flour
cornmeal, for sprinkling
1 large egg beaten with 2 teaspoons water, for glazing
Pour the water in the bowl of a heavy-duty standing mixer. Sprinkle the yeast and sugar over the surface of the water. Stir until combined. Let stand at room temperature until dissolved and foamy, about 10 minutes.
Add 2 cups of the bread flour and the salt. Beat hard with the paddle attachment until smooth, about 3 minutes. Add remaining bread flour and most of the all-purpose flour, 1/2 cup at a time, until a shaggy dough that clears the sides of the bowl is formed.
Switch to the dough hook and knead for about 3 minutes, or until the dough is smooth and springy.
Place the dough in a lightly greased deep bowl. Turn once to coat the top and cover the bowl with plastic wrap. Let rise in a cool area until tripled in bulk, about 1 1/2 to 2 hours. If you have time, punch down the dough and let it rise again for about an hour.
Gently deflate the dough. Turn it out on a lightly floured surface. Line a baking sheet with parchment paper and sprinkle it with cornmeal. Divide the dough into 3 equal portions. Shape the portions into tight round balls for boules or flatten each portion into a rectangle for baguettes. Roll each rectangle up tightly with your thumbs to form a long sausage shape; roll back and forth with your palms to adjust the length. Place the loaves 4 inches apart on the baking sheet. Cover loosely with plastic wrap and let rise until puffy and doubled, about 30 to 40 minutes.
Preheat oven to 450° F.
Slash the tops of the loaves diagonally about 1/4-inch deep and brush the entire surface with the glaze. After placing loaves in the oven, reduce temperature to 400° F. Bake for 35 to 40 minutes or until crusty and the loaves sound hollow when tapped with your finger. Eat immediately or transfer the loaves to a cooling rack.
Some of the links in this post are affiliate links. If you click through and make a purchase, I earn a small commission for my referral at no additional cost to you. Thank you for supporting Flour Arrangements.