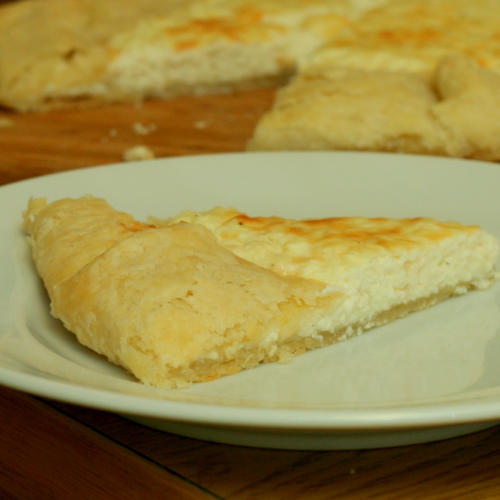 This school year I've spent more than a little time making bread for my daughter Eliza's sandwiches. Tessa, my younger daughter — the one who wants to be a chef someday — refuses to eat sandwiches.
Because of this I often feel more than a little guilty about the minimal effort involved in producing her daily lunchtime bean and cheese quesadilla.
I could make fresh corn tortillas, which she prefers to flour, but just I haven't had the urge to whip up a weekly batch of of them. Does this mean I'm playing favorites? Does it make me a bad mother? Does it mean I will pay for this lunchtime slight in counseling fees at some future date? So goes my angst.
Just the other day Tessa asked if I would make something with goat cheese in it for dinner. I felt guilt's grip loosen slightly as I envisioned preparing a special meal for her. I knew just what to make, too: goat cheese galette.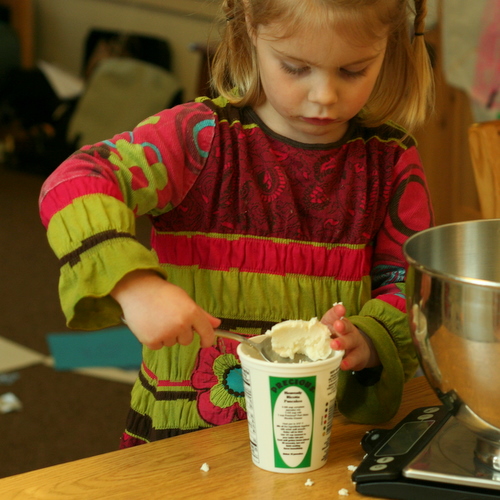 I asked her if she wanted to help me. I knew she would say yes. She always does when cooking is involved, even if the end product doesn't sound delicious to her. For a picky eater, she's always willing to try things when we work together in the kitchen.
"Chefs have to try everything so they know what foods tastes like," she invariably says in her crazy, high-pitched and surprisingly serious voice.
I should take more advantage of this mantra in an effort to balance her diet.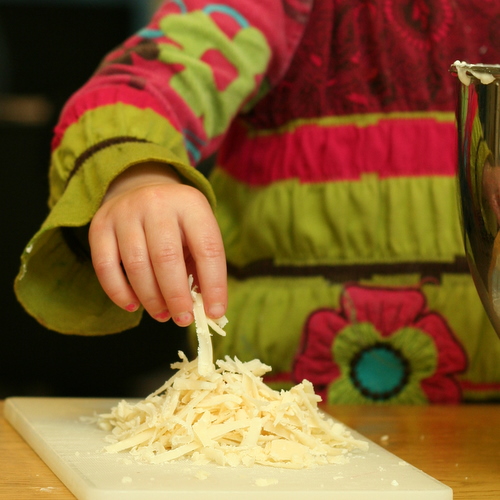 She loved mixing the various cheeses together for me, sampling each one as we worked. For this meal, she never wrinkled her nose once — not even for the ricotta. In no time at all, we had a galette ready for the oven.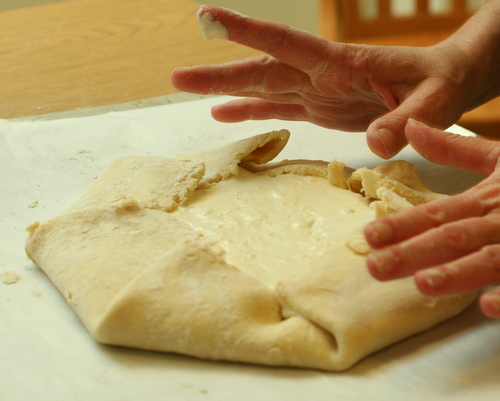 Eliza usually jumps at the chance to saute zucchini. The magic of calling squash "Zucchini Moons" transformed her into a fan a few years ago. In an effort to rope her into our mealtime preparations, I'd picked up some zucchini, but she wasn't interested in helping. Tessa eagerly took over for her.
We have this great plastic knife that's perfect for not chopping the fingers off of small hands. The slices always end up alarmingly thick, even when Eliza's chopping, but nobody around here complains about it, so long as everyone's fingers remain intact.
While I felt sad that Eliza's paper and pastels kept her out of the kitchen, the upside meant that Tessa, proud of preparing her big sister's special dish, actually ate all of her zucchini at dinnertime.
She also devoured a sizable slice of galette. This simple meal will find its way to our table again soon.
Goat Cheese Galette
Adapted from From Tapas to Meze: Small Plates from the Mediterranean.
Filling
5 ounces goat cheese
4 ounces ricotta cheese
3 ounces mozzarella cheese, grated
1/4 cup creme fraiche or sour cream
3 tablespoons Parmesan cheese, grated
salt and pepper, to taste
Pastry
1 1/2 cups flour, placed in the freezer for 1 hour
1/4 teaspoon salt
9 tablespoons unsalted butter, cut in 1/2-inch pieces and placed in the freezer for 1 hour
1/2 cup ice water
Preheat oven to 350° F. Mix together filling ingredients until well combined. Season with salt and pepper.
Cut butter into flour until half of the butter is the size of peas and the other half is smaller. Sprinkle the water over the top and mix together quickly. Press dough into a ball. On a well-floured surface, roll the dough into a 14-to 15-inch circle. Transfer dough to a parchment-lined baking sheet.
Spread cheese mixture over the pastry, leaving a 2 1/2-inch border around the edge. Fold uncovered edge of the pastry over the cheese mixture, pleating it as you work your way around the filling. There will be an open hole in the center.
Bake until golden brown, 35 to 40 minutes. Let cool 5 minutes, then slide the galette off the pan onto a serving plate. Serve hot, warm, or at room temperature.
Zucchini Moons
Adapted from Pretend Soup and Other Real Recipes. This awesome cookbook provides pictorial recipes that young children love to prepare and eat.
3 small zucchini
2 teaspoons butter
2 tablespoons water
salt and pepper, to taste
1/4 cup grated Gorgonzola
Cut the zucchini into rounds. Melt butter in a large skillet over medium heat. Add zucchini and water, and shake in some salt and pepper. Stir and cook until squash seems done, about 5 minutes, depending on the thickness of your slices. Sprinkle with cheese.
Some of the links in this post are affiliate links. If you click through and make a purchase, I earn a small commission for my referral at no additional cost to you. Thank you for supporting Flour Arrangements.