This addictive Apple Cake tastes just like fall. Try it once and you'll make it again soon.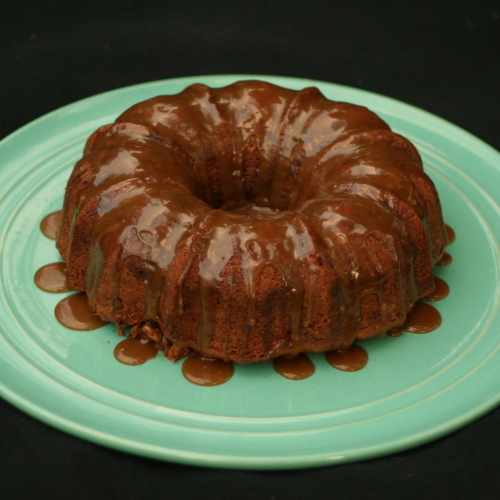 I think we got a little overzealous gathering fruit from our recent Apple Raid to Shaw Island.
I've stocked my freezer with three apple pies-in-waiting. I've baked sour cream apple muffins with streusel topping. I've eaten my apple-a-day and then some.
I've also made the same apple cake three times in a seven day stretch.
Even as I type, I'm fantasizing about another forkful of this sweet, pecan-laced cake with its delicate apple flavor, but I'm going to force myself to attempt some other apple delicacy before I make another one. Really. I swear.
Sheer happenstance led me to the recipe. My husband had a lab dinner, and all that day I'd intended to make an apple pie to bring along. The apples came from a lab event, so it seemed right come to the party bearing apple pie. That afternoon as I started to pull out my food processor to make pie crust, I remembered that I'd broken the lid the last time I used it. I could have made pie crust the old fashioned way, but it's so much easier with a food processor. Call me lazy if you will, but I had papers to grade in addition to making dessert.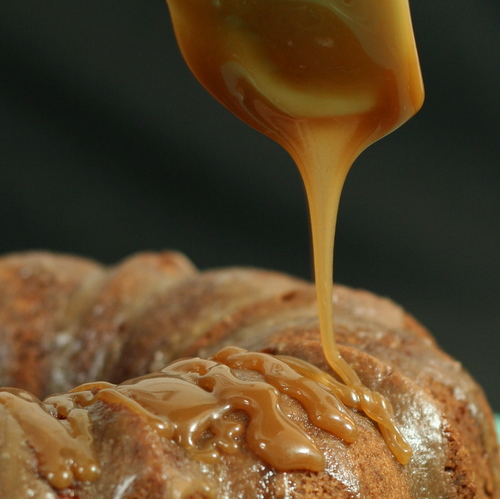 After searching
Epicurious
for apple recipes and making a selection based on ease of preparation, I was back in the kitchen and relieved to find my Bundt pan in the cupboard. I don't recall using it in the three years we've lived here, but there it was, waiting to transform simple pantry ingredients into a transcendent fall dessert.
I shudder to think that I would have missed this recipe had I only used more care in my kitchen. I'm not seeing a good lesson here.
Aside from chopping the apples, which didn't really take that much time, the batter came together quickly and then baked for an hour. This gave me some time to deal with those papers before heading to the party.
Some people dread getting dragged to their spouses' work parties, but not me. Hanging out with scientists rocks. What other polite company talks about the ins and outs of barnacle sex while sipping wine and eating smoked salmon on fancy crackers?
After much racy conversation and a lovely meal, we sliced the cake. The first moist, rich bite hooked me. Several people eagerly asked for the recipe, but my husband didn't love it. He thought the pecan and apple pieces needed more knife-work than the coarse chopping and one-third inch cubes called for in the recipe. I saw at least one person shoot him a dirty look.
I had fallen hard for this cake, but I agreed with his criticism.
So when my friend Sharalyn invited us over for dinner the next day, I asked if I could bring an apple cake. "I may leave it with you," I explained. "Mike doesn't love it."
The smaller pecan and apple pieces improved the cake, as did the addition of some ground cloves. And I almost got the caramel sauce right this time, unlike my first thick and grainy attempt.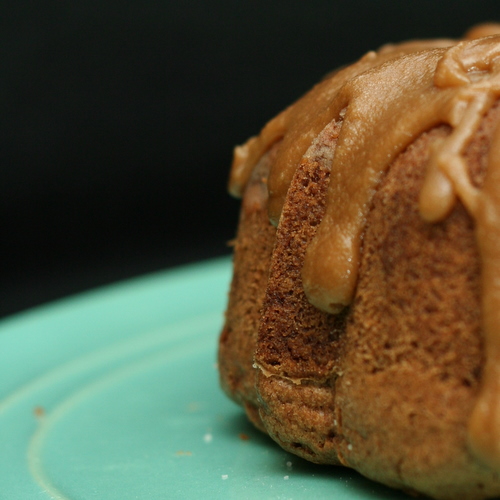 You probably have the patience to refrain from bumping up the heat when making the sauce; if you do not, do your best to trust that it will really boil in about five minutes. It will. Additionally, don't let the sauce cool so much that you have to reheat it to drizzle it on the cake. Did that on cake number three, which
also
resulted in grainy topping. Someday, surely I will get it just right.
I left most of the cake with Sharalyn that evening. The next morning right before 11 a.m., my phone buzzed, "I'm on my fourth piece. No lie!" read her text message.
This got me craving another slice myself. Since I couldn't shake the feeling, I baked apple cake for my students.
Now that I've had one more slice, will somebody please hide my Bundt pan?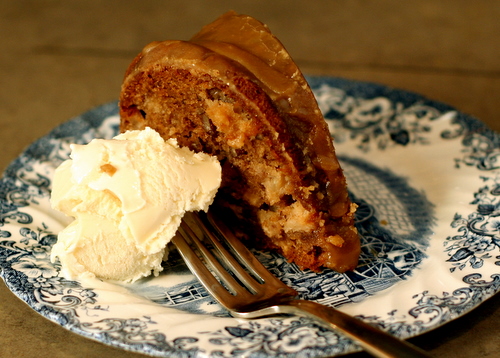 Apple Cake with Caramel Topping
Adapted from Epicurious.
Cake
3 cups all purpose flour
2 teaspoons ground cinnamon
1/4 teaspoon ground cloves
1 teaspoon baking soda
1 teaspoon salt
1 pound apples, peeled, cored, cut into 1/8 to 1/4-inch cubes
1 cup packed brown sugar
1 1/2 cups vegetable oil
1 cup sugar
3 large eggs
1 tablespoon vanilla extract
3/4 cup pecans, chopped to desired consistency
Glaze
1/2 cup (1 stick) unsalted butter
1 cup packed brown sugar
1/4 cup whole milk
1 teaspoon vanilla extract
Preheat oven to 350°F. Generously butter a 12-cup Bundt pan. Sift flour, cinnamon, cloves, baking soda, and salt into a medium bowl. Transfer 3 tablespoons flour mixture to Bundt pan and tilt to coat. Tap excess flour over apples in a medium bowl. Sprinkle an 2 additional tablespoons of the flour mixture over the apples and toss to coat. Combine brown sugar, vegetable oil, sugar, eggs, and 1 tablespoon vanilla in large bowl. Using electric mixer, beat until mixture is thick, about 4 minutes. Gradually mix in remaining flour mixture; stir until just combined. Fold apple mixture and pecans into batter; transfer to prepared Bundt pan.
Bake cake until tester inserted near center comes out clean, about 1 hour. Transfer cake in pan to rack. Let stand while making caramel.
Melt butter in small saucepan over medium heat. Whisk in brown sugar, then milk. Continue to whisk until topping is smooth and blended and comes to boil, about 5 minutes. Allow to boil for about 1 minute. Off heat, whisk in 1 teaspoon vanilla. Spoon 1/4 cup hot caramel topping over warm cake in pan. Let stand until topping is absorbed into cake, about 15 minutes. Turn cake out onto platter. Pour remaining warm topping over cake. Let stand until cool, at least 1 hour.