Take advantage of large apple harvests by creating frozen apple pie pucks ready to bake straight from the freezer on a moment's notice.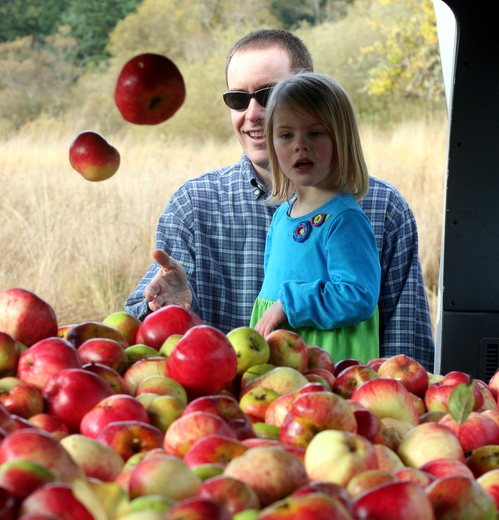 I feel winter coming. Every day we're losing three-and-a-half minutes of sunlight. I'm not happy about this. I like sunlight.
Aside from the shrinking days, I love fall. Big leaf maples so orange they look afire, pumpkins guts smeared on my kitchen table, hot cocoa in the afternoons, and apples. Lots of apples.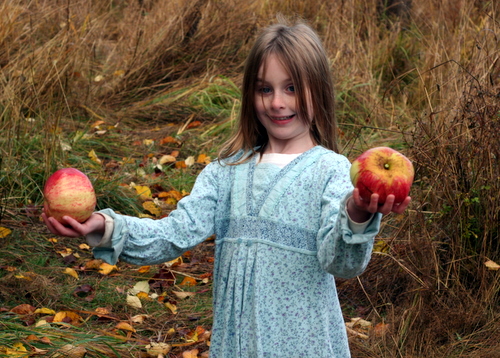 One of my favorite events of the year happens each October when Friday Harbor Lab folks load onto a sailboat and head over to the lab's biological preserve on Shaw Island.
After a gorgeous morning sail–which this year included sightings of porpoises, harbor seals, and great blue herons–we hike up a country lane to a decrepit apple orchard that cranks out more apples than you can even imagine.
I know I'm not really supposed to use the term Apple Raid to describe our adventure. I've been told it might upset some or all of the 240 residents of Shaw who also happen to like these apples.
If I offend anyone, I apologize, but I really can't help myself; it just sounds better than calling it the Friday Harbor Labs Apple Picking Event or some other official sounding name.
In truth, I'm pretty sure the Shaw islanders actually do view our annual field trip as a raid. This year, as usual, by the time we arrived on the scene, the Shaw folks had already picked their share of apples. To them, I say, enjoy. Some day, maybe we can harvest apples together instead of talking behind each others' backs about who really deserves these apples.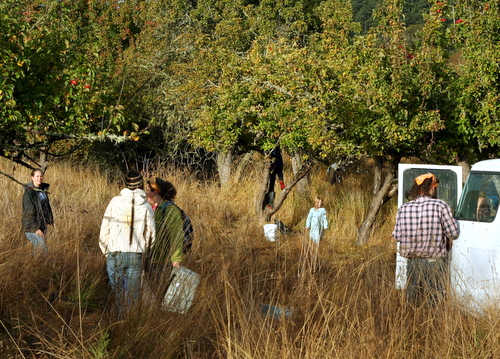 This year, after our short walk from the beach, we reconvened with another group of labbies who arrived via ferry with vans full of ladders and buckets. Moments after our arrival, students, professors, and small children were hanging from branches, shaking with all their might to unleash shower upon shower of apples into the thick grass below.
The plunkity, plunk, plunk of apples raining on the ground always sounds spectacular, especially when punctuated by the odd exclamation following a smack upon the head.
After each apple shower, we hunted though the grass for apples by the dozen, biting into one here or there to help us remember which trees produce the best fruit. It turns out the ones bigger than your head don't have a great texture or taste. Pity.
We filled buckets and buckets, lifting, dumping, and tossing them into the van one after the other.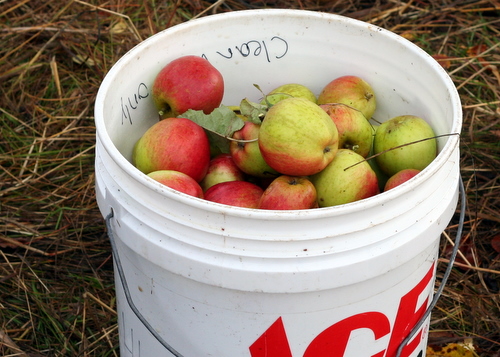 Last call came before we were ready, but some wanted more than apples for lunch. So much fruit still hung on the trees; apple pies in waiting for the Shaw Island natives.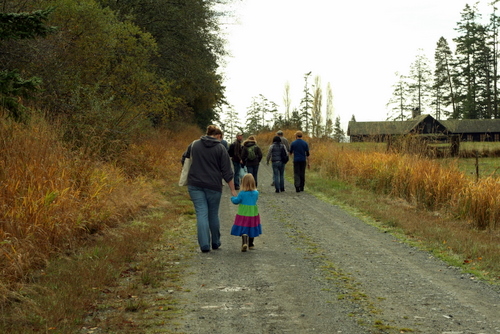 The next morning, we pressed most of the apples into cider.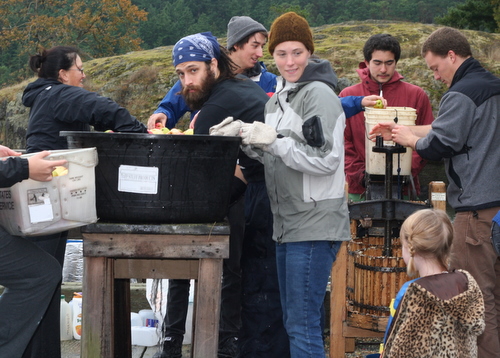 If you've never tasted freshly-pressed cider, you really should.
Washing, rinsing, and pressing apples is cold work, so I usually mull a big pot of just-pressed cider on my stove and run thermos-fulls down to the dock at regular intervals.
Though apple cider is wonderful, every year I make sure to get to the pressing extra early to select some fruit for my own uses. I especially love making apple pie pucks, which provide the perfect solution to a fierce onslaught of apples, not to mention an easy last-minute dessert. With 100 gallons of cider to press, my takings are never missed.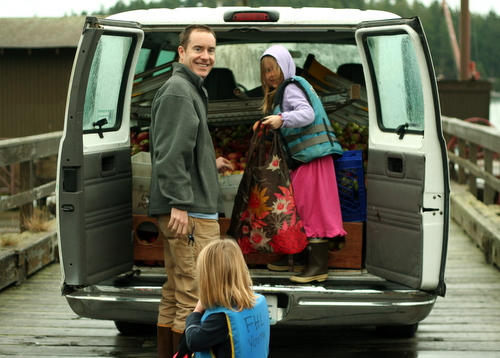 On some cold, winter day when I'm feeling sun-starved and island-weary, instead of moping about in a frustrated funk, I will roll out pie dough and drop a solid mass of icy apple goodness into my pie dish. Soon the smell of apples and cinnamon will fill my small cottage. Each bite of sweet fruit and buttery pastry will transport me back to a crisp, fall day climbing grizzled trees laden with red fruit.
If you have spare apples and freezer space, make a few pucks. You won't feel sorry you did.
Apple Pie Pucks
Scale your favorite apple pie recipe to fill as many pie dishes as you can get your hands on. Carefully spoon filling into zip lock bags and nestle them down into your pie dishes. Freeze overnight. Pop frozen pucks out of the pie dishes and return to freezer.
To bake, make a double-crust pie recipe. Fill pie dish with bottom crust, insert frozen puck, and cover with top crust. Crimp and flute edges. Slash the top decoratively to create steam vents. Bake on a cookie sheet at 400° F for 50 minutes. Reduce oven temperature to 350° F and bake until juices bubbly thickly through the vents, 40 to 60 minutes more.