Warm and spicy gingerbread doughnuts make a great start to any day!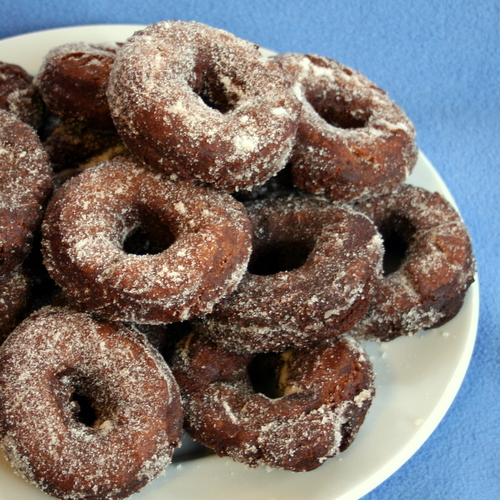 C
old. Rain. Gloom.
On top of the lovely weather, my husband was out of town at a conference.
Eliza had departed on the 8:00 am ferry to go to a birthday party.
Tessa and I clearly needed something to cheer our Saturday morning.
Fortunately, I'd had the foresight to mix up a batch of doughnuts before I went to bed the night before. Gingerbread doughnuts.
I'd invited some friends over late-night via text. A person can only eat so many doughnuts.
In the morning, for some crazy, cooped up reason, the kids seemed to need help playing nicely; this was no morning for me to linger and chat in the kitchen with friends.
"Come help make doughnuts!" I called. The kids came running.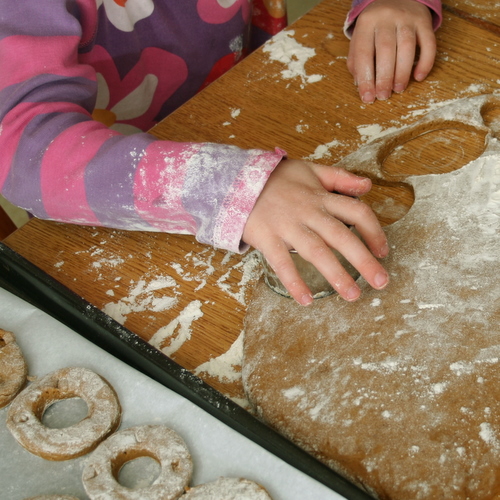 They got to try out my new doughnut cutter, which I'd purchased after making yeasted potato doughnuts recently.
This cake-style gingerbread dough rolls out much stickier than the yeasted dough I'd prepared before.
The cutter required more flour than the girls had patience for, and they took to poking the doughnuts and holes out of the cutter with chopsticks; this worked perfectly aside from a few puncture wounds to the doughnuts.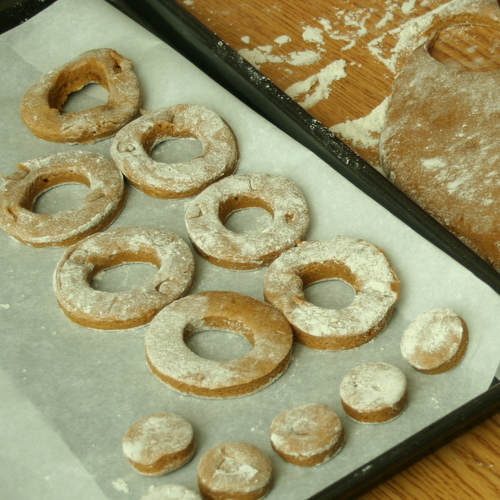 Adam, who took over the role of fry-guy for my absent husband, revealed that he'd worked in a New York City doughnut shop as a kid.
He remembered the trick of letting the doughnuts cool on racks with the second-fried-side down. As the first side of a cake doughnut hits hot oil, the opposite side expands and cracks a bit. Cooling it with that second-fried-side down allows the oil to drip off, rather than into any cracks that formed.
We started our operation following the recipe's instructions of tossing warm doughnuts in a bowl of cinnamon sugar. Our bowl of sugar quickly turned into a greasy mess. It wasn't pretty.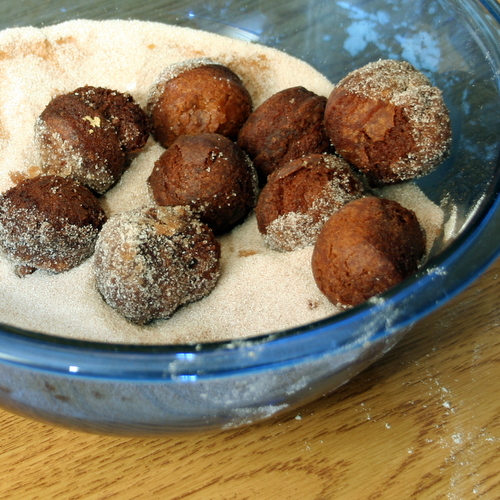 Instead of rolling them in the sugar mixture fresh from the fryer, sprinkle the doughnuts with it after they cool. Adam recalled using a shaker for sprinkling back in the day. Since I didn't have one, I just shook spoonfuls of cinnamon sugar over them with a spoon.
The adults nibbled freshly-fried doughnuts on the sly as soon as they cooled enough to handle. The warm, spicy flavor tasted just like gingerbread — deep fried gingerbread. When we finally began loading our plates with egg and sausage casserole, apple slices, and doughnuts, we noticed that the doughnut holes had disappeared. Judging by the stack of doughnuts, we should have had a pile of them.
"I ate them all," admitted Adam. By this point he was sacked out on the couch. Someone offered to bring him a doughnut, but he just couldn't bring himself to eat another bite.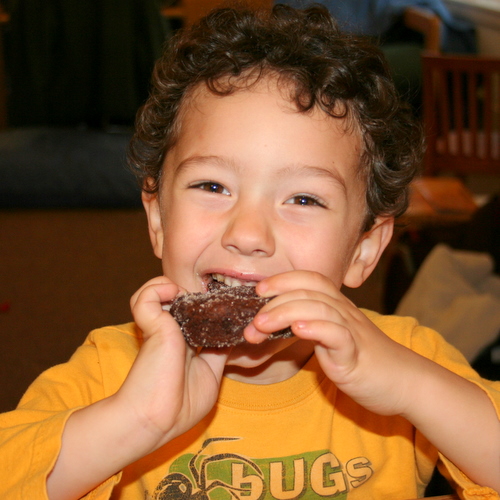 Gingerbread Doughnuts
Adapted from Gingerbread, by Jennifer Linder McGlinn. Makes about 24 doughnuts and 24 doughnut holes.
3 3/4 cups all-purpose flour
1 tablespoon baking powder
1 1/4 teaspoons baking soda
1 teaspoon salt
1 teaspoon ground cinnamon
1 teaspoon ground ginger
1/4 teaspoon ground cardamon
1/4 teaspoon ground allspice
1/8 teaspoon ground cloves
1/2 cup packed brown sugar
1/2 cup molasses
2 large eggs
1 teaspoon vanilla extract
6 tablespoons unsalted butter, melted and cooled slightly
1 cup sour cream
vegetable oil, for frying
Whisk together the flour, baking powder, baking soda, salt, cinnamon, ginger, cardamom, allspice, and cloves in a large bowl.
Combine the brown sugar, molasses, eggs, and vanilla extract in the bowl of an electric mixer fitted with the whisk attachment and mix on medium speed until smooth. Drizzle in the butter, continuing to mix until smooth. Incorporate the sour cream, 1/2 cup at a time, scraping down the sides after each addition. Reduce the mixing speed to medium-low and gradually incorporate the flour mixture, beating until just combined. Scrape the dough into a large greased bowl, cover with plastic wrap, and set in the refrigerator to chill and rest for at least 45 minutes or overnight.
Heat oil to 375° F in a deep fryer or a large straight-sided saute pan.
Roll the chilled dough about 1/2-inch thick on a lightly floured work surface. Cut with a 2 1/2-inch doughnut cutter or two round cutters. Arrange the doughnuts and doughnut holes on a parchment lined baking sheet.
Carefully slip about 4 or 5 doughnuts at a time into the hot oil, adjusting the heat as necessary to keep the oil temperature between 360° and 375° F. Fry for about 2 minutes on each side or until the doughnuts are well browned and puffed. Remove the doughnuts to racks to drain with the second-fried-side facing down.
Sprinkle doughnuts with cinnamon sugar.
Cinnamon Sugar
1 1/2 cups granulated sugar
1 1/2 tablespoons ground cinnamon
Stir together the sugar and cinnamon in a small bowl.
Some of the links in this post are affiliate links. If you click through and make a purchase, I earn a small commission for my referral at no additional cost to you. Thank you for supporting Flour Arrangements.