This versatile bread recipe bakes into light and fluffy potato rolls or rustic sandwich loaves.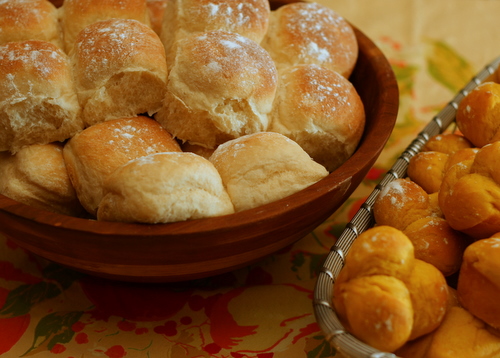 I've been making some serious bread this year.
We're talking at least two loaves a week, except for the last week of November when I made two intense cakes (one and two) and two recipes of dinner rolls for Thanksgiving. As I got wrapped up in my cake frenzy, my friend Sharalyn offered to take over my bread responsibilities for the week so Eliza would still have homemade bread for her sandwiches. How cool is that?
When I got going on this project to bake bread once a week for my daughter's school lunches, I had visions of trying out different loaves each week. Time just seems to get away from me, though, so I usually end up baking something that I've made before either because I know it will work or because it needs perfecting.
After my daughter decided she loved fennel seeds, I'd experimented with a whole grain fennel loaf for her. After a couple of tries, I produced a decent loaf that tasted great, but I decided that the bread overpowered the fennel. I felt inspired to try out fennel seeds in a loaf with fewer competing flavors and textures: potato bread, a basic white bread with mashed potatoes and buttermilk mixed into the dough.
Fennel potato bread may well be my favorite bread ever. It rocks a peanut butter and strawberry jam sandwich like you wouldn't believe. As you're eating, your teeth crack into a fennel seed and then this explosion of intense licorice-like flavor mixes in with the nutty peanut and sweet berry goodness. Mmmmm. My husband doesn't love fennel, and even he raved about this bread. It's that good.
Here's the thing, though. Eliza didn't like it. She didn't like if for the same reason that we loved it: "You're just eating and then all you can taste is fennel. It takes over your whole mouth," she said.
So much for potato fennel bread. Someday, I'll make it again. I myself have taken to sprinkling fennel seeds over the cheese in grilled sandwiches, which I recommend highly.
In the meantime, I've been cranking out potato bread straight up, which makes for lovely sandwiches, cold or grilled. Normally I don't like squishy white bread, but I can't resist this soft white loaf with its rustic crust, tender crumb, and flavor almost like sour dough, but rounded out with sweetness.
Since I've become this potato bread factory, I thought, why not make potato rolls for Thanksgiving? I'd just used my last loaf of potato bread to make stuffing for the turkey, and I knew Sharalyn would make her addictive Gruyere mashed potatoes, so adding potato rolls to the spread seemed only right. I have this thing for the number three.
The potato rolls emerged from the oven better than I'd even imagined. I had spaced tight balls of dough closely together on a rimmed baking sheet, and, as I had hoped, they baked together into light and fluffy pull-apart rolls.
They looked lovely, and when you pulled off a roll and took a bite, the tender, light texture provided the perfect complement to smoked turkey, tart cranberry sauce, Gruyere mashed potatoes, and potato bread stuffing.
Lest you think I'm in a total rut, I'm happy to share that I made pumpkin rolls as well. They looked amazing.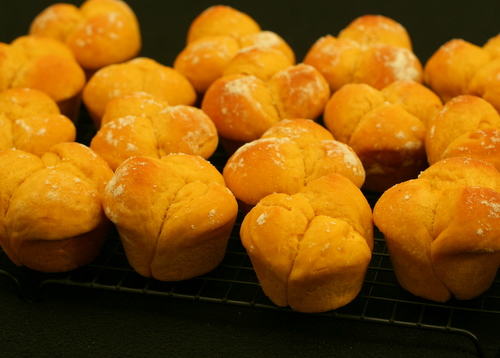 Unfortunately, they tasted uninspiring. The recipe does have potential, though, and now that I've made it once, I won't give up until I get it right.
Don't wait for Thanksgiving to give potato bread a try. Bake up a couple of loaves and enjoy some great sandwiches. Mix in some fennel seeds if you're feeling adventurous. And if you ever find yourself with a leftover loaf that you should have given away right when you baked it, buy a turkey, make some stuffing, and invite some friends over for dinner. Don't forget to make potato rolls.
Buttermilk Potato Rolls
Adapted from The Bread Bible, by Beth Hensperger. Makes 24 dinner rolls or two 9-by-5-inch loaves.
1 large potato (about 3/4 pound)
2 tablespoons unsalted butter
1 cup buttermilk
2 tablespoons sugar
1 tablespoon salt
2 tablespoons active dry yeast
6 to 7 cups unbleached all purpose flour our bread flour
Peel the potato and cut it in large pieces. Place potato pieces in a small sauce pan and cover with water. Bring to a boil and cook until soft. Using a strainer, drain potatoes over a glass measuring cup. Pour out some of the potato water from measuring cup, leaving 1 cup for use later (if you don't have 1 cup of potato water, add water to measure 1 cup). Allow water to cool to 105º to 115º F.
Return potato to the pan and mash. Add butter while the potatoes are still warm; mash it into the potatoes until it melts completely. Pour in buttermilk, sugar, and salt. Stir to combine.
Once the potato water has cooled, add it to the bowl of an standing electric mixer. Sprinkle yeast and a pinch of sugar over the surface. Stir to combine and let stand at room temperature until foamy, about 10 minutes.
Add potato mixture and 2 cups of flour to the yeast mixture. Beat until smooth with the paddle attachment, about 2 minutes. Add remaining flour, about 1/2 cup at a time until a soft dough forms. Switch to the dough hook and knead for 3 to 5 minutes, or until the dough is smooth and springs back when pressed. If desired, transfer to a floured surface and knead briefly by hand.
Place the dough in a deep greased bowl, turning once to coat the dough. Cover with plastic wrap and let rise at room temperature until doubled in bulk, about 1 hour.
Preheat oven to 375º F. Turn the dough out onto a lightly floured work surface and deflate it gently with your hands.
To make rolls, form the dough into a large rectangle. As evenly as you can, on the narrow side, cut the dough into four strips. In the other direction, cut six strips to give you 24 squares of dough. Parchment line an 11-by-17-inch rimmed baking sheet. Form dough squares into a tight balls, spacing them apart evenly as you make six rows of four rolls. Dust lightly with flour and cover loosely with plastic wrap. Let rise in a warm place for about 20 minutes. Bake for 25 to 30 minutes, until golden brown and firm to the touch.
To make loaves, grease two 9-by-5-inch loaf pans. Divide the dough into two equal portions. Shape each portion into a rectangle and roll it into a tight loaf, pinching the seams closed. Set loaves seam-side down in pans and dust lightly with flour. Cover loosely with plastic wrap and let rise for 20 to 30 minutes. Bake in the center of the oven for about 40 minutes or until the loaves are deep brown and the sound hollow when tapped with your finger. Immediately transfer loaves from pans to a cooling rack. Cool completely before slicing.
For Potato Fennel Bread, add 1/8 to 1/4 cup of fennel seeds when adding potato mixture and flour to the yeast mixture.
Some of the links in this post are affiliate links. If you click through and make a purchase, I earn a small commission for my referral at no additional cost to you. Thank you for supporting Flour Arrangements.