Cayenne pepper and crushed red pepper give these Rosemary Cheese Crackers some serious kick. They're like goldfish crackers for adults with a dense-crisp texture.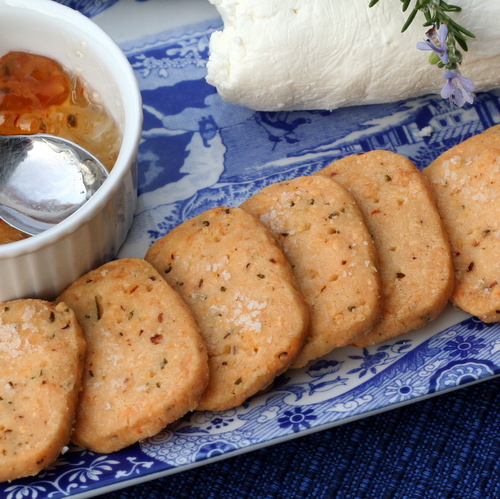 I love sweets, but I think I've have had enough cookies, cakes, candies, and pies to get me through the year.
This Christmas Eve, I felt compelled to bake something savory to compensate for the onslaught of dessert that always accompanies the holidays. So after we tucked our Christmas-crazed kids into bed, I put some Rosemary Cheese Crackers in the oven.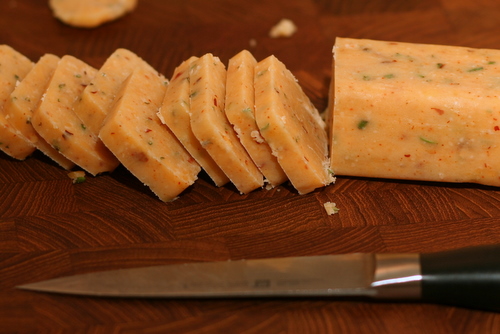 I thought we could snack on these crackers Christmas day before dinner. I also thought I could package some up for my impossible-to-shop-for uncle who needs absolutely nothing.
We had to, of course, make sure they tasted all right when they finished baking. Cayenne and crushed red pepper give them some serious kick. They're like goldfish crackers for adults with a dense-crisp texture.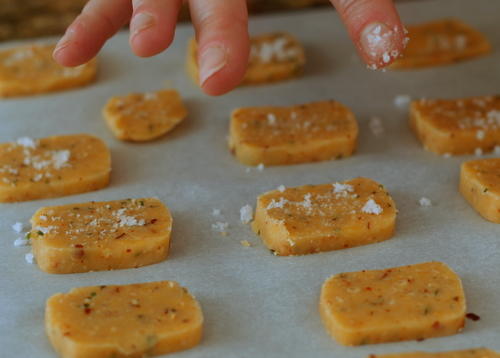 In almost no time, we were sipping champagne and nibbling crackers topped with goat cheese and pepper jelly while playing Santa Claus.
We had a few crackers left for our cheese plate on Christmas day, and they disappeared in no time. Since we've already established how well these flavorful, crunchy crackers go with champagne, I've decided to bake another batch to help me ring in the New Year.
Truth be told, I probably won't wait, though. I could use a good excuse to open a bottle of champagne.
Rosemary Cheese Crackers
Adapted from Sara Foster's Southern Kitchen . Makes about 60 1-by-1 1/2-inch crackers. If you don't like spicy food, reduce the amount of cayenne pepper or use paprika instead.
2 cups (8 ounces) sharp Cheddar cheese, grated
8 tablespoons (1 stick) unsalted butter, softened
2 teaspoons fresh rosemary, chopped
1 ½ cups all-purpose flour
1 teaspoon sea salt, plus more for sprinkling on top
1 teaspoon crushed red pepper flakes
¼ teaspoon ground cayenne pepper
Cream the cheese, butter, and rosemary in a large bowl with an electric mixer or a wooden spoon until smooth and well combined.
Stir together the flour, salt, red pepper flakes, and cayenne in a separate bowl.
Add the flour mixture to the cheese mixture and stir to combine thoroughly.
Turn the dough onto a piece of parchment paper. Roll into a log shape for round crackers; for square crackers, gently tap each side of the log on the counter several times to form a long rectangle. Wrap the dough in the paper and refrigerate for several hours or overnight, until the dough is firm and sliceable.
When ready to bake, preheat the oven to 375°F. Remove the dough from the refrigerator. Cut the log into 1/4-inch-thick slices and arrange them on a baking sheet. Using a fork, prick the center of each cracker several times and sprinkle with salt. Bake for 12 to 15 minutes, until golden brown around the edges.
Remove from the oven and allow to cool completely before serving or storing in an airtight container for up to 3 days.
Some of the links in this post are affiliate links. If you click through and make a purchase, I earn a small commission for my referral at no additional cost to you. Thank you for supporting Flour Arrangements.