The addition of spice and vanilla give these Cardamom-Spiced Fortune Cookies a distinctive personality that transcends the standard variety.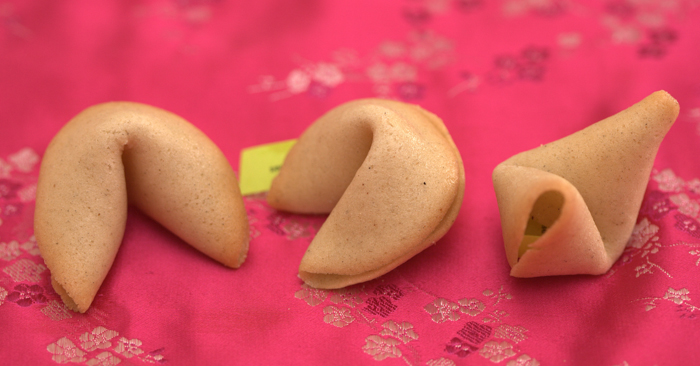 While I got in the spirit of St. Patrick's Day this year, I did not spend my St. Patrick's evening at the local pub drinking Guinness (this turns out to have been a good thing since I heard the Guinness ran short).
No corned beef and cabbage for this year for me either. No shepherd's pie. No potatoes. I feasted on Chinese food.
I've written before about the lack of ethnic food offerings on San Juan Island. My friend Sharalyn, hostess extraordinaire, decided it was about time for another feast, this time with an Asian flair.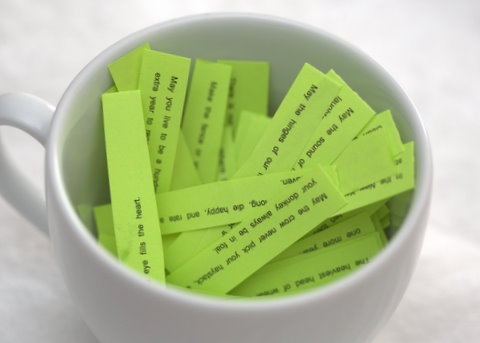 In the weeks before the party, people talked about making stir fries, pork buns, won tons, pot stickers, and other delicacies, but it took me some time to decide what to bring. About a week before the party, someone mentioned fortune cookies.
Fortune cookies have fascinated me since my third grade class visited a fortune cookie factory in San Francisco's Chinatown.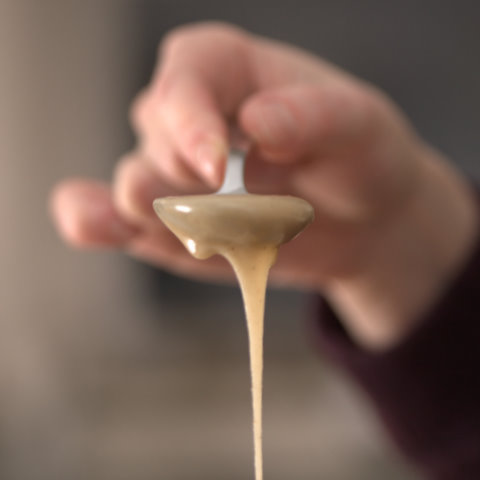 Everybody called it a factory, but really, it was one man and with a crazy machine in a small, narrow room. The machine looked like a miniature Ferris wheel, but instead of the usual cages around the wheel, it had a dozen or so round griddles facing in toward the center.
A dispenser unleashed a stream of batter onto each griddle just as it passed the bottom. The cookies rotated up, clinging to their griddles, baking all the while. Just as each griddle rounded the arc's zenith, a perfectly baked cookie dropped into the hands of the man, who tucked a fortune inside as he magically transformed the flat disk into a fortune cookie.
This is how I remember it anyway. It blew my 9-year old mind.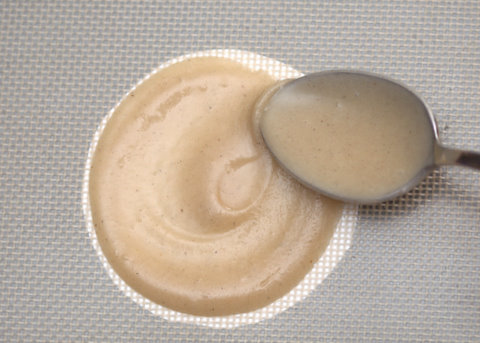 Fortune cookies combine two of my favorite pastimes, eating and reading. Once, inspired by this coincidence, I made fortune cookies for my American Literature classes stuffed with aphorisms from Benjamin Franklin's Poor Richard's Almanack.
As my students munched their cookies, I explained the writing assignment that accompanied their "fortunes." This tickled my students and had the desired effect. They began writing without much complaint.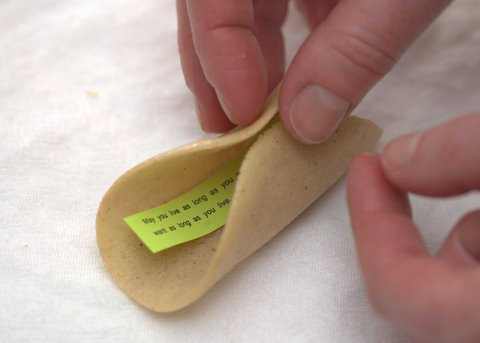 Here's the thing about fortune cookies, though; while I'd venture to guess that every single Chinese restaurant in America serves them, they're not Chinese in origin. According to Jennifer Lee in Fortune Cookie Chronicles, they originated in San Francisco in the early 20th century.
Lee's research led to several Japanese immigrants who made "crescent-shaped crackers with little slips of paper inside, called senbei," which became popular in Chinese eateries.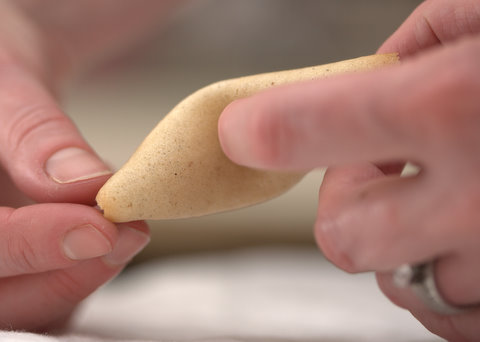 Since I was going to a Chinese feast cooked by Americans of mostly European descent on St. Patrick's Day, I decided not to trouble myself with nuanced cultural details. Once I arrived at this point, it didn't even matter if I produced authentic San Francisco fortune cookies, which to be honest, don't taste especially interesting.
So, as I mixed up the batter, I added cardamom for flavor. As I pulled golden disks out of the oven, I folded in Irish wit and wisdom.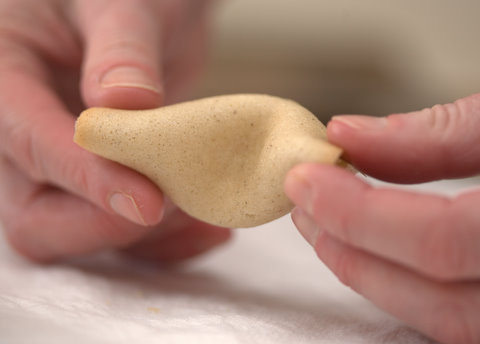 Here are some of my favorite St. Patrick's Day fortunes:
As you slide down the banisters of life may the splinters never point the wrong way.
May the outside leaves of your cabbage always be free from worms.
The man with the boots does not mind where he places his foot.
He who waits long enough at the ferry will get over at last.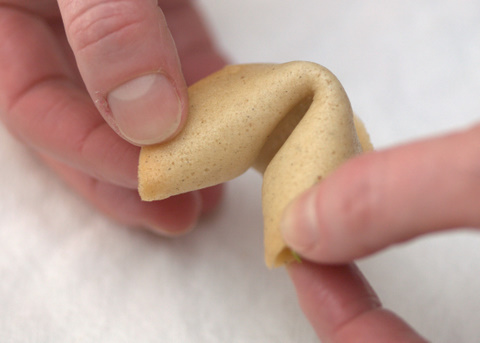 I made about five dozen cookies, but you don't need to make anywhere near that number to get the hang of folding them.
It is slow work, though; you have to shape the flat disks right as they come out of the oven because they stiffen quickly, making them difficult to manage.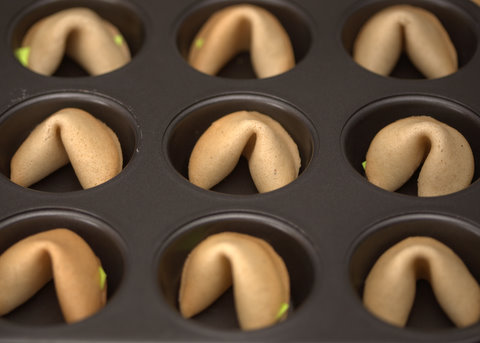 I recommend starting with two cookies at a time until you get the hang of it. The cookies bake for about 14 minutes total, and I eventually I got into a rhythm of folding several cookies every seven minutes or so as I rotated baking sheets in and out of the oven.
While the process took a chunk of time, the downtime allowed me to turn to other tasks in small bursts.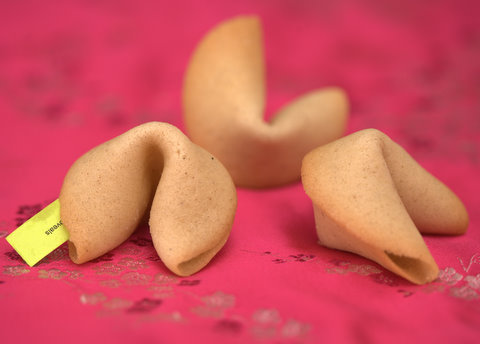 And so, you may ask, are homemade fortune cookies worth the effort? I think so. How cool is inserting your own custom-made fortunes inside small cookies? And the addition of cardamom to these vanilla-spiked wafers gives them a distinctive personality that transcends the standard fortune cookie variety.
At the party, as Sharalyn finished her first cookie, she said, "I don't even like fortune cookies!" Before she'd finished her sentence, she'd already reached for another one. I'd call that high praise.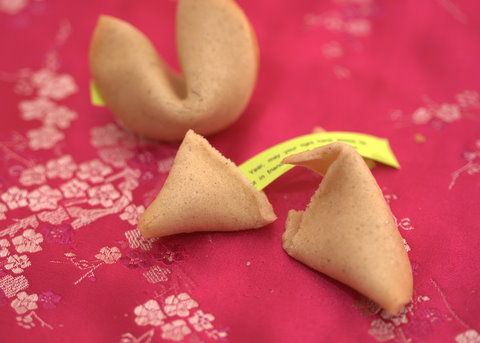 Cardamom-Spiced Fortune Cookies
Makes about 22 cookies.
2 large egg whites
1 teaspoon vanilla extract
3 tablespoons vegetable oil
2 tablespoons water
1/2 cup all purpose flour
1/2 teaspoon cardamom
generous pinch ground cloves
1 teaspoon cornstarch
1/4 teaspoon salt
1/2 cup sugar
Prepare fortunes on 2-inch strips of paper. Preheat oven to 300° F. Grease or line four baking sheets with silicone baking mats (if using baking mats, slide 3 1/4-inch circles of paper underneath each mat to use as guides for shaping your cookies).
Combine flour, cardamom, cloves, cornstarch, salt, and sugar in a medium bowl. In a separate bowl, lightly whisk egg whites, vanilla extract, vegetable oil, and water until frothy. Add dry ingredients to the eggs and stir until the batter is smooth.
Spoon about a tablespoon of batter onto the baking sheet and use the back of a spoon to smooth the batter into a 3 1/4-inch circles. Repeat this step until you have 2 to 4 circles (depending on your folding abilities).
Bake for 7 minutes on the lower rack of the oven. While the cookies bake, prepare a second baking sheet with batter. After 7 minutes pass, shift lower baking sheet to the top rack and place the second baking sheet on the lower rack. Bake for 7 minutes again, or until the cookies on the top rack are lightly browned around the edges. Remove finished cookies quickly and reshuffle the baking sheets in your oven to continue the baking process.
Remove one of the cookies from the baking sheet and flip it top side down onto a clean dish towel. Place a fortune in the middle of the cookie. Fold the cookie in half and then pinch the sides together carefully. Place the finished cookie in a muffin tin to help it maintain its shape. Repeat with remaining cookies.
Some of the links in this post are affiliate links. If you click through and make a purchase, I earn a small commission for my referral at no additional cost to you. Thank you for supporting Flour Arrangements.