W
inter always brings me down. I have nothing against rain, sleet, and snow; it's the vanishing daylight that kills me. Round about February each year, I begin to wonder if spring will return before I come unhinged.
April's finally here, and by the look of things, spring's come with it. Flowering red current bushes explode in hot pink. Yellow daffodils stand at the ready. Best of all, the sun is sticking around until after dinnertime these days.
One sun-dappled evening last week, my husband started talking about hummus. The next day, after he picked up some pitas at the store, I tossed garbanzos in the food processor along with some garlic, lemon juice, and tahini. Good stuff, hummus, and so simple to make. As I nibbled, I decided I wanted to try homemade hummus on homemade pitas. Was this my husband's plan when he began extolling the virtues of hummus? Probably. In any case, we now know that hummus does taste better on homemade pitas. This pita dough recipe calls for a three hour rise, which gives the flavors of its simple ingredients plenty of time to develop. The long rise also gives a person time to come up with more complex plans for those pitas that will eventually emerge from the oven.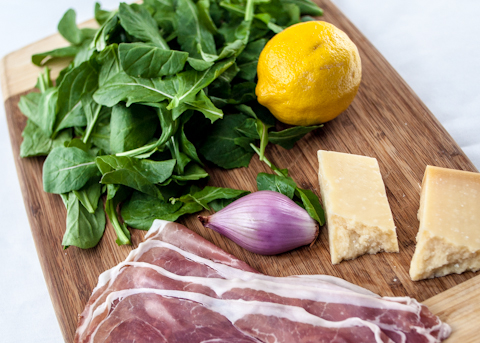 In my case, the gorgeous sunny weather got me hungering for fresh, flavorful greens. I envisioned arugula, with its sharp, spicy flavor and bright-but-bitter-edge, spilling from loaded pita halves. Add savory prosciutto, sweet tomatoes, rich Parmesan, and flavor-packed pine nuts, and then toss it all up with a lemon-shallot dressing. It's like a spring day in sandwich form.
Patience is not one of my strengths, but pita dough demands it. Making pitas without patience will drive you as crazy as the long, dark nights of winter. First there's that long rise. Then you need to let the dough rest between the dividing, the shaping, and the rolling.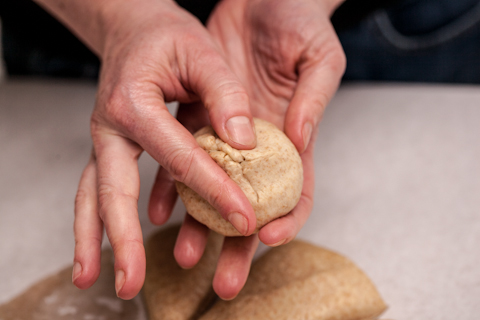 Once you start working the dough, the gluten springs into action, making it impossible to create the circular pitas that you imagine in your mind. Take a break after shaping the dough; letting the dough relax will make it much easier to roll into perfect circles.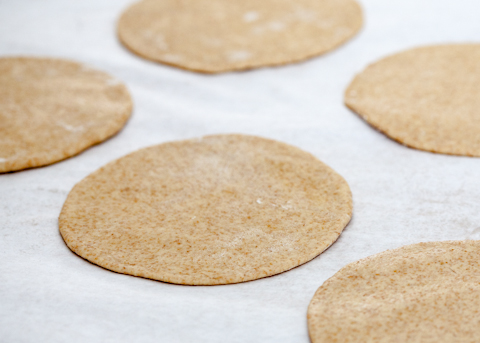 When they're finally ready for the oven, these pitas bake quickly. The recipe I used called for a 10 minute baking time, but this was way too long. The pitas puffed perfectly, but permanently, except when you tried to slice or tear them, in which case they shattered to pieces.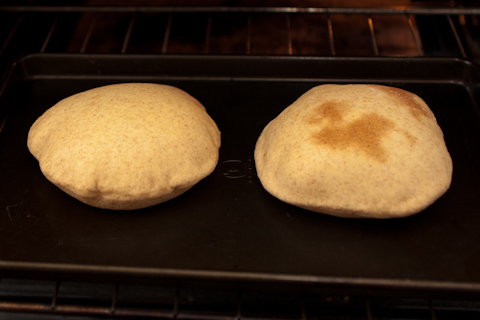 I finally settled on about five minutes of baking time, which produces the soft but sturdy texture you expect from a pita. These pitas provide just the right heft for scooping freshly-made hummus. Halved, they're sturdy enough to cram full of just about any sandwich filling you can imagine.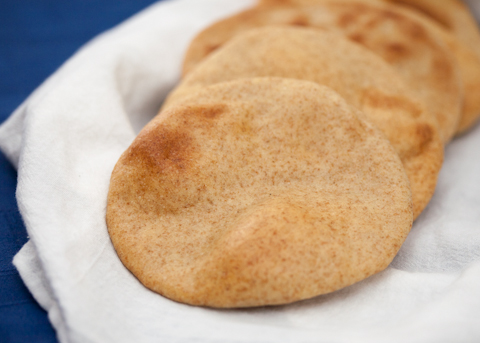 If, like me, you've anticipated spring's salvation this whole dark and drawn-out winter-long, go make yourself a vibrant spring-time salad and stuff it in a sandwich. It will make you happy. I promise.
Pita Bread
Adapted from
Baking
, by James Peterson. Makes 8 pitas. 3/4 teaspoon active dry yeast 3/4 cup warm water, plus 1 tablespoon 2 cups unbleached all-purpose flour, plus 1 tablespoon 1 cup whole wheat flour 3/4 teaspoon salt 1/4 cup plus 2 tablespoons olive oil Mix the yeast, 1 tablespoon water, and 1 tablespoon all-purpose flour in the bowl of a standing electric mixer. It will be thick and pasty. Let the mixture sit for a few minutes until it looks puffy. Add remaining water, whole wheat flour, the salt, and olive oil. Mix on low speed with the paddle attachment until combined. Add remaining flour, about 1/2 cup at a time, until the dough pulls away from the sides of the bowl. Turn out dough on a lightly floured surface and knead until smooth and elastic, about 5 minutes (you can use the dough hook with your mixer, but I usually have better luck kneading such a small amount of dough by hand). Place the dough in a lightly oiled bowl and let it rise at room temperature for about 3 hours or until tripled in bulk. Turn out the dough onto a lightly floured surface. Divide the dough into 8 evenly-sized pieces. Shape each piece into a round ball, pinching the seams together on the bottom. Let rest for at least 10 minutes. Roll each ball into a 6-inch disk, flouring as needed to prevent sticking. Allow the disks to rest for about 10 minutes. Place the pitas on a baking sheet, two at a time, and slide them on the bottom rack of an oven preheated to 500º F. Bake for about 4-5 minutes, until puffed. Move the baking sheet to the top rack and bake for 1-2 minutes more, until very lightly browned on top (err on the side of under baking; if you bake the pitas too long, they will not deflate). Slice pitas in half to fill, or cut them into small wedges for dipping.
Arugula Salad with Lemon-Shallot Dressing
Serves 4. 1 large lemon, zested and juiced 3/4 teaspoons salt 3 tablespoons minced shallot 1/4 cup olive oil 3 ounces arugula 1 cup cherry tomatoes, halved 1/4 cup pine nuts 4-5 slices prosciutto, torn into small pieces 1/4 cup shredded Parmesan cheese Combine lemon zest, juice, salt, and minced shallot in a small bowl. Mix well. While whisking, pour olive oil in to the bowl in a slow, steady stream. Set aside. Combine remaining ingredients in a large bowl. Toss with dressing.
Some of the links in this post are affiliate links. If you click through and make a purchase, I earn a small commission for my referral at no additional cost to you. Thank you for supporting Flour Arrangements.