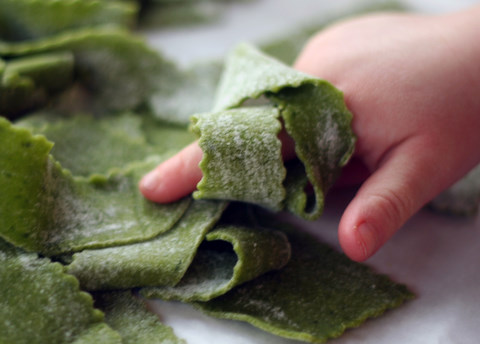 Perhaps my younger daughter's desire to wear green clothes all week long set me off. Or maybe it was listening in on conversations about catching leprechauns and convincing them to hand over the gold.
Whatever the reason, I got in the spirit of St. Patrick's Day this year. This meant making leprechaun traps as well as eating lots of spinach.
We haven't yet gotten rich on gold (darned traps), but we've certainly had an iron-rich diet.
Last Sunday evening, I baked green bread for Eliza's sandwiches. As my husband prepared her lunch Monday morning, she regarded the green loaf warily: "What makes it green?" she wanted to know. "Is it spinach?"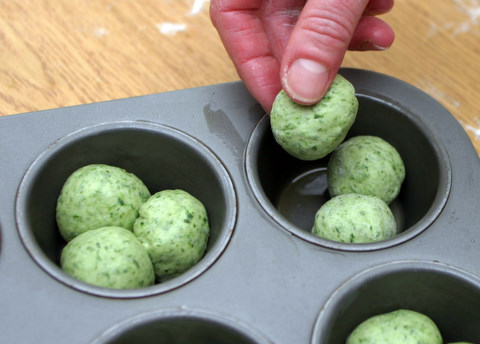 My husband replied, "It's the same stuff they use to make goldfish crackers green." She nodded and smiled.
It turns out she likes green bread. A lot. If you don't know there's spinach in it, it just tastes like a rich savory loaf, which, oddly enough, she requested with peanut butter and jelly. I think the best part for her, though, was tripping out her friends with her green sandwiches.
Since I was on a green roll, when Tessa wanted to bring green food to the St. Patrick's Day party at her school, I mixed up more green dough to form into cloverleafs.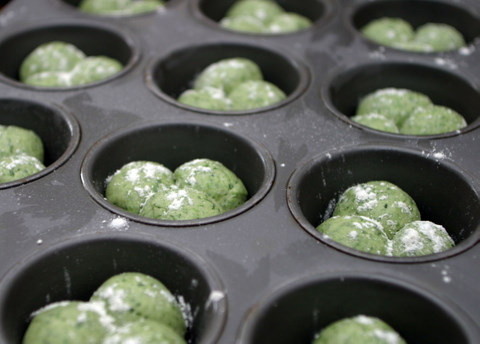 The rolls looked much prettier than the loaf I made earlier in the week. The first time I made the recipe, I didn't blanch the spinach as directed. The bread tasted fine, but it looked more murky olive than the springy green I'd imagined. Even so, they aren't quite as vivid as I'd hoped; next time I'll err on the side of underdone and take them out before they begin to brown.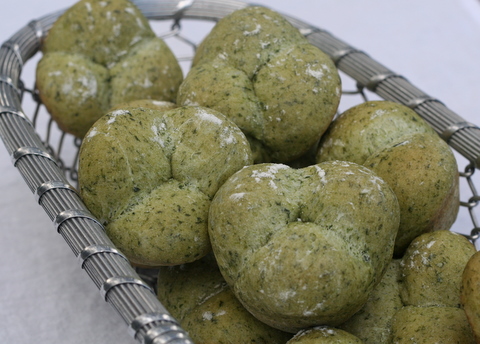 I
n addition to mixing spinach into yeasted dough, I pureed some with eggs and combined the deep emerald mixture with flour and salt to make pasta dough. Making spinach pasta only takes one step more than preparing
plain pasta
, but it looks at least 10 times cooler.
If you've ever made fresh pasta before, you know the homemade variety tastes about a million times better than any dried pasta you can buy at the store. Spinach pasta is no exception. It's fresh and tender and, like the bread, not overwhelmingly spinachy.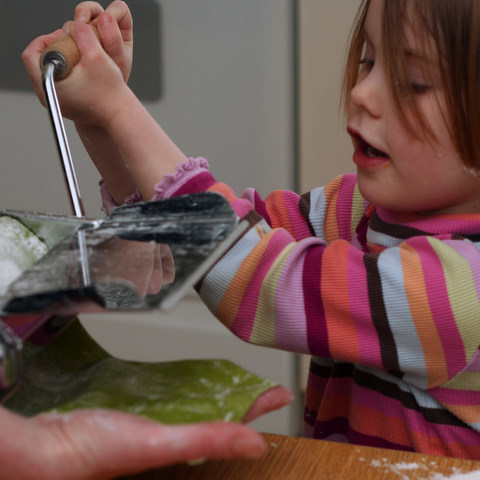 I wanted to make papperdelle, but my pasta maker only cuts narrow noodles, so we used scissors to trim it by hand. I dug out some craft scissors with sawtooth edges to make the pasta look more interesting. The scissors, really too small for my hands, fit better in Tessa's.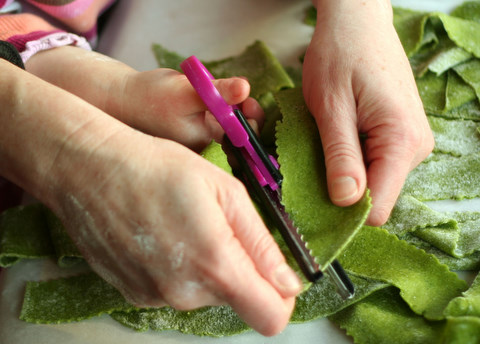 We may not have have found a pot of gold this week, but if I can get my kids to eat spinach cheerfully, I'm happy. After all, I didn't really expect either of these miracles to happen anyway.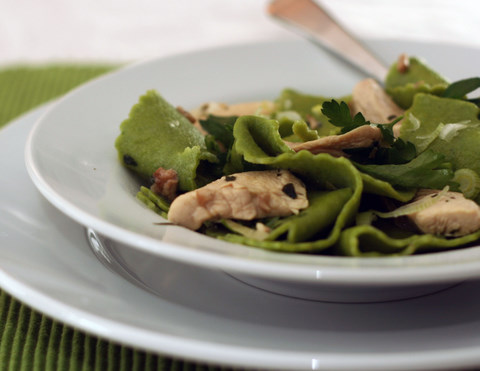 Spinach Bread
Adapted from Susan Stehn's recipe. Makes one 9-by-5-inch loaf or 16 cloverleaf rolls.
5 ounces fresh spinach
1/2 cup warm water
generous pinch of sugar
2 teaspoons active dry yeast
3 1/2 cups unbleached all-pupose flour
1 1/2 teaspoons salt
1 tablespoon butter, melted
Immerse fresh spinach in rapidly boiling water. When the water returns to a boil, drain and rinse in cold water. Gently squeeze dry. Puree spinach in a food processor or blender. Put the puree in a measuring cup and add cool water to make up a volume of 3/4 cup. Set aside.
Add 1/2 cup warm water to the bowl of a standing electric mixer. Sprinkle surface with sugar and yeast. Stir to combine and set aside until bubbly, about 5 to 10 minutes.
Add 1 cup flour, salt, spinach puree, and butter to the yeast mixture. With the paddle attachment, stir slowly to combine, and then mix on medium speed for about a minute. Add additional flour, about 1/2 cup at a time, until the dough begins to pull away from the sides of the bowl. Switch to the dough hook and knead for 3 to 5 minutes, until the dough is smooth but slightly sticky. Turn out onto a lightly floured counter and knead briefly by hand, if desired.
Place dough in a lightly greased bowl, turning the dough once to coat with oil. Cover the bowl with plastic wrap and allow the dough to rise until doubled in size, about 1 to 1 1/2 hours.
To form into a loaf: Grease one 9-by-5-inch loaf pan. Turn out the dough and shape it into a rectangle. Roll it into a tight loaf, pinching the seams closed. Set dough seam-side down in the pan and dust lightly with flour. Cover loosely with plastic wrap and let rise until the top of the dough extends just above the loaf pan, about 45 minutes. Bake on the lower rack of an oven preheated to 400° F. If the loaf begins to brown too quickly, slip a baking sheet on the top rack of the oven to diffuse the heat. Bake for about 40 to 45 minutes, until the loaf sounds hollow when tapped with your finger. Immediately transfer from pan to a cooling rack. Cool completely before slicing.
To form into cloverleaf rolls: Lightly oil 16 muffin tin cups (2 1/2 inch-diameter at the top of each cup). Turn out the dough and divide it into 16 even pieces. Working with one at a time, divide each piece into three smaller pieces. Shape the smaller pieces into tight balls, pinching the seam of each one together on what will be the bottom side of each ball. Drop the three balls into one muffin round. Repeat. Let the rolls rise until doubled in bulk, about 30 to 40 minutes. Bake on the lower rack of an oven preheated to 400° F for 12 to 15 minutes, or until the rolls just begin to brown and sound hollow when tapped with a finger. If they begin to brown too quickly, slip a baking sheet on the top rack of the oven to diffuse the heat. Remove the rolls immediately from the muffin tins and cool on a rack.
Spinach Pasta
Adaped from Vegetarian Cooking for Everyone. Makes about 1 pound of pasta.
1 1/4 cups unbleached all-purpose flour
3/4 cups semolina flour
1/4 teaspoon salt
2 cups fresh spinach, packed
2 extra large eggs
1 tablespoon olive oil, if needed
Mix flours and salt in the bowl of a standing electric mixer with the paddle attachment. Set aside.
Combine eggs and uncooked spinach in a blender. Blend until spinach is pureed.
With the mixer on slow speed, scrape spinach-egg mixture into the flour mixture, mixing until combined. If the mixture seems dry, add 1 tablespoon of olive oil. If it seems too moist, add more flour a little bit at a time (either kind will do).
Remove dough from the mixing bowl and knead by hand for about five minutes, adding additional flour only if needed to prevent sticking. Let dough rest for at least 20 minutes before forming pasta.
When ready, roll pasta dough thinly and cut into strips by hand or feed the dough through a pasta machine.
Cook pasta until desired tenderness–2 to 4 minutes–in a large pot of salted water. Toss with sauce and serve.
Some of the links in this post are affiliate links. If you click through and make a purchase, I earn a small commission for my referral at no additional cost to you. Thank you for supporting Flour Arrangements.