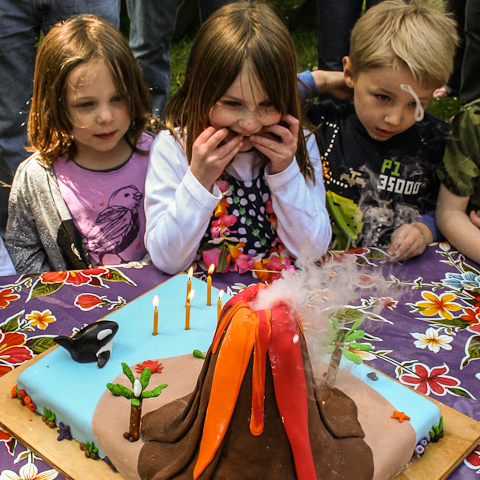 E
xactly one year ago, I was finalizing plans for my daughter's volcano birthday cake. Little did I know that signing her up for hula class would lead to a luau-themed party complete with erupting cake.
In hula, all dances tell stories, and, of course, the volcano dance made a serious impression. Since I'll spend the coming weekend working on entirely
different cake
for her seventh birthday, l need to write about the erupting volcano cake now, or I probably never will.
Anyone who knows my family could tell you that the prospect of this cake excited my scientist husband more than soon-to-be-six-year-old Eliza. In fact, when she first requested the cake, he didn't miss a beat: "If you can make the cake, I can make it erupt." He had the details for our confectionery explosion worked out in no time. Dropping a few pieces of dry ice inside a test tube and then injecting raspberry Jell-O produces an instant, impressive, and crowd-pleasing eruption.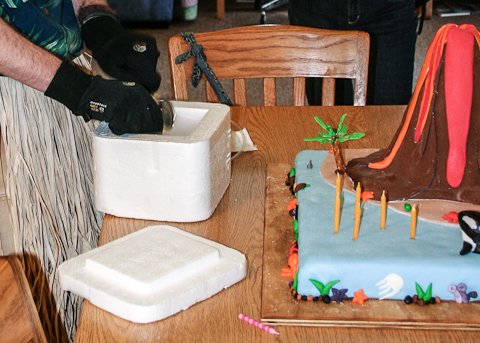 I wish I could say I figured out how to make the cake itself as easily. The idea of baking cakes, stacking them, and then carving them into a volcano seemed daunting. I puzzled over what to do until my friend
Val
suggested shaping a Rice Crispy treat volcano. I can't stand Rice Crispy treats, so this never would have occurred to me, but it didn't take me long to realize that I had the solution to my volcano problems.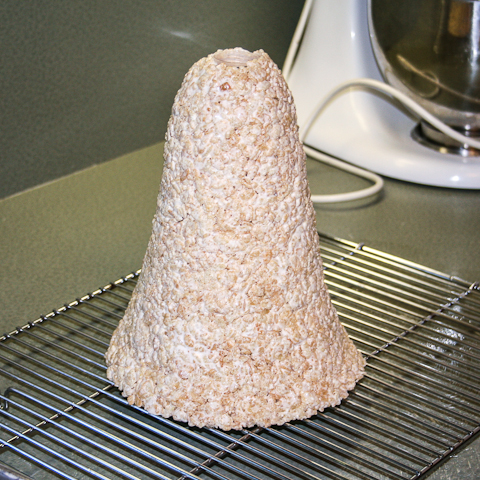 The Rice Crispy-marshmallow combination provided the perfect medium for mountain building. After getting the shape just right, I shoved a test tube into the mountaintop. Next I covered two sheet cakes with a base layer of frosting and then covered them with blue
fondant
. Atop my sugary sea, I added a layer of sand colored fondant that would serve as the island from which the volcano rose.
Since volcanoes are generally rough and rugged, I didn't worry about folds as I covered the rice crispy treat volcano with brown fondant. After making a hole in the top to uncover the test tube, I added fondant lava, and then set the volcano on top of the prepped sheet cakes.
Technically, we had our volcano cake, but it didn't look finished to me. Clearly 3 am delirium had me in its grips as I started forming sea creatures, rocks, and plants for the island and cake base. My husband grabbed a bag of pretzels and formed some fantastic palm trees. One even included a sea gull.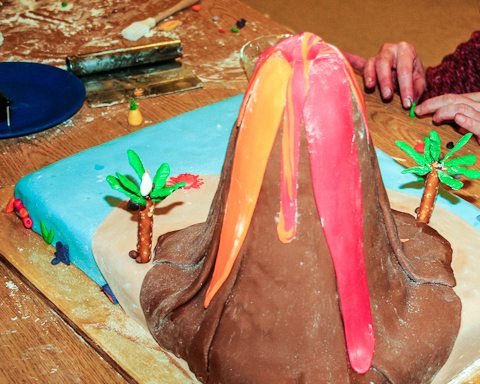 I don't know if Orca whales hang out in Hawaii, but since they're regulars here in the San Juan Islands, I couldn't resist making one for the cake.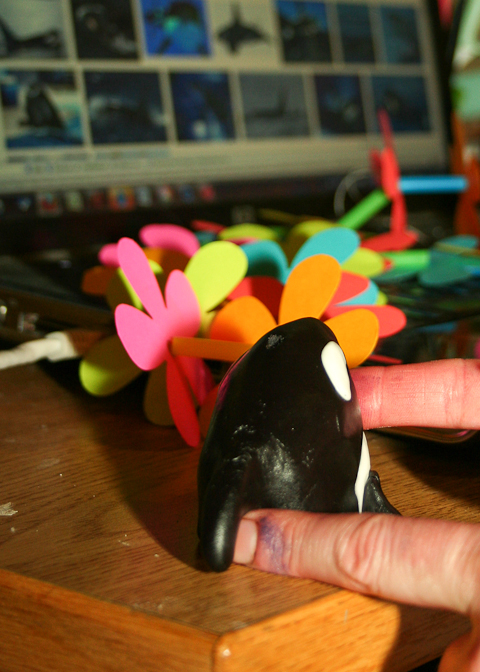 Eliza loved her tropical volcano cake, and so did her friends. After the smoking, molten eruption, we witnessed a birthday party first. The kids didn't want us to cut into the cake and serve it to them, they wanted my husband to make it erupt again. And so he did.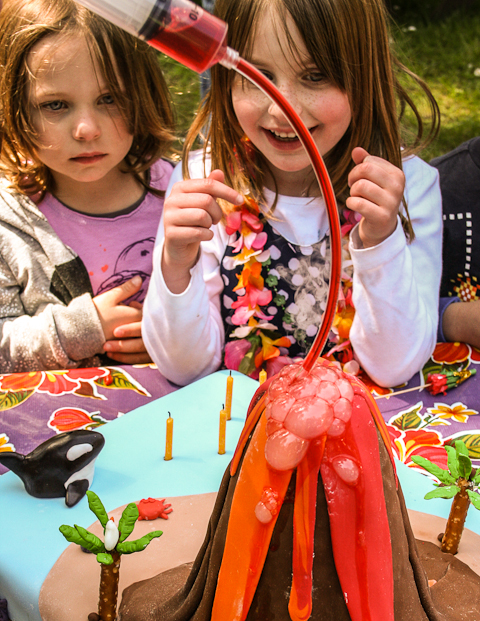 This year's cake will not erupt. Let's hope the kids (and my husband) don't feel cheated.