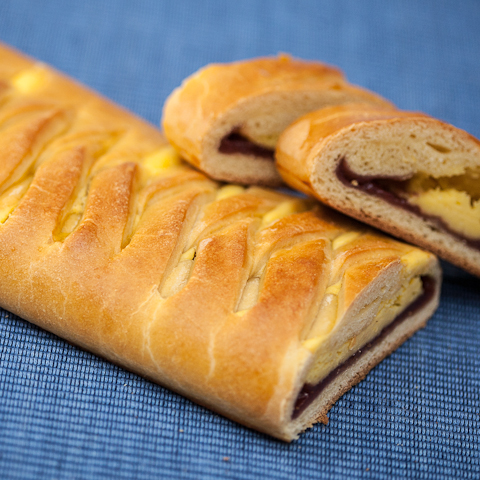 I
'm not much of a brunch person. I usually wake up starving and need to eat breakfast right away to stave off a hunger-induced nervous breakdown.
Even my children understand that I'm mostly useless until I have a bowl of cereal in my belly.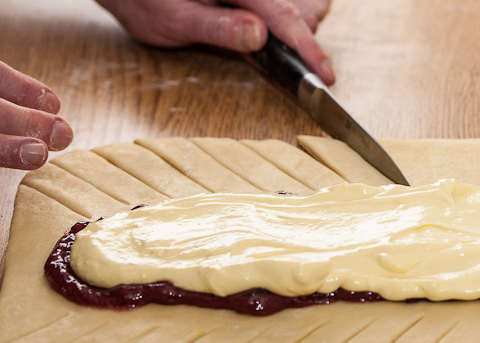 While waiting genteelly for brunch may not be my forte, I have definitely made friends with this much-beloved meal: when a brunch date presents itself, I eat my bowl of cereal as usual upon waking, and then, by the time brunch rolls around, I'm eagerly anticipating dessert.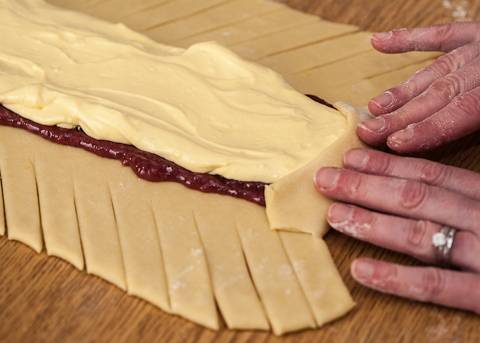 Since I have come to view brunch as a dessert course, I always offer to bring something sweet whenever friends invite us. Recently, this has meant doughnuts, but since my last attempt at Vanilla-Cream Filled Doughnuts failed miserably, I felt the need to expand my morning-sweet repertoire.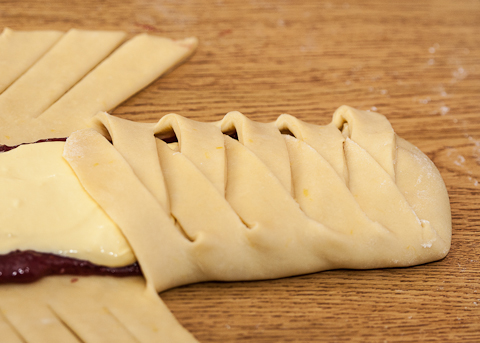 Enter Raspberry Cream Cheese Braid. This sweet bread looks super impressive. When I pulled it out of the oven last Sunday morning, I almost couldn't believe I made it. And it tastes great, too. Tart jam and sweetened cream cheese combine inside tender yeasted dough flavored with lemon zest and vanilla.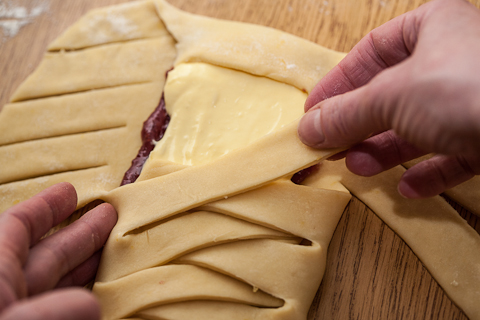 The best part about this breakfast dessert, though–despite its complicated looking appearance–is its simplicity of preparation. Flatten out your dough, spread some jam down the center, and top it with the cheese mixture. Make angled slits down both sides and then fold them over the top, alternating as you go. Tucking in the ends is the only tricky part. I trimmed some of the dough off the both ends before folding them over the jam and cheese fillings; this gave the braids a tidier look and helped maintain the the dough-to-filling ratio.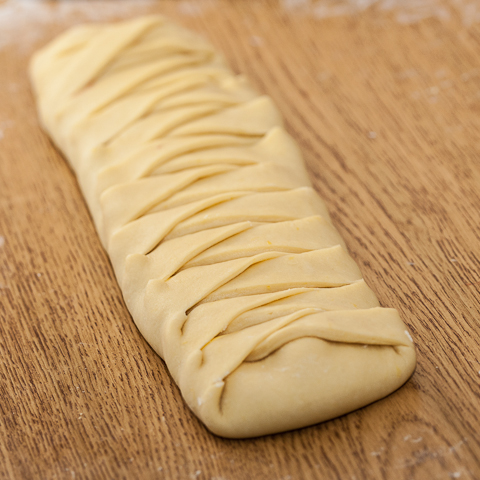 I'd place this braid distinctly in the breakfast-dessert category. It's sweet, but not overly sweet. It satisfied my morning sugar craving without encroaching on the seriously rich and indulgent territory that I prefer, say, every night after dinner.
And so, alas, since a raspberry braid can never fill the dinner-dessert role, I won't be making it again until someone invites us over for brunch (hint, hint).

Raspberry-Cream Cheese Braid
Adapted from The King Arthur Flour Baker's Companion. Makes 2 braids, about 16 servings each.
Dough
1/4 cup warm water
2 teaspoons active dry yeast
1/4 cup sugar
3 cups unbleached all-purpose flour
6 tablespoons sour cream
6 tablespoons butter, at room temperature
1 1/4 teaspoons salt
1 large egg
1 teaspoon lemon zest
1 teaspoon vanilla extract
Filling
8 ounces cream cheese, at room temperature
2 tablespoons butter, at room temperature
1/4 cup sugar
1/8 teaspoon salt
1 teaspoon vanilla extract
5 tablespoons unbleached all-purpose flour, divided
1 large egg
1/2 cup raspberry jam
Glaze
1 egg
1 tablespoon water
For the Dough: In the bowl of a standing electric mixer, combine water, yeast, and 1 teaspoon of the sugar. Let sit until bubbly, about 10 minutes. Add 1 cup flour, remaining sugar, sour cream, butter, salt, egg, lemon zest, and vanilla extract. Mix with paddle attachment until combined. Add remaining flour, about 1/2 cup at a time. Switch to the dough hook and knead for a few minutes until soft and pliable, but not sticky. Knead briefly by hand if desired. Place the dough in a lightly greased bowl, cover with plastic wrap, and let sit in a warm place until doubled, about 45 minutes.
For the Filling: In a medium-sized bowl, beat together the cream cheese, butter, sugar, salt and vanilla. Mix in 3 tablespoons flour and the egg, scraping the bottom and sides of the bowl thoroughly. In a separate bowl, combine jam with 2 tablespoons flour.
To Assemble: Gently deflate the risen dough, and divide it in half. Roll each half into a 15 by 10-inch rectangle, and place them onto lightly greased or parchment-lined baking sheets. Spread half of the jam in a 2 1/2-inch-wide swath, lengthwise, down the center of each dough rectangle, leaving a 1-inch border at the top and bottom. Top jam with half of the filling. Make 1 3/4-inch cuts every 3/4 inch down both long sides of the dough. Fold the ends over the filling, then pull the cut strips up and over, alternating sides. Repeat with the remaining piece of dough.
Cover the braids with plastic wrap and let them rise for 30 to 45 minutes, until they're puffy looking. Brush with egg glaze mixture and bake the braids in an oven preheated to 350°F for 32 to 36 minutes, until golden brown. Remove from oven and cool for 15 minutes before slicing.
Some of the links in this post are affiliate links. If you click through and make a purchase, I earn a small commission for my referral at no additional cost to you. Thank you for supporting Flour Arrangements.