With sesame seeds and toasted sesame oil, these Sesame Crackers burst with a nutty, rich flavor that seems almost surprising in such unassuming little bites.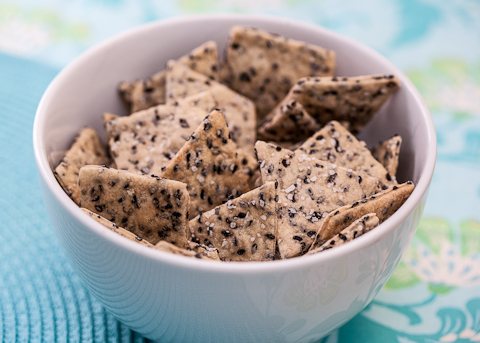 I've never liked Wheat Thins — the pasty texture, the Play Doh-like flavor, the way they stick in my molars when I eat them.
My husband, on the other hand, loves to snack on them, which means we always have a package of Wheat Thins in the cupboard.
I try not to bias my children with my personal prejudices, so I frequently give them to Eliza and Tessa when they ask for a snack. And I swear I'm not just trying to empty the box so I can throw it away.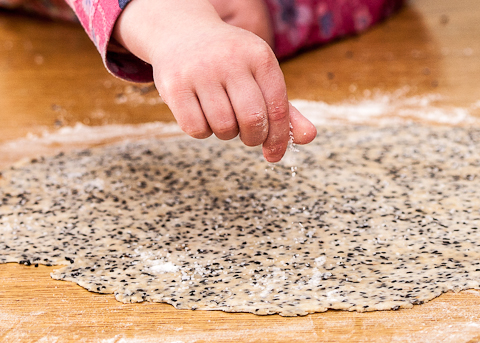 The other day Eliza declared that she didn't like Wheat Thins. I admitted to her that I didn't much like them either, and then asked her if she wanted to make some crackers with me.
I'd noticed her nibbling sesame seeds off the counter the other day after I made some seeded bagels, so I suggested that we make sesame crackers. This made her smile.
Eliza was so excited that she decided to wait on the snack that she'd requested until after we finished baking. She and Tessa helped me measure and mix, and then roll and cut our crackers.
Sesame Crackers
Adapted from The King Arthur Flour Baker's Companion. Makes about 8 dozen small crackers.
1/2 cup black sesame seeds, lightly toasted
1 cup unbleached all-purpose flour
1 cup white whole wheat flour or whole wheat flour
1 teaspoon kosher salt, plus more for sprinkling
1/4 cup toasted sesame oil
1/2 to 3/4 cup cold water
Preheat oven to 325° F. In a large bowl, combine seeds, flours, and salt. Add the oil, tossing with a fork until the mixture forms even crumbs. Sprinkle the water over the top and toss until the dough sticks together when pinched. Form into a ball and knead together very gently. Take care not to over mix.
Divide the dough in three pieces. Roll the dough, once piece at a time, as thinly as you can. Sprinkle lightly with salt; roll over the dough once or twice to press down the salt to help it adhere to the crackers. Cut dough into squares, rectangles, triangles, or whatever shapes you like using cookie cutters, or trim into shapes using a pizza cutter. Transfer crackers to a lightly greased or parchment-line baking sheet.
Bake crackers for 25 to 30 minutes or until they begin to brown around the edges. Remove from the oven and transfer them to a rack to cool completely.
Some of the links in this post are affiliate links. If you click through and make a purchase, I earn a small commission for my referral at no additional cost to you. Thank you for supporting Flour Arrangements.