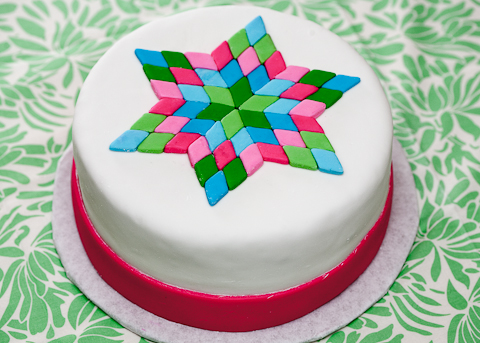 Just once I tried piecing a real quilt. I loved it. I'm amazed that the simple arrangement of geometric shapes creates amazingly varied results. The process of moving hues and shades around until you get a look that you like is, to me, addictive.
Unfortunately, when I decided to give quilting a try, I never made it past the piecing process. I'm just not patient enough for the long haul that it takes to create a quilt.
Luckily though, I've found a way to play with quilt patterns in a different medium. I made a tumbling blocks quilt cake for my mom's birthday last year, and ever since, I've been looking for an excuse make another quilt-inspired cake.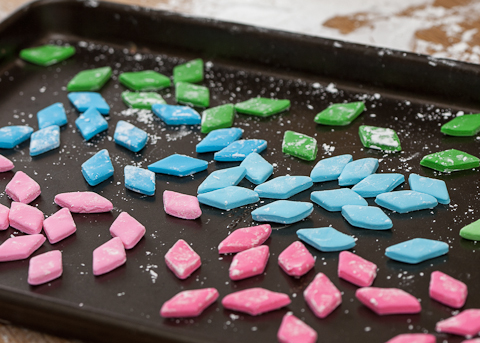 When I offered to bake a cake for a cake walk fundraiser last week, I found my chance to try out another quilt pattern — the lone star. I drew a mock up of the pattern on paper so I could fill the diamonds with various color combinations to help me decide what shades of fondant–and how many–I wanted to use for the cake.
On one lovely afternoon, my daughters and I sat at the kitchen table coloring diamonds in varying patterns with colored pencils and pastels (my youngest daughter still asks for copies of the "star coloring page," which I love to print for her).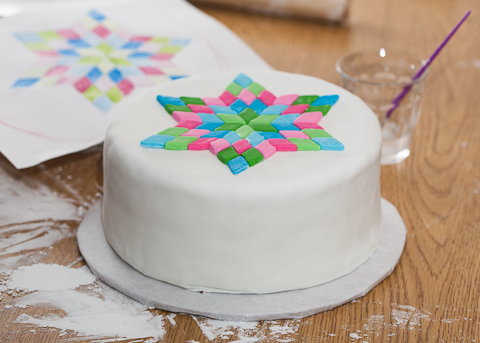 I used my set of diamond cookie cutters to make 54 tiny fondant diamonds–nine of each of the six colors. For this eight-inch cake, the smallest cutter (1 1/16″ long) enabled me to create a star with room to spare around the edge. Once I started placing the diamonds on the cake, all I had to do was follow the pattern I created, which I mostly did.
I had mixed extra hot pink fondant for a border. Because of my brief foray into quilting, I happen to have a quilting ruler, which has come in handy for trimming straight, even strips of fondant on more than one occasion.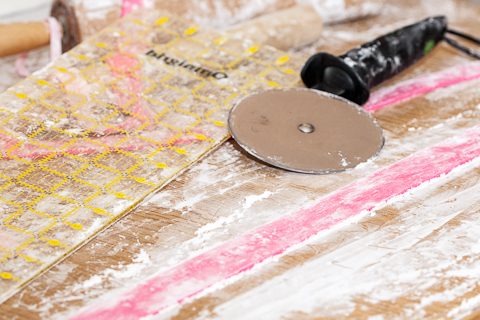 I cut a strip of fondant and then rolled it around an empty cardboard tube to help me transfer it to the cake. Fondant gets very stretchy; using a tube means that the ends of your carefully measured strip will actually match up perfectly on the finished cake.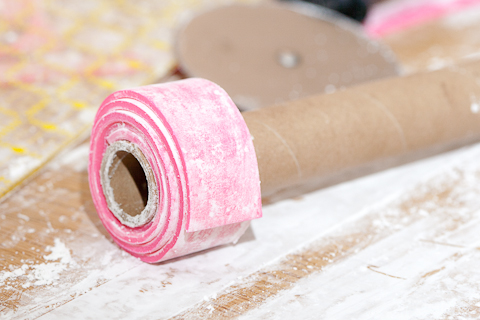 It turns out that I didn't get to go to the cake walk, so I don't even know who took my cake home with them. It feels kind of funny to send a cake off into the world like that.
I guess that just means that I need to make another lone star quilt cake to eat myself.
Some of the links in this post are affiliate links. If you click through and make a purchase, I earn a small commission for my referral at no additional cost to you. Thank you for supporting Flour Arrangements.