This Blueberry Gingerbread Cake's combination of earthy, rich gingerbread and sweet, flavorful cream — punctuated with bursts of tangy blueberries — tastes spectacular.
O
ur camping adventures always involve amazing food — like pulled pork, adobo beef tacos, or Gorgonzola stuffed burgers on homemade buns.
We're never short on sweets either. Seems like there's always a pan of dark chocolate brownies to snack on or some homemade graham crackers and marshmallows to turn into s'mores.
Since this season's first camping trip coincided with two birthdays, the time had come to add cake to our food lineup. In my book, birthday celebrations require cake, and I had no intention of letting the weekend pass without cake and candles and singing.
On our last trip to Costco, my husband tried to talk me into spending nearly $200 on a camping oven to bake a cake. Bringing all the ingredients needed for baking a cake to a camp site seemed like too much trouble, even for me.
Besides, I didn't intend to miss a hike around the lake to bake and assemble a cake, no matter how much I love my friends. I wanted to prepare something easy yet worthy of celebration — a Four Layer Blueberry Gingerbread Cake with Mocha Cream.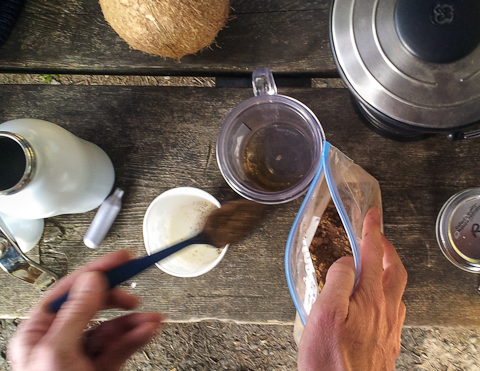 I baked two cake layers the night before we left, and, once they cooled, I sliced each round in half horizontally so I wouldn't have to do it at the campground. I washed the cake pans and slid plastic-wrapped layers back into the pans for safe transport.
Normally when I make this cake, I whip the mocha cream filling in an electric mixer; this wasn't an option at our camp site, so I brought the ingredients to mix and pour into a whipped cream dispenser.
Since this toy belongs to my husband, I let him prepare the filling and activate the nitrous charger that whips the cream.
Those who licked the brown sugar, espresso powder, cocoa, and cream concoction from spoons and paper mixing cups when he had finished immediately started planning a mocha cream-inspired ice cream for our next camping adventure.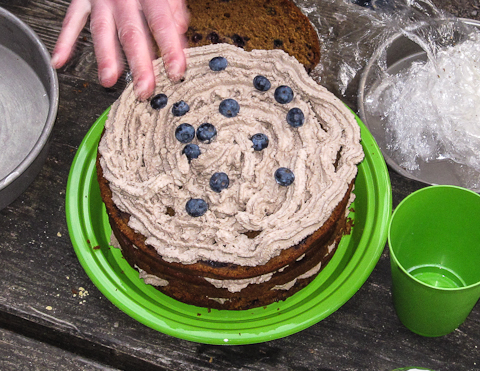 Armed with the dispenser, I started stacking the layers, sandwiching mocha cream and fresh blueberries between them.
While the dispenser worked fine for our camping adventure, its extreme fluffing power gives the cream a rough and rugged look; using cream prepped in a mixer creates a smoother, more polished look.
I topped the cake with flourishes of mocha cream and the remaining blueberries. The whole process took about the same amount of time it takes to roast a marshmallow and turn it into a s'more.
While this cake may not include the satisfying step of roasting food over the fire, its combination of earthy, rich gingerbread and sweet, flavorful cream — punctuated with bursts of tangy blueberries — tastes spectacular around the campfire.
Happy birthday to Cole and Sharalyn!
Blueberry Gingerbread Cake with Mocha Cream
Adapted from Foster's Market
. Serves 12 to 16.

4 cups plus 2 tablespoons all-purpose flour
2 teaspoons baking powder
1 teaspoon baking soda
2 teaspoon ground cinnamon
2 teaspoons ground ginger
1/2 teaspoon ground cardamom
1/2 teaspoon salt
2 large eggs
1/3 cup sugar
1 cup canola oil
1 cup molasses
2 cups buttermilk
4 cups blueberries
Preheat oven to 350° F.
Grease and lightly flour two 8- or 9-inch cake pans and set aside.
Combine 4 cups of flour, baking powder, baking soda, cinnamon, ginger, cardamom, and salt in a bowl. Mix well and set aside.
In the bowl of an electric mixer, beat eggs and sugar until light and fluffy.
Pour 1 cup of oil into a 2-cup measure, and then add 1 cup molasses on top of the oil (this will keep the molasses from coating the measuring cup). While the mixer is running, slowly add the oil and molasses, beating constantly, until well combined.
Add the flour mixture, alternating with the buttermilk, in three or four additions, stirring after each addition until the dry ingredients are just blended. Do not over mix.
Toss 2 cups of the blueberries with the remaining flour in a separate bowl. Fold gently into the batter.
Divide the batter between the prepared pans and bake for 35 to 45 minutes, until the cakes are firm to the touch and a toothpick inserted in the center of the each one comes out clean.
Cool the cakes on a rack for 10 to 15 minutes in their pans. Remove from the pans and cool completely.
Using a long, serrated knife, slice off the top rounded portion of each cake to make a flat, even surface (I recommend eating the trimmings with vanilla ice cream). Slice each layer horizontally through the center to create 4 layers.
Place 1 layer, trimmed side down, on a plate and top with slightly less than one-third of the mocha cream. Sprinkle with slightly less than one-third of the remaining blueberries. Add the next layer, cut side down, before adding a cream and berries. Add the third layer, trimmed side down, and top with cream and berries. Top with the fourth layer, cut side down. Add flourishes of mocha cream and top them with remaining berries.
Mocha Cream
From Foster's Market
.
2 cups heavy cream
1/2 cup firmly packed light brown sugar
1 tablespoon unsweetened cocoa powder
2 teaspoons instant espresso powder
Combine cream, brown sugar, cocoa, and instant espresso in the bowl of an electric mixer. Beat on high speed until soft peaks form. Alternatively, combine ingredients in a glass measuring cup and pour into a whipped cream dispenser. Add nitrous charger, shake, and dispense.
Some of the links in this post are affiliate links. If you click through and make a purchase, I earn a small commission for my referral at no additional cost to you. Thank you for supporting Flour Arrangements.