Two sour flavors — lemon and rhubarb — create a zingy-sweet combination in this moist, tender cake Lemon Rhubarb Bundt Cake. Top with sweet, delicious candied rhubarb curls.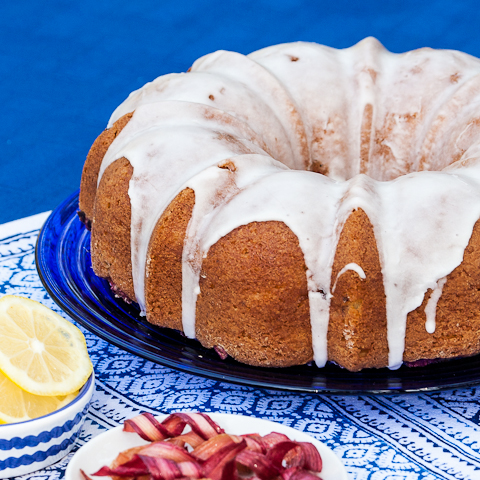 Fancy cakes, like the one I made recently for my daughter's birthday, certainly delight, but they require a serious time commitment. They aren't the sort of cakes you throw together on a weeknight to bring to a friend's house, especially when your husband is out of town.
My friend Val tried to talk me out of baking dessert since she knew I had my hands full. I promised that I wouldn't if it felt like too much. So, after I tucked the kids in bed, I dug out my Bundt pan. Bundt cakes come together quickly; they're really no trouble at all, plus they look pretty fantastic right out of the pan doused with a generous bowlful of glaze.
Since I could make the cake the night before, all I had to do the next day was collect my children after work and head to Val's.
Two sour flavors — lemon and rhubarb — create a zingy-sweet combination in this moist, tender cake. I liked it quite a bit and felt eager to bake it again, but making gingerbread houses for a fundraiser and throwing together a certain birthday cake took precedence. When the dust cleared, I found that my friend Sharalyn had tucked some garden-fresh rhubarb in my fridge's crisper drawer. I took this as a sign and started zesting lemons.
Sharalyn had given me more rhubarb than I needed for the cake. Since it wasn't a weeknight, I went searching for something to do with the extra rhubarb. I didn't have to look far — a recipe several pages back in the cookbook I was using suggested candied rhubarb as a garnish for another dessert.
Candied rhubarb curls may be one of my most exciting discoveries of late. They're sour and sweet and crunchy and surprising, and, best of all, super easy to prepare. Truth be told, I didn't actually end up with so many curls; my rhubarb strips had dried out too much by the time I started twisting them around a chop stick.
Mostly they shattered into candied rhubarb shards, but this did not trouble anyone in the slightest. In fact, I had to fight my children off from the small bowl of sweetened rhubarb so we'd have some left to sprinkle over our dessert that evening.
This experience has left me pondering the merits of serious candied rhubarb production as a ploy to help my children to eat more vegetables. If I serve it with lemon-rhubarb cake, they'll get a double-helping of vegetables and some fruit as well. I'd call that health food.
Lemon Rhubarb Bundt Cake
Serves 10 to 12. Adapted from Rustic Fruit Desserts.
Cake
2 1/2 cups plus 2 tablespoons all-purpose flour
2 teaspoons baking powder
1 teaspoon salt
1 cup (2 sticks) unsalted butter
1 3/4 cups granulated sugar
zest of 2 lemons
3 large eggs
1 teaspoon vanilla extract
3/4 cups buttermilk
1 pound rhubarb, trimmed and cubed (about three cups prepped)
Glaze
2 cups confectioners' sugar, plus more as needed
juice of 1 lemon
1 teaspoon vanilla extract
pinch salt
1 tablespoon unsalted butter, at room temperature
Preheat oven to 350° F. Butter and flour a 10-to 12-cup Bundt pan.
Combine 2 1/2 cups flour, baking powder, and salt in a medium bowl. Set aside. In the bowl of a standing electric mixer, cream butter, sugar, and lemon zest together for about 5 minutes, until light and fluffy. Add the eggs, one at a time, scraping down the sides of the bowl after each addition. Mix in vanilla extract. Stir in flour mixture in about three additions, alternating with the buttermilk, scraping down the sides occasionally.
Toss rhubarb with 2 tablespoons flour and fold 3/4 of the rhubarb into the batter. Scrape the batter into the prepared pan and sprinkle the remaining rhubarb on top.
Bake for 30 minutes, and then rotate the pan and cook for 30 minutes more, or until the top of the cake is firm and the center springs back when lightly touched. Cool cake in the pan on a wire rack for 30 minutes.
While the cake cools, whisk confectioners' sugar, lemon juice, vanilla, salt, and butter together. The mixture should be thick. If needed, add few tablespoons more confectioners' sugar.
Invert cake on a wire rack. Immediately place the rack over a baking sheet and spread the glaze on the cake. When fully cooled, transfer carefully to a serving plate. Serve with whipped cream and candied rhubarb curls.
Candied Rhubarb
Adapted from Rustic Fruit Desserts.
2 stalks rhubarb
1/2 cup granulated sugar
1 teaspoon vanilla extract
1/2 cup water
Preheat oven to 200° F. Line a baking sheet with lightly oiled parchment paper. Cut rhubarb into 4-to 6-inch lengths. Using a peeler or mandolin, cut each piece into strips about 1/4-to 1/8-inch thick. Bring sugar, vanilla, and water to boil in a small saucepan over high heat. Cook and stir until sugar dissolves. Immerse rhubarb strips in the syrup, and then place them on prepared baking sheet, making sure that they lay flat and do not touch each other.
Bake for about 45 minutes, until dry. While they are still warm, twist each strip around around a chop stick or wooden spoon to create curls, if desired.
Some of the links in this post are affiliate links. If you click through and make a purchase, I earn a small commission for my referral at no additional cost to you. Thank you for supporting Flour Arrangements.