Create a komodo dragon cake from a single sheet cake and marshmallow fondant.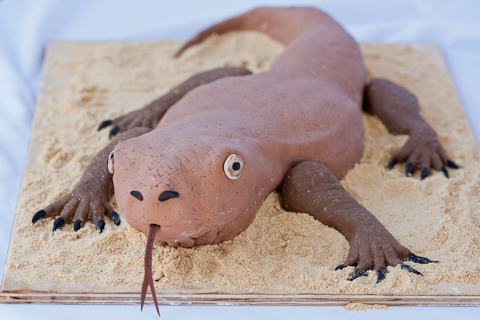 My friend Ellie, who just turned six, asked for a pink bedroom for her birthday. Her mom and grandmother spent a week painting her walls a combination of Pom Pom and Princess pink.
When they finished, my friend Rita added a small tree flowering with Bubble Gum pink hearts.
Just in case you think you understand the personality of the the princess who lives in this pink wonderland, I need to tell you about her birthday party last weekend.  It featured no pink hearts or glittery crowns or knights in shining armor. No, this party featured cold-blooded, scale-clad, sharp-toothed dragons. Komodo dragons.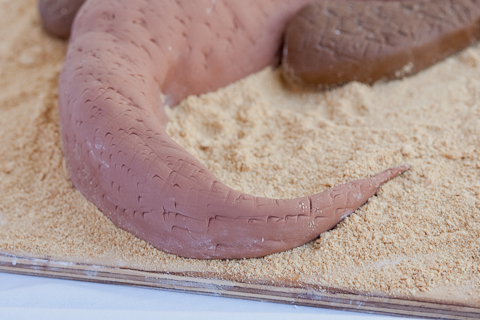 About midway through the party, Ellie's dad, a vertebrate morphologist, gave a short talk about the habits of Komodo dragons.  A spellbound group of girls learned, among other things, how Komodo dragons stick the forked tips of their tongues into Jacobson's organs inside their mouths to help them detect the scent of small girls distant prey animals.
They also learned about how bacteria-laden saliva in Komodo dragons' mouths poisons their prey.  They learned that, because of this nasty saliva, even if prey escapes with only a little bite, that single jaw-snap enables the Komodo dragon to follow its nose at a leisurely pace to a feast of fresh carrion or, at the very least, an animal simply too incapacitated to flee.
Ellie, who knew these facts by heart, could have delivered the lecture herself if Adam hadn't been having so much fun.
Komodo Dragon 101 led right into a game of Komodo Dragon Mealtime.  Several adults ran off and hid in the yard. After counting to 50, snarling girls opened their eyes and descended on their prey.
The dragons delivered deadly poison "bites" (by way of cute reptile stickers) and chased their wounded targets until each one finally fell from laughter agony.  When the girls had their fill of pretending to be Komodo dragons, they got to eat cake.  Komodo dragon cake.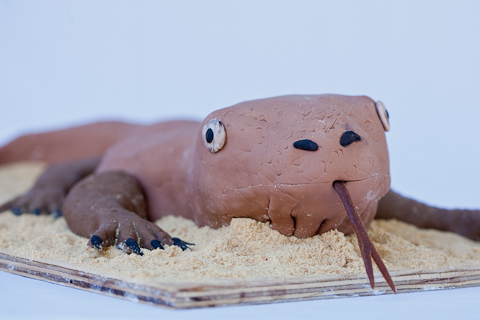 Several weeks before Ellie's birthday, my friend Sharalyn told me about Ellie's idea for the party, and she also told me that her daughter had asked if I'd make the cake. I'm trying to learn to say no to things, but I couldn't get the idea of a Komodo dragon cake out of my head.
Many fruitless google searches for variations on "Komodo dragon cake" convinced me that no one has ever made such a cake before. Finally I stumbled on a lizard cake tutorial that gave me a starting place; I could bake a single sheet cake and turn it into a Komodo dragon (I used this recipe in a 9 by 13-inch pan).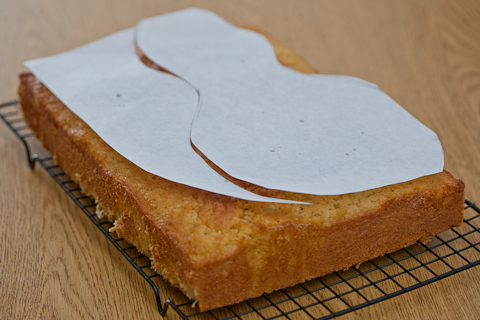 I traced the outline of my pan on a piece of butcher paper, and,  inside the rectangle, I sketched a two-piece pattern — one piece for the head and body and another for the tail.  I would form the legs and claws from large pieces of fondant.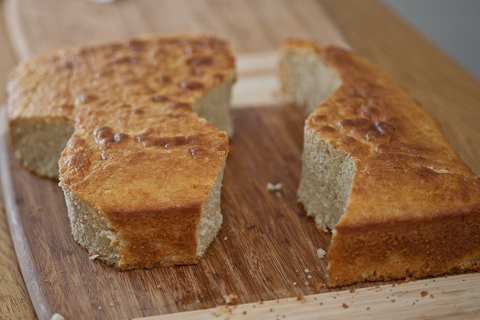 I roped our visiting friend Patrick into helping me figure out how to elevate the head. Once I'd cut up the sheet cake, we propped wedges of cake trimmings underneath, which gave it enough lift to do the trick.  I stuck two skewers down into the head to give it a bit more stability.  After more trimming and shaping, I frosted the cake with a thin layer of butter cream.
This cake proved to be the easiest one ever to wrap in fondant. I rolled out a long strip of brown fondant, and, since Komodo dragons sport more than their share of wrinkles, I didn't worry about keeping the fondant smooth as I worked.  Ironically, I only ended up with wrinkles under the head, and the rest of the cake came together practically flawlessly.  It almost broke my heart to create scales with the pointed "V" of a heart shaped cookie cutter, but it needed doing.
I tinted the dragon's legs a bit darker than the body since most of the Komodo dragon pictures I found showed them with darker legs.
I used the heart cutter again to make the legs look wrinkled and scaly, and then I added black fondant claws.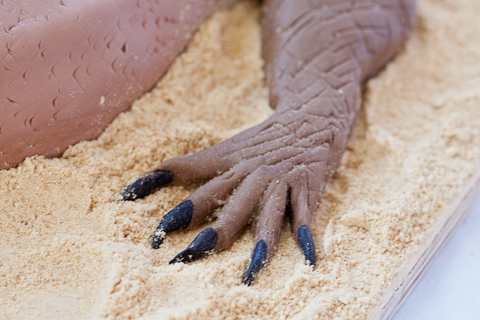 After adding eyes and nostril slits, I thought I was finished.  Patrick and my husband argued for a tongue, but the fondant was just too flimsy to create the vicious-looking  forked tongue this cake needed.  Finally, my husband found some strawberry fruit leather, which I sliced into a narrow fork.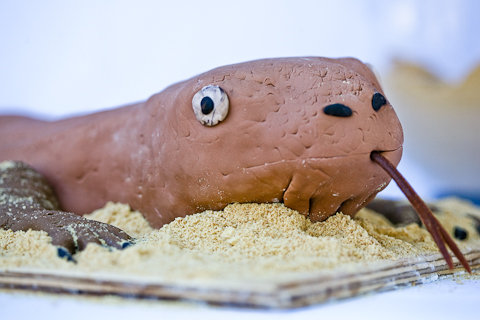 I made two tongues, actually, and my younger daughter ran around with the spare in her mouth while I put the finishing touches on the cake the next morning.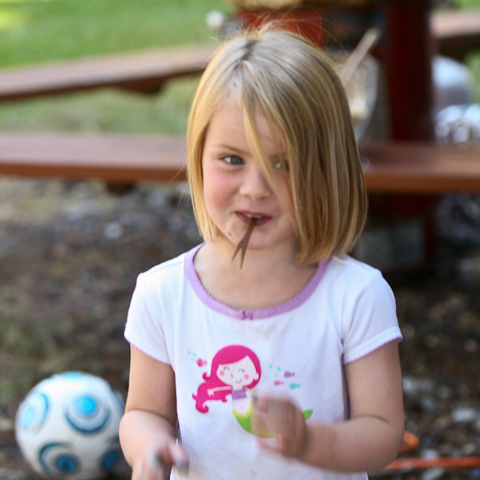 I covered the cake board with crushed graham cracker "sand," tucking it right up to the edge of the cake. The final product turned out way better than I'd ever hoped, and I'm pretty sure it made Ellie happy.
After she blew out her candles, she asked for its  head on her plate.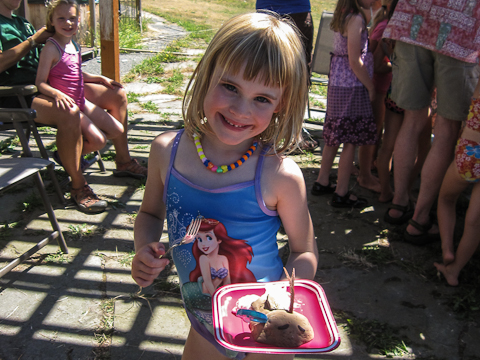 Her bright pink princess plate. Awesome.