Rosemary adds a subtle savory note behind the sweet flavors in these Lemon Rosemary Pine Nut Shortbread Cookies.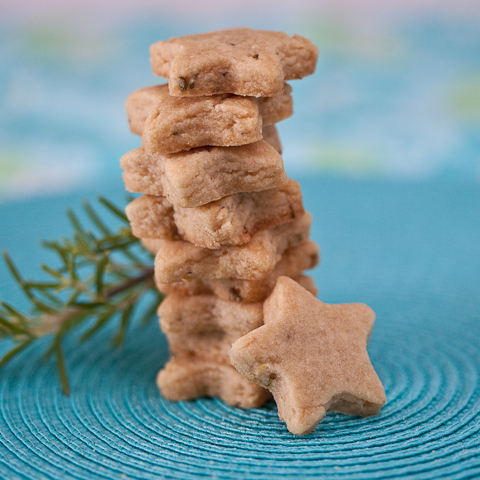 When Eliza said, "I was just thinking, Mama," the other day, I braced myself.  Usually outlandish or extreme requests follow this phrase. 
For example, "I was just thinking, Mama,  that maybe we could go to Disneyland next weekend," or "I was just thinking, Mama, that maybe we could move to California and buy a house next door to Grandma and Grandpa."
So when she finished her most recent, "I was just thinking, Mama," with "that maybe we could have milk and cookies when I get home from school this year," instinctively, I felt like I should say no.
I could tell she was pretty sure I was going to say no, too, by the way she causally worked in a literary reference:  "In books, kids always have milk and cookies when they get home from school.  Remember in Too Much TV?  That's what the Berenstain Bears eat when they get home."
When pressed, she couldn't actually name another book that featured milk and cookies as an after school snack, but she went on to describe how the two of us would sit at the kitchen table sipping cool milk and nibbling sweet cookies as she filled me in on the details of second grade.
The girl, at seven, is good.
School started school this week, and I made her cookies.  Little lemon-rosemary pine nut shortbread cookies.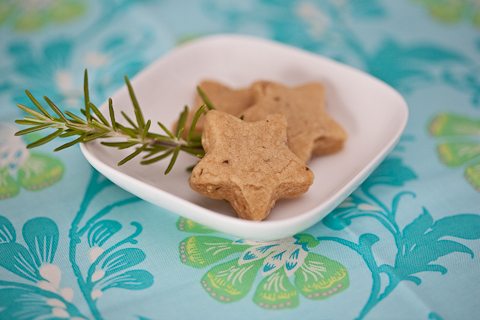 They probably weren't what she had in mind when she asked for cookies, but she requested cookies with "crunched up nuts" in them.
I'm guessing she was thinking about the Chocolate Pecan Cookies I made recently, but I had just swiped some rosemary from the parking lot at my school, so I felt compelled to make these herb-spiked cookies instead. Since they incorporate nuts and citrus and herbs, I could almost pretend they were healthy.
The rosemary adds a subtle savory note behind the sweetness of shortbread full of intense lemon flavor and pine nut richness.  And when you hit on one of those salt crystal nestled inside, this crazy flavor explosion makes you need to eat more.
We can't stop eating them.  It's a good thing they're small.
For this week, anyway, I'm feeling a bit like June Cleaver.
Lemon-Rosemary Pine Nut Shortbread
Adapted from Elsa Cleland's recipe.  Makes 4 to 5 dozen small cookies.
1 /2 cup (1 stick) unsalted butter
1/4 cup brown sugar
1/4 cup granulated sugar
1/2 cup pine nuts, finely ground
1 1/2 teaspoons fresh rosemary, minced
1/2 teaspoon vanilla extract
1/2 teaspoon kosher salt
1 lemon, zested
1 1/4 cups flour
In the bowl of an electric mixer, combine all the ingredients except the flour.  Beat until well combined.  Mix in flour, stirring until the dough comes together.
Knead the mixture together gently and flatten it into a large disk.  Wrap dough in plastic wrap and refrigerate it for at least 45 minutes.
Preheat oven to 350° F.  Roll out dough to 1/3-inch thickness,  and then cut shapes with small cutters.  Place cookies on parchment-lined baking sheets.  Re-roll scraps to shape more cookies.
Alternatively, when finished mixing the dough, roll it into three 1-inch diameter cylinders.  Wrap dough in parchment and refrigerate for 30 minutes to 3 hours.
Cut logs into 1/3-inch coins and arrange them on parchment lined cookie sheets.
Bake cookies for 12-15 minutes, until they just start to brown.  Transfer to cooling racks immediately.