This blackberry pie recipe calls for maple syrup instead of granulated sugar. Made with fresh or frozen berries, it tastes like summer in dessert form.
One single blackberry, sun-warm and sweet on my tongue, can instantly transport me back to the summer-time of my childhood.
Back then, I spent  most of my summer days in the neighborhood pool down the street from my parents' house.  Blackberry brambles almost completely surrounded the club, and whenever my friends and I got hungry, we'd snack on fat, juicy berries until our hands and faces turned deep purple.
When we'd eaten our fill, we'd jump back in the pool to wash away the mess, which surely drove the pool manager crazy.
On summer evenings, after my family had finished eating dinner, we'd often tromp back down the street with empty coffee cans to fill.   Since the low hanging fruit had been picked over all day long, my dad always managed to pick the most, but we all did our share.
The next day, my mom would turn the berries that we hadn't gotten round to to eating yet into pie.  More often than not, I got to help help her.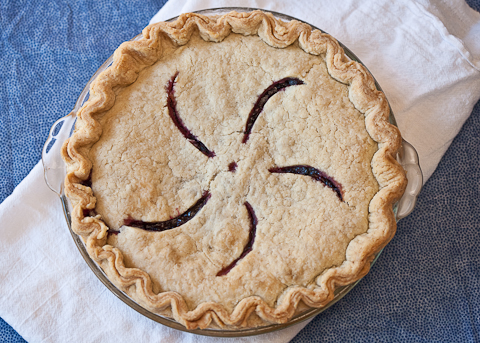 I'd stand on a chair tracing shapes into flour scattered on the kitchen counter while my mom, wielding her wooden rolling pin, flattened a disk of dough into a perfect moon.  She'd nestle the round of pastry into a pie dish, and then we'd mound it high with berries.
I couldn't resist eating a few as we worked, grainy as they were from the white lumps of tapioca and sugar we'd mixed in with them.
My mom pretended not to notice the stolen berries as she made a few quick rolls with the pin, creating another crust to top the pie.  She'd seal the edges with a fork, trim them, and then her fingers magically transformed those rough edges into waves flowing smoothly around the outside of the dish, a skill that would take years for my little fingers to learn.
The  dough trimmings were mine, and I'd turn them into cinnamon-sugar pies that my mom baked for me in the hot oven.  Mostly, though, I'd gobble the scraps up raw, something my daughters now love to do.
When my mom pulled a steaming pie from the oven, bubbling thickly with crimson juices, none of us could wait for a giant slice topped with a scoop of vanilla ice cream.
Dinnertime always seemed so far away, and then, of course, we had to eat enough of our meal before we could eat pie.  My dad, years later, admitted that he agreed with us kids when we begged to eat dessert first.
When we finally polished off the pie,  we'd look longingly at the empty dish, scraped nearly clean of  thick fruity syrup and flaky crumbs.  My mom, like clockwork, would tell us, "Go pick me another can-full of berries so I can make you another pie."
Off we'd go.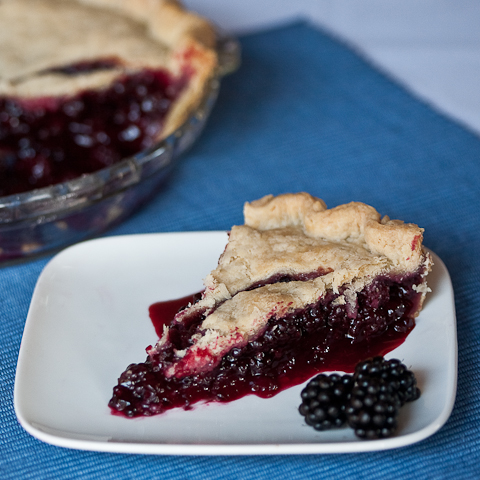 Blackberry Pie
This recipe's a variation of my mom's.  Instead of using granulated sugar, I sweeten the pie with maple syrup.  If you prefer to use sugar, omit the flour from the filling.
Crust
2 1/2 cups all-purpose flour
1 tablespoon powdered sugar
1 teaspoon salt
2 1/2 sticks butter, cut in 1/4-inch slices
1/3 cup plus 1 tablespoon ice water, strained
Filling
5 cups blackberries
1 to 1 1/2 cups maple syrup, depending on the sweetness of the berries
1/4 cup tapioca
2 to 3 tablespoon all-purpose flour, depending on how much maple syrup you use
1 lemon, zested
1 tablespoon lemon juice
1/8 teaspoon salt
Whirl flour, powdered sugar, and salt in food processor with the blade attachment.  Add slices from one stick of butter and whirl until no chunks remain.  Add remaining slices and whirl briefly to chop them up slightly.  Turn food processor on again and quickly begin drizzling ice water through the feed tube, stopping before the dough comes together.  Pinch some crumbs together between your fingers;  if they don't stick together, add a bit more water and whirl briefly.  Turn the mixture out onto a large piece of plastic wrap.  Use the plastic wrap to help you bring the dough together;  fold the edges of the dough toward the center and press down until it holds together, taking care not to overwork the dough.  Divide it in half and shape into two flat disks wrapped tightly in plastic wrap.  Refrigerate dough for at least 30 minutes.
While the dough chills, preheat oven to 425º F.   Combine blackberries with maple syrup, tapioca, flour, lemon zest, lemon juice, and salt.  Let stand for about 15 minutes.
Roll out one of the dough rounds into a 13- to 14-inch circle.  Transfer it carefully to a 10-inch pie dish.  Roll out remaining round into a 13- to 14-inch circle.  Fill bottom crust with the berry mixture.  Brush the overhanging edge with cold water, cover with the top crust, and seal gently by pressing down on the edge with the bottom of a fork.  Trim overhanging dough with a knife and flute the edge with your fingers, if desired.  Cut steam vents in the top.
Place pie on a baking sheet to catch any overflowing juices. Bake for 30 minutes on the bottom rack of the oven.  Reduce heat to 350º F and continue baking for 30 to 45 minutes, until juices bubble thickly through the vents and the crust is golden brown (if the top browns too quickly, slip a baking sheet on the top rack of the oven to diffuse the heat).  Allow to cool completely before slicing.  For more solid slices, wait until the next day to serve.