Pumpkin seeds added a toasted nuttiness and pleasant crunch to this tender, flavorful Multigrain Pumpkin Seed Bread. It's great for both sandwiches and toast!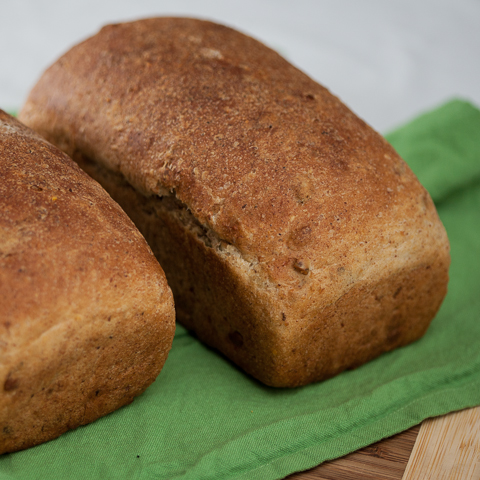 I've already lost track of how many loaves of bread I've baked this school year.
Maybe next year I'll keep a list, but for now it's enough that I'm well ahead of my goal of baking bread at least once a week for my daughters' school lunches.
Since I usually squeeze bread-baking in between various family or work responsibilities, I tend to make the same recipes over and over again. A couple of weeks ago while I prepared to make some multigrain loaves, I eyed the large container of pumpkin seeds that we've enjoyed so much in these Pumpkin Millet Muffins.
On a whim, I toasted some seeds and tossed them in the with the rest of the ingredients.
The next morning, as my husband cut into one of the deep golden loaves to make sandwiches, I eyed a slice eagerly; the pale green pumpkin seed cross-sections dappling its surface prompted me to slather it with butter and indulge in a second breakfast. The seeds added a toasted nuttiness and pleasant crunch to the tender, flavorful bread.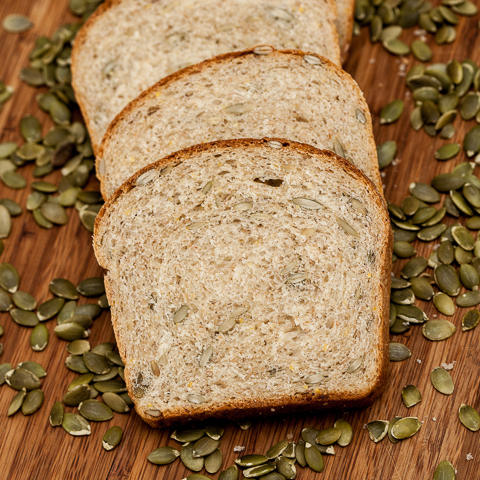 My husband enthusiastically suggested that we use the seeds from our Jack O' Lanterns in the next batch of bread. I thought this was a fantastic idea, so long as he agreed to hull all the seeds for me. I'm sorry to report that he didn't go for it, but I can hardly blame him.
Eliza loves this bread with peanut butter and jelly, and I love it grilled with ham and cheese.
And while my house may not look festive for Halloween, at least my bread does.
Multigrain Pumpkin Seed Bread
Adapted from Vegetarian Cooking for Everyone. Makes two 9-by-5-inch loaves.
Sponge
1 cup uncooked multigrain cereal
1 1/2 cups warm water (105° to 115° F)
1 cup buttermilk
2 1/4 teaspoons active dry yeast
3 tablespoons honey
1 cup whole wheat flour
Dough
3 1/2 to 4 cups all purpose or bread flour
2 1/2 teaspoons salt
2 tablespoons sunflower seed oil, plus extra for glazing
1 cup hulled pumpkin seeds, toasted and cooled
Combine the ingredients for the sponge in the bowl of a standing electric mixer. Beat hard for about two minutes. Cover the bowl loosely with plastic wrap and let the sponge rest at room temperature until foamy and doubled in bulk, about an 1 hour.
Add 2 cups of flour to the bowl, along with the salt, oil, and seeds. Mix until combined. Continue adding flour 1/2 cup at a time until the dough clears the sides of the bowl. Change to the dough hook and knead until the dough is supple but still tacky. Turn the dough out onto a lightly floured counter and knead briefly by hand, adding flour only to keep it from sticking. Place the dough in an oiled bowl, cover with plastic wrap, and set aside until doubled in bulk, about 1 1/2 hours.
Grease two 9-by-5-inch loaf pans. Turn the dough out on a lightly floured work surface. Divide into 2 equal portions. Shape each portion into a rectangle and roll it up into a loaf, pinching the seams together. Place loaves, seam sides down, in loaf pans. Let rise until almost doubled in bulk, about 45 minutes.
Preheat oven to 375° F. Brush the loaves with extra sunflower seed oil. Bake in the lower half of the oven until the loaves are deep golden brown and the loaves sound hollow when tapped with your finger, about 40 to 45 minutes.
Some of the links in this post are affiliate links. If you click through and make a purchase, I earn a small commission for my referral at no additional cost to you. Thank you for supporting Flour Arrangements.