This Pumpkin Pie is full of spice and incorporates molasses to gives its sweetness some depth and edge.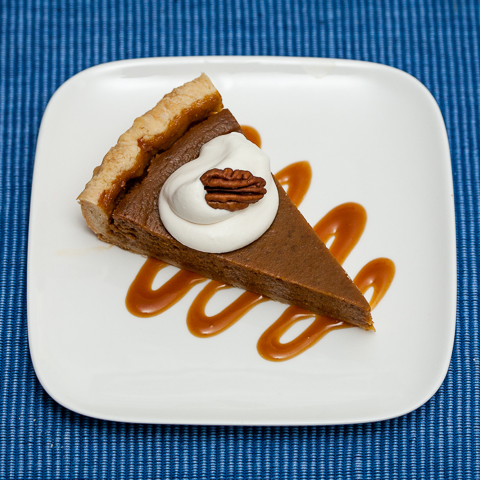 L
ast week, Eliza said she was grateful that I'm her mom because it means
my mom
is her grandma. I totally get what she means — my mom's mom has always had a special place in my heart, too. Spending time with my grandmother always meant fun. When we visited her in Berkeley, CA, adventure always awaited us. We'd hike through Tilden Park and eat a picnic lunch by Lake Anza. We'd run wild in her backyard, racing through terraced paths lined with a forest of miniature bonsai trees. We'd share an impossibly large sundae–the Five by Five–at the old Edy's on Telegraph Avenue. The best part, though, about hanging out with my grandmother was getting to hear her stories. Her humorous, surprising tales usually showcased her knack for enjoying every moment to the fullest. While very proper in many ways–she never, for instance, swore, drank alcohol, or raised her voice–she cast aside other conventions easily. I remember the time that, with a sparkle in her eye, she described a fancy luncheon she hosted for ladies at her church. For table centerpieces, she had artfully arranged moss and flowers inside over-sized brandy snifters. Just before the guests arrived, she placed a live frog–straight from the refrigerator–into each one. Because of the cold, the frogs didn't move a muscle, so everyone just assumed they were ceramic. As the meal progressed, though, the frogs warmed up and started hopping around, which sent the ladies into hysterics. I especially loved when she talked about her daring adventures as a young girl. These included feats like jumping the curbs as she roller skated down Berkeley's Marin Hill, an infamous street that boasts a 25 percent grade in places. These days, Marin Hill is part of the Berkeley Hills Death Ride, and bicyclists talk about the torture of riding UP this hill. Frankly, this hill is so steep it gives me the willies to drive DOWN it in a car, but I still love to picture my daredevil grandmother–pigtails flying–racing down this hill like a maniac, curbs be damned, I mean, darned. While her anecdotes usually had us laughing, she occasionally shared serious stories as well, like the one about living apart from my grandfather during World War II. My grandfather was stationed in Hawaii, and he wasn't able to return home to his family for three whole years. My mom, who'd been just a baby when he left, didn't even know her father. Every time she saw men in uniform, she asked my grandmother if one of them was her dad. When the military finally shipped my grandfather to Orlando, FL, for five months of training, my grandmother spent her family's entire life savings to take my mom and uncles across the country to stay with him there. She said that she didn't care what it took, even starting from zero again after he left. Her place was with her husband, and she was going to be with him no matter what.
prebaking pie crusts
in recipes that call for them. I make the pie just like she did, but with the addition of salt, which she shunned as forcefully as spirits. And rather than bake it in a glass pie dish as she usually did, I make it in a tart pan because the crust holds its shape better during baking. I know there are a million pumpkin pie recipes out there, but my grandma's recipe will always be the one for me. And that's not just because I'm sentimental, either. It's delicious.
Pumpkin Pie
From Betty Holsinger's recipe.
Crust
1 1/4 cups all-purpose flour 1 1/2 teaspoons powdered sugar 1/2 teaspoon salt 1 1/4 sticks butter (10 tablespoons), cut in 1/4-inch slices 3 tablespoons ice water, strained
Filling
1 1/2 cups pumpkin puree (15 ounces) 1 cup brown sugar, packed 1/4 teaspoon salt 1 teaspoon cinnamon 1 teaspoon ground ginger 1/4 teaspoon ground cloves 2 tablespoons molasses 3 eggs 1 cup milk or cream Whirl flour, powdered sugar, and salt in food processor with the blade attachment. Add several slices of butter and whirl until no chunks remain. Add remaining slices and whirl briefly to chop them up slightly. Turn food processor on again and quickly drizzle ice water through the feed tube, stopping before the dough comes together. Pinch some crumbs together between your fingers; if they don't stick together, add a bit more water and whirl briefly. Turn the mixture out onto a large piece of plastic wrap. Use the plastic wrap to help you bring the dough together; fold the edges of the dough toward the center and press down until it holds together, taking care not to overwork the dough. Wrap tightly in plastic and refrigerate for at least 30 minutes. While the dough chills, preheat oven to 425° F. Combine filling ingredients and mix well. Roll out the dough into a 13- to 14-inch circle. Transfer carefully to a 11-inch fluted tart pan with a removable bottom. Fold overhanging edge of the dough down inside the tart pan, pressing gently to help it adhere. Place tart pan on a baking sheet and transfer it to the lower rack of the oven. Working quickly and carefully, pour the filling into the tart pan, and then close the oven door. Bake at 425° F for 15 minutes. Reduce oven temperature to 350° F and bake for 30 to 45 minutes more, until the center is just barely set (it should jiggle slightly). If the crust begins to brown too much before the pie is finished baking, slide a baking sheet on the top rack of the oven to diffuse the heat. Cool the pie to room temperature, and then refrigerate until ready to serve. Drizzle plates with
caramel sauce
, if desired, and serve with lightly sweetened whipped cream.