Adding sauteed apples to cinnamon rolls takes this comfort food up a notch. With a drizzle of caramel sauce, these Apple-Cinnamon Rolls are really just breakfast dessert.
In case you've ever wondered, a pick-up truck load of apples produces an impressive amount of cider.  
Last weekend, countless gallon jugs, along with an odd assortment of soda bottles, mason jars, and five-gallon buckets lined up along Friday Harbor Labs' dock to capture the precious, sweet liquid resulting from this year's Shaw Apple Raid.
As in years past, we worried that we wouldn't find enough containers for all of it, but a few frantic runs to the store for empty water jugs saved the day.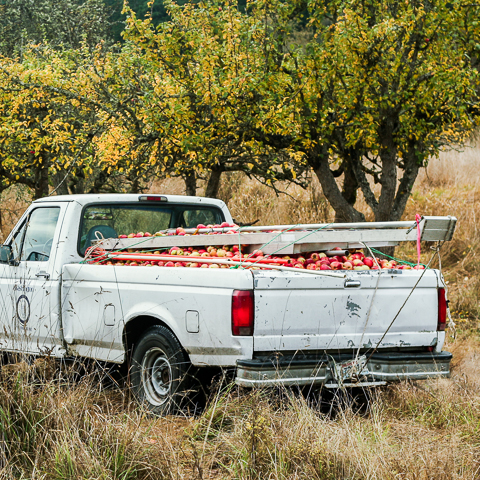 With all that cider to go around, nobody minds if some of the apples find their way into people's kitchens for eating and baking.
This year, Eliza, now seven, decided to make her own batch of apple sauce, all from tiny apples that she had collected.  She peeled and chopped tirelessly for at least an hour before we a stepped in to help her.   She agreed that we could add some of the larger apples to the mix, which sped up the process tremendously.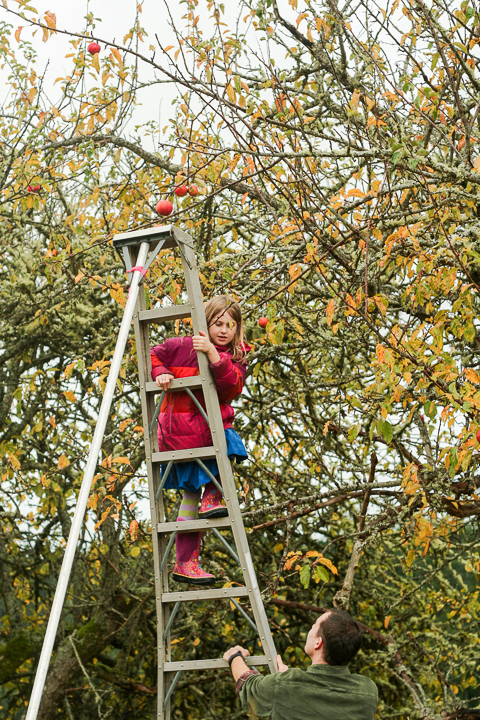 In addition to producing a perfect batch of apple sauce, Eliza inspired me to attempt a variation of my favorite cinnamon roll recipe.  She had asked — on Saturday morning before we embarked for Shaw Island to pick apples — if we could have cinnamon rolls for breakfast.
We didn't have time to make them, so I promised that we'd make something even better (at least I hoped) the next day:  apple-cinnamon rolls.
After we returned from Shaw, I made the yeasted dough and prepared the filling ingredients:  sauteed apples and a brown sugar-cinnamon mixture.
Later that evening, I combined the dough and fillings  and placed the apple-cinnamon rolls in the refrigerator to rise.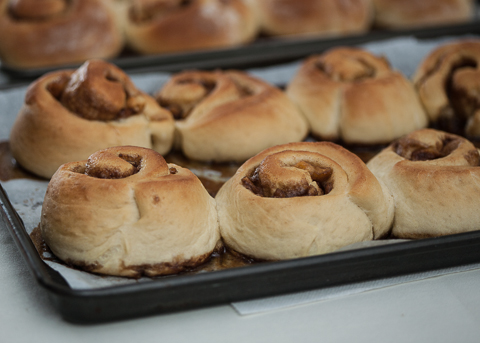 On Sunday morning, I awoke to the aroma of apple and cinnamon and fresh bread:  my husband had gotten up early to put the rolls in the oven.
We drizzled our oven-warm rolls with some caramel sauce that I had on hand.  As I took my first tender, sweet bite, I couldn't believe I'd never thought to add caramel sauce to cinnamon rolls before.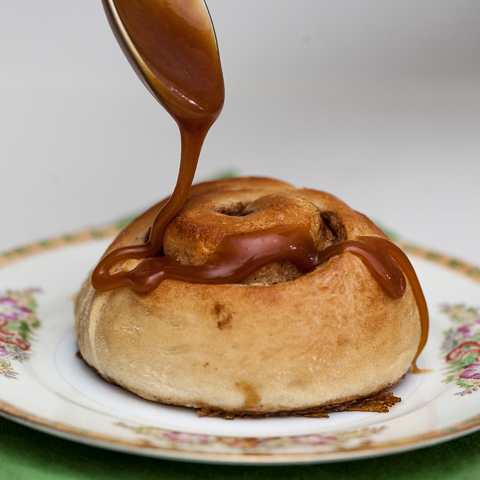 After breakfast, we headed out to press cider, bringing the remaining rolls along to share.   I didn't really mean to eat any more, but someone had thought to bring an electric kettle for heating cider on the dock.
I couldn't resist finding out how an apple-cinnamon roll tasted between sips of hot cider.  Just in case you wondered, it's a perfect combination.
Apple-Cinnamon Rolls
Make 16 large rolls.
Dough
1 medium potato, peeled and cut into large chunks
1/4 cup unsalted butter
1 tablespoon active dry yeast
1/2 cup packed brown sugar
1 large egg
1 teaspoon salt
5 to 5 1/2 cups all-purpose or bread flour
Filling
6 tablespoons butter, at room temperature and divided
3 cups diced apple
1/4 teaspoon salt
1 1/2 cups packed brown sugar, divided
1 1/2 tablespoons ground cinnamon, divided
Add potato chunks to a medium saucepan.  Cover with water and bring to a boil.  Reduce heat to low and cook, uncovered, until tender, about 20 minutes.
Drain the potato, reserving 1 1/4 cups of the cooking liquid, adding water if necessary to reach the required amount.  Return potato to the pan and set the water aside to cool.
Add 1/4 cup butter to the potatoes and mash until the potatoes are smooth and the butter has melted.
Pour cooled potato liquid (105° and 115° F) into the bowl of a standing electric mixer.  Sprinkle yeast and a pinch of sugar over the water's surface and stir until yeast is dissolved.  Let stand at room temperature until foamy, about 10 minutes.
Add the potato mixture,  1/2 cup brown sugar, egg, salt, and 2 cups of the flour.  Beat hard with the paddle attachment to combine, about 1 minute.  Add the remaining flour, 1/2 cup at a time until a shaggy dough that just clears the sides of the bowl forms.
Switch from the paddle to the dough hook and knead for 3 to 4 minutes, or until the dough is smooth and springs back when pressed.  Transfer to a lightly floured surface and knead briefly by hand, if desired.
Place the dough in a deep greased container, turning once to coat, before covering with plastic wrap.  Let rise in a warm place until at least doubled in bulk, about 1 to 1 1/2 hours.
While the dough rises, combine apples, 2 tablespoons of the butter, 1/4 cup of the brown sugar, 1/2 tablespoon of the cinnamon, and 1/4 teaspoon salt in a large skillet.  Cook over medium heat until the apples are tender, about 15 minutes.  Transfer to a small bowl to cool.  In a separate bowl, mix remaining 1 1/4 cups brown sugar with remaining tablespoon cinnamon.
Turn out the dough onto a lightly floured work surface.  Divide the dough into two equal portions.  Roll one portion into a 10-by-14-inch rectangle at least 1/4 inch thick.  Brush the surface with 2 tablespoons butter, leaving a 1-inch border around the edges.  Sprinkle half of the brown sugar-cinnamon mixture evenly over the butter.  Scatter half of the apples over the sugar mixture.  Starting on the long side, roll the dough up like a jelly-roll.  Pinch the seams together, and, using a piece of dental floss, cut the rolled dough into 8 equal pieces.  Position each piece, cut side up, on a parchment-lined baking sheet at least 2 inches apart.  Press down gently on each swirl to flatten slightly.  Repeat with remaining dough and filling ingredients.  Cover loosely with plastic wrap and let rise at room temperature until puffy, about 20 minutes (if desired, refrigerate rolls overnight and transfer to the oven in the morning).
Preheat oven to 350° F.  Bake apple-cinnamon rolls for 25 to 30 minutes, until golden brown and firm to the touch.  If desired, drizzle with caramel sauce before serving.
Caramel Sauce
Adapted from Chasing Delicious.
1 1/8 cup granulated sugar
2 1/2 tablespoons water
1/4 teaspoon lemon juice
1 tablespoon corn syrup
3/4 cups heavy cream
2 tablespoons butter
1/4 teaspoon salt
Combine sugar, water, lemon juice, and corn syrup in a small saucepan, stirring to combine.  Place pan over place over high heat, watching closely until the mixture becomes golden amber in color, about 8 to 12 minutes.   Do not stir during this time.
Once the caramel reaches the desired color, remove from heat.  Carefully pour the cream into the pan and stir vigorously.
If the mixture seems lumpy, return the pan to the heat, stirring constantly until the lumps have dissolved.
Remove from heat and add the butter and salt.  Stir until the butter is completely melted.
Let the caramel cool before using.