Blue cheese, sauteed leeks, and wilted spinach provide a savory backdrop for thinly sliced apples in this Blue Cheese Apple Tart.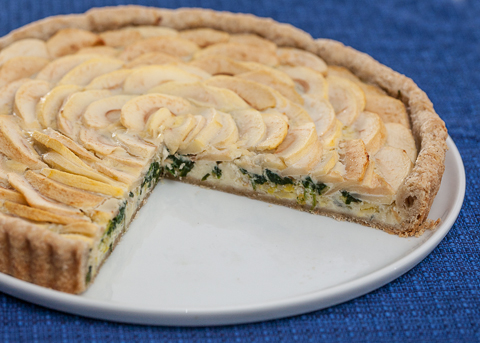 In the past several weeks, we've canned three giant batches of applesauce. We've produced several dozen apple cinnamon rolls. We've added diced apples to dishes of all kinds, including the stuffing for our Thanksgiving turkey. And, of course, we've made apple pies.
We still have apples.
When you live in a small house, having a lot of apples causes logistical problems. The laundry basket that we filled with apples still sits in the middle of our tiny kitchen. I keep moving it around so I can sweep the floor. Someone trips over it at least once a day.
I'm not complaining. I like apples.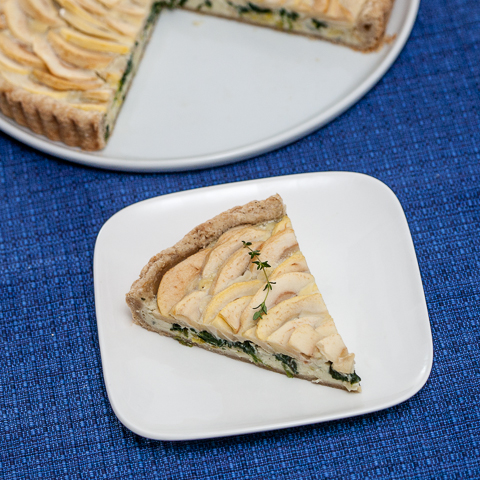 Those apple pies that I mentioned — not all of them have been sweet. I love an all-American apple pie, and I've baked more of them than I can count. I think I could probably make an apple pie blindfolded.
But you can't eat apple pie for dinner (at least not every night), so you can imagine my delight when I found a recipe for a savory apple pie — I could have apple pie for dinner AND dessert!
You start by layering pastry crust with blue cheese. Add sauteed leeks. Top that with wilted spinach. Pour in a few eggs whisked with cream. Then cover all that savory goodness with thinly sliced apples.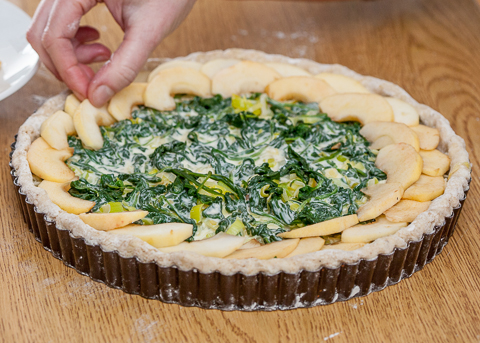 Bake. Eat. Enjoy.
I recommend opening a bottle of white wine to accompany this tart. Just do it. You won't be sorry.
Before I discovered this recipe, I thought I understood apple pie. Sometimes I love being wrong.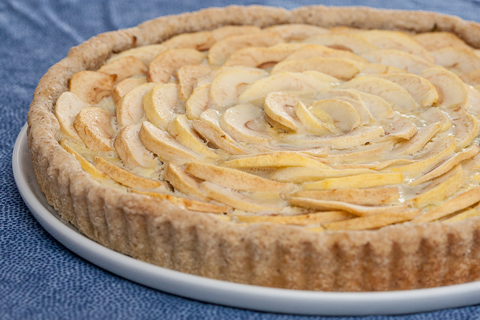 Blue Cheese Apple Tart
Inspired by Rebar Modern Food Cookbook.
Pastry
1 cup unbleached all-purpose flour
1/3 cup whole wheat flour
1 teaspoon brown sugar, packed
1/2 teaspoon salt
1/2 teaspoon freshly ground black pepper
1 1/2 sticks butter, sliced in 1/4-inch pieces
1/4 cup ice water, strained
Filling
1 tablespoon butter
1 tablespoon olive oil
2 leeks, white and pale green parts only, halved and thinly sliced (about 2 cups)
1/2 teaspoon salt
1/4 teaspoon freshly ground black pepper
5 ounces baby spinach
3 eggs
1/3 cup cream
8 ounces blue cheese, grated (a little more than 2 cups)
3-4 apples
1 egg white, lightly beaten
Whirl dry ingredients for crust in the bowl of a food processor. Add half a stick of the butter and process until you no longer see chunks. Add remaining butter and process briefly, leaving chunks the size of peanuts. Working quickly, turn on the food processor and pour the ice water through the feed tube, stopping before the dough comes together. Pinch a bit of the mixture between your fingers. If it does not stick together, add a couple of teaspoons more water and whirl briefly. Turn out the dough onto a large piece of plastic wrap. Use the plastic wrap to help you create a large, flat disk: fold the edges of the dough toward the center and press down to smooth out the roughness. Refrigerate dough for at least 30 minutes.
Heat butter and olive oil in a large skillet over medium-high heat. Add the leaks and a pinch of salt. Saute until the leeks are soft and just starting to brown, about 5 to 8 minutes. Set aside to cool. Add spinach to the skillet and saute until wilted. Set aside. Whisk eggs, cream, salt, and pepper in a small bowl to combine.
Roll out dough into a 15-inch circle. Transfer to a 13-inch tart pan with removable bottom. Fold the dough's overhanging edge down inside the tart pan–pressing gently to help it adhere–so its top edge is even with the top of the tart pan. Spread blue cheese over the bottom of the crust. Add leeks and then spinach. Pour the egg and cream mixture over the top.
Peel, quarter, and core the apples. Carefully slice each quarter into 8 thin wedges. Starting at the outer edge of the tart, overlap the apple slices, outside edges facing out, in a circle around the tart's edge. Continue spiraling apple slices towards the center, working until the entire surface is covered. Brush the apples with the beaten egg white.
Place the tart on a baking sheet and transfer to an oven preheated to 400° F. Bake for 20 minutes, and then reduce oven temperature to 350° F . Continue baking until the egg has set and the crust is pale golden, about 20 to 25 minutes more. Let the tart rest for at least 15 minutes before removing from the pan. Cut into wedges and serve.
Some of the links in this post are affiliate links. If you click through and make a purchase, I earn a small commission for my referral at no additional cost to you. Thank you for supporting Flour Arrangements.