Cardamom and ginger add brightness to these tahini-enriched Sesame Cookies. Since they're tiny and not overly sweet, these cookies are slightly dangerous.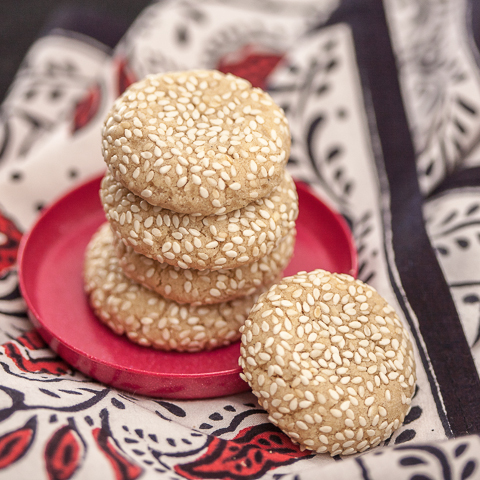 A
fter putting the kids to bed the other night, I felt the need for something sweet.   A quick inspection of my cupboards and fridge left me feeling uninspired.
My husband, who clearly understood my unvoiced intentions, suggested hot fudge sundaes, but that didn't grab my interest either.
I wanted something just slightly sweet with a bit of crunch.  Since nothing on hand was going to make me happy, I began searching
Epicurious
for a recipe that would gratify my craving.  I found it almost immediately: 
Sesame Cookies
. As the first batch came out of the oven, I didn't wait for them to cool. The dough, which includes tahini, imparts just the kind of savory backdrop that I was looking for in a sweet treat.  And rolling the dough in sesame seeds not only gives these cookies an attractive appearance, it delivers the pleasing crunch I'd hankered for at the beginning of my quest. While the cookies took care of my immediate need for something sweet, I didn't feel completely satisfied with them:  the bitterness of the tahini stood out too much in the sweet-savory combination. On a whim, I kneaded some ground cardamom and freshly grated ginger into the remaining dough, and the experiment paid off.  The cardamom and ginger added enough brightness to detract from the bitter flavor. Since they're tiny and not overly sweet, these cookies are slightly dangerous.  When I start to eat them compulsively, I just pretend they're crackers. And really, because of their savory undertones, I can almost pretend to believe myself.   I've consumed two batches in the last week, and now that my cupboard's bare once more, I'm off to bake them yet again, thereby prolonging my delusion.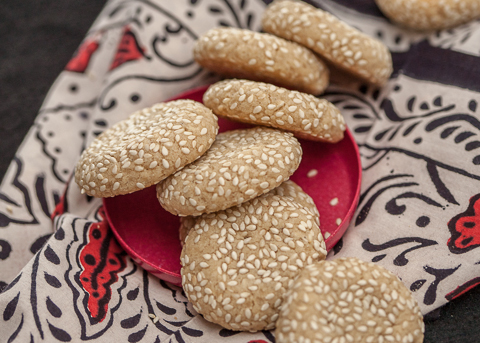 Sesame Cookies
Inspired by
Epicurious.com
.  Makes about 2 1/2 dozen cookies. 1 1/4 cups all-purpose flour 3/4 teaspoon ground cardamom 1/2 teaspoon baking powder 1/4 teaspoon salt 1 stick (1/2 cup) unsalted butter, softened 1/4 cup granulated sugar 1/4 cup brown sugar, plus 1 tablespoon 1 teaspoon grated fresh ginger 1/2 cup well-stirred tahini 2 teaspoons vanilla extract 1/3 cup, plus 2 tablespoons sesame seeds (preferably hulled), divided Whisk together flour, cardamom, baking powder, and salt in a small bowl. In the bowl of a standing electric mixer fitted with the paddle attachment, combine butter and sugars at medium-high speed until pale and fluffy, about 3 minutes.  Beat in in tahini, ginger, vanilla, and 2 tablespoons of the sesame seeds.  Reduce speed to low and add the flour mixture in 2 batches, mixing until a crumbly dough forms. Turn out dough on a large piece of plastic wrap.  Use the plastic wrap to press the dough  into a cohesive disk.  Chill the dough, wrapped, until firm, at least 1 hour. Shape dough into 1-inch balls.  Roll balls one at a time in seeds to coat, re-rolling balls between your hands after coating with seeds to help the seeds adhere.  Arrange cookies 2 inches apart on parchment-lined baking sheets.  Using the bottom of a drinking class, press down gently on each cookie to flatten it slightly. Bake in an oven heated to 350°F, switching the position of the sheets about halfway through baking, until cookies are puffed and starting to crack, about 12 to 15 minutes.  Cool cookies on the baking sheets for 10 minutes before transferring to a cooling rack.