In this Easy Jam Crostata, the pasta frolla, or Italian-style pastry dough bakes up tender-soft. It's more like a giant jam thumb-print cookie than a tart.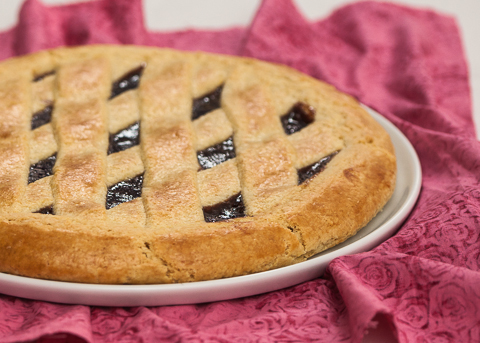 W
hen I tell someone that a recipe is easy to make, my husband frequently pipes in with, "When she says it's easy, that just means she doesn't have to go to the store." Since time, or rather a lack of it, often prevents me from baking, I admit that this is partly true. In the time it takes to get two kids from the house to the car to the store and back again, I could probably be well on my way to producing some treat that would please our bellies.  More importantly though, my kids, rather than squabbling in the car or begging for candy at the store, could work together with me in the kitchen. They both know how to measure, mix, stir, and knead, and while it's not necessarily relaxing or tidy having them help, they enjoy helping me, and I enjoy their company.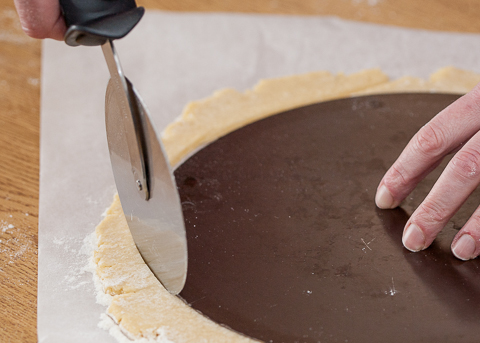 So yes, if I can spontaneously make a recipe without taking a special trip to the store for one ingredient, I'd say that counts as easy. For example, if you have a couple of eggs, vanilla extract, flour, sugar, baking powder, salt, a lemon, butter, eggs, and some jam, you could make yourself a jam crostata. Check out the simple elegance of that crisscross crust that comes together in moments.  And better yet, you don't even need a tart pan to pull it off.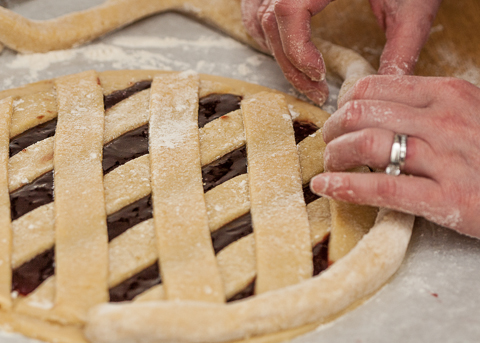 I like to keep a lemon or two on hand, but the first time I tried this recipe, I didn't have one.  I refused to go to the store, of course, so I made the crostata without it. Guess what?  The crust tastes just fine without lemon zest. Sure, it tastes better when you include it, but don't let the lack of a lemon squelch your impulse for impromptu baking.  When I made that first crostata without a lemon, I learned that the filling tastes fantastic when you substitute balsamic vinegar for the lemon juice. While the crostata looks much like a tart made with flaky pastry dough, the
pasta frolla
, or Italian-style pastry dough bakes up tender-soft rather than shatter-at-the-touch flaky.  The result, as my friend Peg put it, is more like a giant jam thumbprint cookie.  And who, I ask you, wouldn't want that?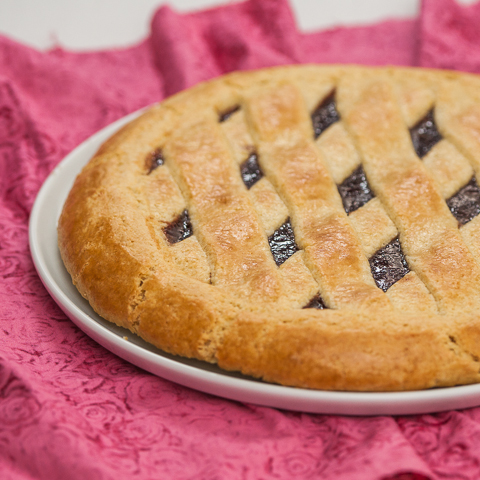 If time constrains you as much as it does me, you'll be happy to know that this recipe works well in stages. Last week, I prepared the dough when I got home from work thinking that my kids and I could finish making it after I picked them up from school.  Somehow, though, we ran out of time (oh, surprise!).  The dough sat in the fridge until the next day, when we mixed up our jam filling, rolled out the dough, and assembled the crostata. So you can go ahead and believe my
husband
, who refuses to accept that certain baked items might possibly come together with ease, or you can just believe me when I say that that this recipe really is easy to make. Either way, I'm guessing you won't have to go to the store to find out which one of us has it right.
Easy Jam Crostata
Adapted from
Baking Illustrated
.  Serves 8 to 10 people.
Pasta Frolla
1 large egg 1 large egg yolk (reserve white for the glaze, see below) 2 teaspoons vanilla extract 2 tablespoons water 2 1/3 cups unbleached all-purpose flour 2/3 cups granulated sugar 1/2 teaspoon salt 2 teaspoons baking powder grated zest of one lemon 1 1/2 sticks butter (12 tablespoons), cut into 1/4-inch pieces
Filling
1 cup jam 1 tablespoon lemon juice or balsamic vinegar
Glaze
1 large egg white 2 tablespoons water For the
pasta frolla
, whisk the egg, egg yolk, vanilla, and water in a small measuring cup.  Set aside. Whirl flour, sugar, salt, baking powder, and lemon zest in the bowl of a food processor fitted with the blade attachment.  Scatter 4 tablespoons of the butter over the flour mixture and whirl until well combined.  Add remaining 8 tablespoons of butter and pulse briefly until peanut-sized chunks of butter remain.  With the machine running, add the egg mixture and process until just incorporated;  it should still appear very crumbly.  Pinch some of the mixture between your fingers;   if it sticks together, no more water is necessary.  If the mixture feels dry and doesn't clump easily, add 1 to 2 teaspoons more water and process briefly until just incorporated. Turn out the dough into a large bowl.  Gently knead until it forms a cohesive ball, no more than 30 seconds.  Divide the dough in two pieces and shape into flat disks.  Wrap each one separately in plastic wrap and refrigerate for 1 hour or up to 2 days. Mix jam and lemon juice (or balsamic vinegar, depending on what type of jam you are using) in a small bowl.  Set aside.  In another small bowl, whisk egg white with 2 tablespoons water. Remove dough from refrigerator (if refrigerated for longer than 2 hours, let stand at room temperature until the dough feels malleable).  On a floured piece of parchment paper, roll one of the dough disks into an 11-inch circle about 1/4-inch thick, dusting generously with flour as needed.  Using a 10-to 11-inch pot lid, tart pan bottom, or other large circle as a guide, trim the dough into a perfect circle with a pizza cutter or paring knife.  Reserve the scraps. Move the dough, still on the parchment paper, onto a large baking sheet.  Spread the jam on the dough, taking care to leave a 1-inch border all the way around the edge. Roll the second piece of dough into an 11-inch circle on a generously floured piece of parchment paper.  With a pizza cutter or paring knife, cut the dough into 10 1-inch wide strips.  Combine scraps with scraps from the bottom crust and knead them into a cohesive mass. Set aside. Place the dough strips over the filling, 5 in each direction, in a diagonal lattice.  Use a long, offset spatula to help you move and position the strips.   Trim over hanging strips carefully, and then brush the strips with the egg glaze. Roll the combined dough scraps into a 3/4-inch-thick rope that will fit around the outside edge (about 30 inches long).  Brush the rim of pastry with the egg glaze, and then press the dough rope over the rim, flattening slightly as you work.  Brush the border with the egg glaze.  Refrigerate the assembled crostata on the baking sheet for 1 hour. Preheat oven to 375° F.  If desired, brush the dough with egg glaze one more time before putting the crostata in the oven.  Bake in on the middle rack until golden brown, about 20 to 25 minutes.  Slide the parchment paper and crostata off the baking sheet and onto a rack.  Cook to room temperature before serving.