Decadent Chocolate Caramel Sandwich Cookies hold a luscious layer of vanilla bean-laced caramel between two homemade chocolate wafers.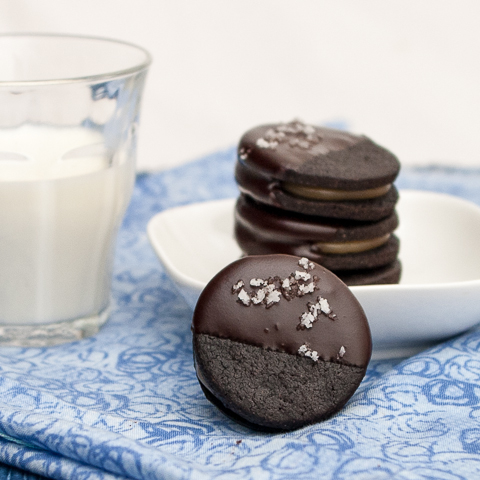 Back in October, Tamara, the cookie queen of San Juan Island, suggested getting together for a Christmas cookie baking party.
Just to be clear, I have terrible holiday timing. When Tamara's email arrived, December seemed pretty far off. I was working on the treats I agreed to bake for my second grader's Halloween party, not thinking about ones I might prepare two months hence.
Don't get me wrong, I love Christmas, I just don't have what it takes to pull of an organized Christmas. My family hasn't managed to mail a pre-Christmas holiday card for at least five years.
We used to send timely New Year's cards, but last year we didn't get it together until February, when we mailed out Valentine's cards.
So the thought of Christmas cookies in October caught me off guard, and maybe, just maybe, I didn't respond to Tamara's message about a holiday baking party in as timely a fashion as I could have.
Finally, when she wrote on Facebook — "I'll be bummed if you guys don't respond. Maybe I'll keep posting 'til you do. Have a good weekend or a good few hours 'til I post again" — I looked at my calendar and suggested a few dates.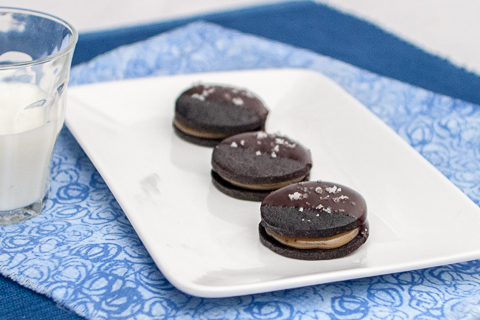 Fast forward to last weekend, when Tamara, Sharalyn, and I gathered to bake cookies. In the midst of this crazy, hectic holiday season, I got to spend a day doing something I love with great friends.
Would I have done it if I hadn't put the date on my calendar two months ago? Probably not.
But because I'd scheduled it, I gave myself permission, just for the day, to let go of the the idea of tackling unfinished Christmas shopping, ungraded papers, and a disastrously messy house.
And guess what? Our day of mixing, rolling, glazing, and nibbling resulted in seven different kind of cookies that each of us could share with teachers, colleagues, and friends.
As I wrapped up plates for my daughters to bring to school the next day, I realized that, for all my love of baking, I've never given holiday cookies as gifts before. Ever.
In addition to enabling me to send lovely cookie plates out into the world, our baking day introduced me to some delicious new recipes to share, starting with these Chocolate Caramel Sandwich Cookies. Crisp chocolate wafers hold a luscious layer of vanilla bean-laced caramel. As if that's not enough, a dark chocolate coating and a sprinkling of sea salt make them downright decadent.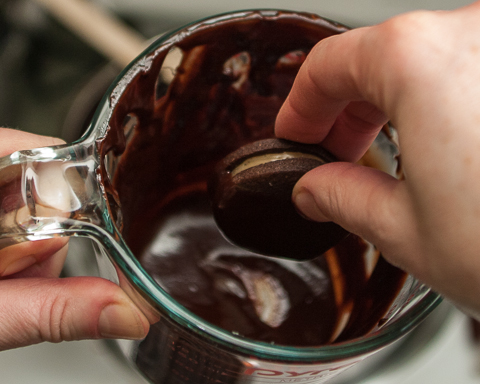 I'm not afraid to admit that I made additional batches so I could eat more of these cookies myself.
In making multiple batches, I used up the Dutch-processed cocoa that I had on hand, so I used natural cocoa powder the third time around. The cookies with Dutch-processed cocoa tasted delicious, but maybe just a touch acrid, while the cookies with natural cocoa powder had a smoother taste.
While only slightly different in taste, though, they look dramatically different; Dutch-processed cocoa gives the cookies a deeper, almost black color, while the natural cocoa makes the cookies look decidedly brown.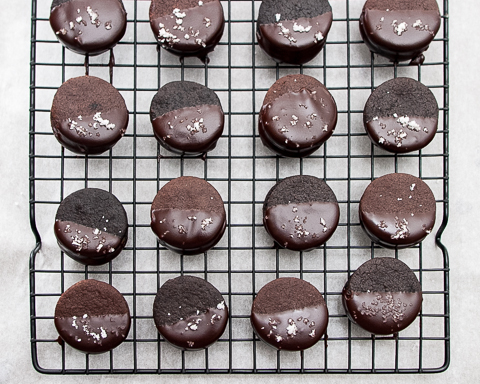 Christmas arrives in three days, and while I'm far from ready, at least I was able to give some deserving people holiday cookies before Christmas arrives. Clearly I need Tamara to take care of my holiday planning. If I get my holiday cards out before Christmas next year, you can thank her.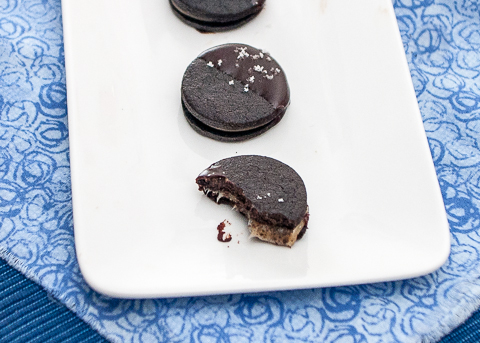 Chocolate Caramel Sandwich Cookies
Inspired by Food & Wine. Makes about 50 cookies.
Cookie Dough
1 1/2 cups all-purpose flour
1/2 cup unsweetened cocoa powder, plus more for rolling out the dough
1/2 teaspoon salt
1 1/2 sticks unsalted butter, softened
1 cup sugar
1 large egg
2 teaspoons vanilla
Caramel Filling
1 cup, plus 2 tablespoons sugar
3/4 cup, plus 2 tablespoons heavy cream
3 tablespoons honey
1/2 tablespoon light corn syrup
1 vanilla bean, split and seeds scraped (reserve pod for another use)
2 tablespoons unsalted butter, softened
Chocolate Glaze
3/4 cup dark chocolate chips
3 tablespoons unsalted butter
3 tablespoons heavy cream
sea salt
To make the cookie dough, combine flour, cocoa power, and salt in a small bowl. Set aside.
Combine butter and sugar in the bowl of a standing mixture at medium speed with the paddle attachment until light and fluffy. Beat in the egg and vanilla extract. Add flour mixture and mix on low speed until the dough comes together, about 1 minute. Turn the dough out onto a lightly floured surface and knead 2 or 3 times. Flatten into 2 disks, wrap in plastic, and chill until firm, about 30 minutes.
Preheat the oven to 350° F. One at a time, roll out the chilled disks of dough to 1/8-inch thickness on a counter generously dusted with cocoa powder. Using a 1 1/2-inch round cookie cutter, stamp out as many circles as possible. Transfer cookies to parchment-lined baking sheets, gather the scraps, re roll, and stamp out as many cookies as possible. Bake the cookies for about 10 minutes, until slightly puffed and set, shifting the baking sheets halfway through for even baking. Let the cookies cool on the baking sheets.
To prepare the caramel, butter the bottom and sides of a 9-by-5-inch loaf pan and line the bottom with a piece of parchment paper long enough to reach 2 inches up 2 sides of the pan. In a medium saucepan, stir together the sugar, cream, honey, corn syrup, and vanilla seeds. Set a candy thermometer in the saucepan and cook over moderately high heat, stirring occasionally, until the temperature reaches 255° F. Remove from the heat, take out the thermometer, and stir in the butter until melted and well-combined. Pour the caramel into the prepared pan and let cool for about an hour.
Lift the caramel out of the pan and transfer to a cutting board. Using a 3/4-inch round cookie cutter, stamp out rounds of caramel (about 1 teaspoon each) and sandwich them between the cookies, pressing gently to flatten slightly. Press the caramel scraps together and cut additional rounds.
For the glaze, combine chocolate chips, cream, and butter in a 1 cup measuring glass. Microwave in spurts (15 to 20 seconds each at 50 percent power), stirring occasionally, until melted and smooth.
Dip the cookies halfway into the chocolate glaze, allowing excess chocolate to drip back into the measuring glass. Set the cookies on racks over parchment-lined trays. Sprinkle each cookie lightly with sea salt. Refrigerate until set. Bring cookies to room temperature before serving.
Some of the links in this post are affiliate links. If you click through and make a purchase, I earn a small commission for my referral at no additional cost to you. Thank you for supporting Flour Arrangements.
Pin Chocolate Caramel Sandwich Cookies for Later