While pepper seems like a surprising addition to these Cardamom Cookies, it enhances the cardamom's warm, aromatic flavor without drawing any attention to itself.  A cognac glaze adds sophisticated flair to these delightful little cookies.

Cardamom's earthy-sharp sweetness and uplifting menthol flavor make it one of my favorite spices.  I love it in savory dishes like Chicken Biryani as well as in sweet treats like cookies or cakes.
When my friend Sharalyn busted out a recipe for Cardamom Cookies at our recent holiday cookie marathon, I couldn't wait to bake them.
Sharalyn, a woman particular about her spices, may very well appreciate cardamom's virtue even more than I do.  As we prepared to make her recipe, she produced a jar of cardamom pods so we could extract and grind our own seeds for the cookies, no small task for the full tablespoon of cardamom required.
In addition to cardamom and a dash of nutmeg — the recipe's ingredient list included black pepper, an unlikely spice for cookies.
After very little deliberation, we decided to leave out the pepper.  We were, after all, giving the cookies as gifts, and we didn't want a peppery surprise to spoil anyone's enjoyment of our holiday sweets.
It seemed, when we tasted the finished cookies, that we'd made the right decision;  the cardamom really shined in this simple, straightforward cookie fancied up with a cognac glaze and a dusting of freshly grated nutmeg.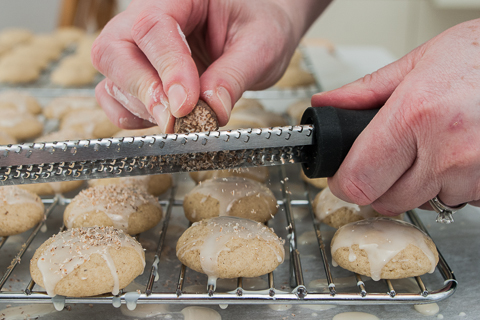 Here's the thing, though — I just couldn't help wondering what these cookies would taste like if they included the black pepper.   Since we had given most of our cookies away, which meant I ate maybe two of them, I felt the need to eat at least a few more.
This gave me the perfect excuse to bake them again, this time including the pepper as directed.
My pepper-studded cookies didn't taste peppery at all, and, much to my delight, their cardamom flavor seemed much more intense than in our previous batch.  Pepper — the merest dash of which gets my children crying "too spicy!" —  somehow enhanced the cardamom's warm, aromatic flavor without drawing any attention to itself.
It drew so little attention, in fact, that my two pepper-hating children gobbled up these cookies in no time and asked me to bake more, which, of course, I did.  Pepper and all.

Cardamom Cookies
Adapted from More Magazine.  Makes about 60 cookies.
Dough
2 3/4 cups all-purpose flour
1 teaspoon baking soda
1/4 teaspoon salt
1 tablespoon ground cardamom  (ideally freshly ground from green seed pods)
1/2 teaspoon ground black pepper
dash of freshly grated nutmeg
12 tablespoons unsalted butter (1 ½ sticks), softened, but still cool
1/2 cup granulated sugar
1/2 cup brown sugar, packed
2 large eggs
2 teaspoons vanilla extract
Glaze
1 1/4 cups confectioners' sugar
2 tablespoons cognac
2 tablespoons cream
freshly grated nutmeg
Preheat the oven to 350° F. Combine flour, baking soda, salt, and spices in a large bowl. Mix well with a whisk and set aside.
In the bowl of a standing electric mixer, beat together the butter and sugars until light and fluffy, about 2 to 3 minutes.  Add eggs one at a time, beating well after each addition, and then mix in the vanilla.  In two additions, add flour mixture. Stir until just combined.
Roll dough into 1-inch balls and place them on parchment-lined baking sheets, leaving about 1 inch between them.  Bake for 10 to 12 minutes, rotating pan after 5 minutes for even baking.  Remove from oven when the edges are just set and middles are puffed. Transfer cookies to a rack to cool.
Mix confectioners' sugar, cognac, and cream in a bowl, adding additional cream, congac, or confectioners' sugar as needed to achieve desired consistency.  When cookies have cooled, drizzle the glaze over them with a spoon.  Grate fresh nutmeg over the glaze before it sets.