Crunchy and chewy and nutty and sweet and savory all at the same time, these Trader Joe's inspired Raisin Rosemary Crisps taste heavenly.
Before I lived on an island with just two grocery stores, I could shop anywhere I wanted.
I could go to Costco for toilet paper without committing a whole day to the task.  I could find an open Safeway at 1 am to facilitate the baking of a second, unburned batch of cupcakes for daughter's school birthday celebration.
I could even spend a fortune at Whole Foods if I felt so inclined.  But best of all, I could shop at Trader Joe's.
In Santa Barbara, we lived so close to Trader Joe's that we could walk there in less than two minutes with small children in tow.  This immediacy meant that we shopped there at least once a day and frequently more than that.
Rather than stock our cupboards and fridge, we began using Trader Joe's as our pantry.   A bit before dinnertime, we'd wander over and pick up what we needed to put a meal on the table.
Invariably, we'd forget some important ingredient, or we'd realize that we really needed a bottle of wine to accompany our dinner, so one of us would head back to pick up the required item.
Depending on who went to the store, we'd also end up with smoked trout to snack on while we cooked or a package of chocolate covered caramels to nibble on after dinner.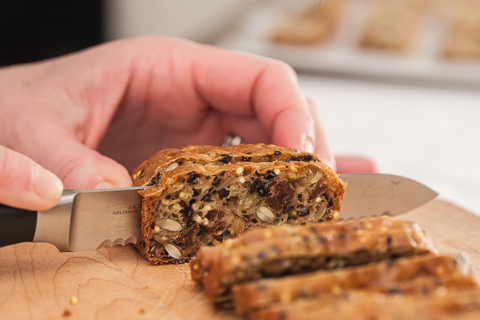 Sure, we called the store Trader Joe's, but in reality, it had become an extension of our house.  It's hard not to miss that, especially these days, when we could really use an external pantry for our excruciatingly tiny cottage.
Over the holidays this year, we ventured back into civilization for a few weeks.  One afternoon right after Christmas, we drove past the Trader Joe's near my parents' house.
We didn't actually need anything, but we simply couldn't resist the draw of chocolate covered caramels and affordable fancy cheese.  My niece who'd tagged along clearly thought we were nuts as we wandered the aisles in nostalgic reverie.
As we reached the sampling station near the back of the store, I picked up a Raisin Rosemary Crisp topped with brie.
I often find raisins too sweet for my taste, so I nibbled with skepticism.  One bite, though, prompted me to toss a small wedge of brie and a box of crackers into my basket.  Those Trader Joe's marketers really know what they're doing.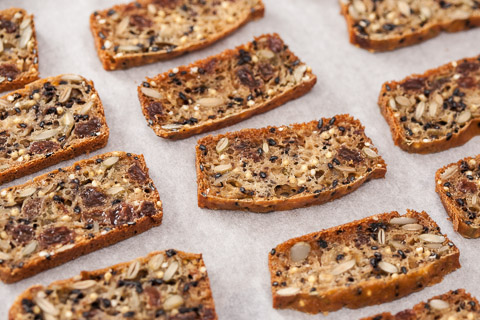 We liked the crackers so much that, right before the end of our trip, we picked up one last box to bring home with us.
I knew it wouldn't take long to reduce its contents to crumbs, so I decided to try making crackers on my own so we could continue to enjoy them once they disappeared.
In my first attempt, I included all of the ingredients listed on the box — buttermilk, flour, sugar, sunflower seeds, raisins, flax seed, millet, baking soda, sea salt, rosemary, and black pepper.  My crackers didn't look so much like the ones we bought at Trader Joe's, and they didn't taste so much like them either.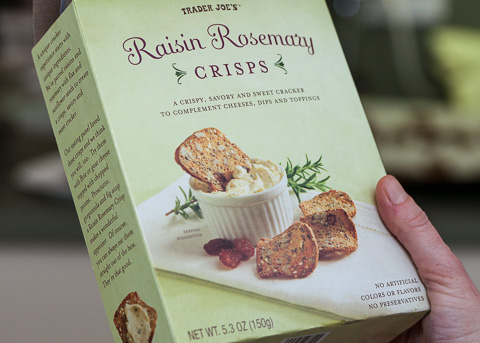 I loved the result, though. The flavors and textures came through much more intensely, and the cross sections of seeds somehow presented a more dramatic visual as well.
So, when I tried baking them again, rather than try to replicate Trader Joe's version, I played around with the ingredients to suit my own tastes.
I used pumpkin seeds instead of sunflower seeds and subbed in black sesame seeds for the flax.  Additionally, I used a combination of brown sugar and maple syrup instead of plain sugar.
The end result is crunchy and chewy and nutty and sweet and savory all at the same time.  With a little dab of brie, these crackers make for a perfect snack.
While I miss my Trader Joe's pantry, at least I can enjoy these seedy, satisfying crackers whenever I want.
Now if I could just get my hands on a steady supply of chocolate covered caramels, and maybe a bigger house, I might not miss Trader Joe's at all.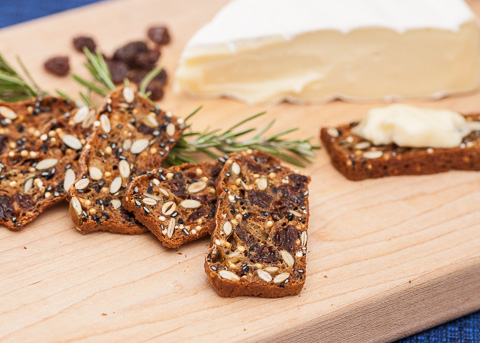 Raisin Rosemary Crisps
Adapted from Food.com.  Makes about 7 dozen crackers.
1 cup flour
1 teaspoon baking soda
1/2 teaspoon salt
1/8 teaspoon freshly ground black pepper
2 tablespoons brown sugar
1 cup buttermilk
2 tablespoons maple syrup
1/2 cup raisins
1/2 cup pumpkin seeds
2 tablespoons millet
2 tablespoons black sesame seeds
2 teaspoons chopped fresh rosemary
Preheat oven to 350° F.  Generously butter four 2 1/2-by-5 inch loaf pans.
In a small bowl, combine raisins with very hot water.  Let sit for five minutes and then drain well.
Meanwhile, stir pumpkin seeds over medium-high heat in a small skillet until they start to crackle and turn just barely brown.  Set aside to cool.  Add millet to the skillet and stir until they begin to make popping sounds.  Add millet to the pumpkin seeds.  Add sesame seeds to the bowl and mix to combine.
Mix flour, baking soda, salt, pepper, and brown sugar in a medium-sized bowl.  Add cooled seeds, along with the rosemary, and stir to combine.   Add the buttermilk, maple syrup, and raisins; stir until just blended.
Pour the batter into the prepared pans and bake for 30-35 minutes, until golden and springy to the touch.  Immediately turn out the small loaves and cool on a wire rack.
After the loaves cool completely, wrap them in plastic and freeze them for about an hour (the frozen loaves are easier to slice thinly).  Slice loaves as thinly as possible and place the slices in a single layer on parchment-lined baking sheets.
Bake at 300° F for 15 minutes.  Flip the slices and continue baking for 10 to 15 minutes more, until crisp and golden.  Remove from oven and cool on baking sheets.  Once cool, store in an airtight container.