Rich, chocolate cake, vanilla butter cream frosting, and smooth, rich chocolate come together in a beautiful, indulgent Ganache Glazed Chocolate Cake.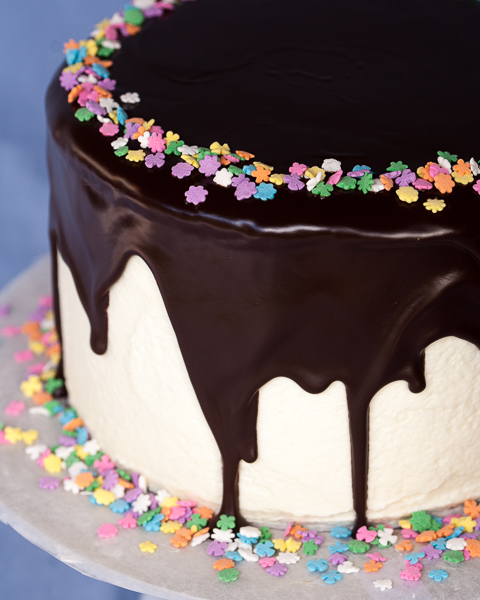 One of my favorite lines from Russell and Lillian Hoban's book, A Baby Sister for Frances, comes at the very end of the story. Frances, a young badger, is in the kitchen with her mother, who is baking a cake. "Oh, yes," her mother tells her, "you may be sure that there will always be plenty of chocolate cake around here."
Frances's mother, who hand-mixes her cake batter with a spoon, knows her business. Chocolate cake is essential.
Whenever we reach this part of the story, my daughters point out that there will always be plenty of chocolate cake in our house, too. They're right.
When I make chocolate cake, I often bake a simple, straightforward recipe. It's easy, delicious, and best of all, it leaves me with time and energy to get fancy putting the cake together. While this doesn't always work out the way I want it to, it gives me a chance to experiment.
Several of these cakes have ended badly when I attempted to add a layer of chocolate ganache to the frosted cake. Imagine a murky puddle of chocolate pooling around a cake stripped naked of vanilla frosting. I felt pretty awesome when that happened (and even more awesome the second and third time around).
Despite the intense frustration my repeated disasters invoked, I refused to give up on the idea of a chocolate glazed cake. Finally, I stumbled on a ganache recipe that worked.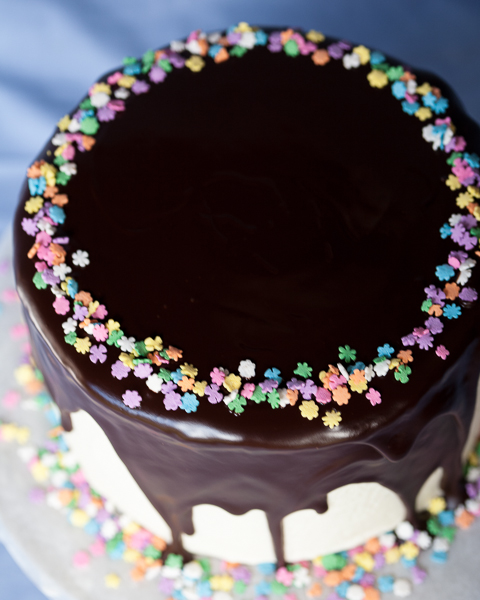 The secret, I learned, lies in chilling the cake and applying the ganache in two stages. The cold layer of frosting cools the warm ganache as it hits the cake. After applying that first layer, you return the cake to the refrigerator to chill once more. When you add the final, decorative layer, the rich chocolate cools and slows as it flows down the sides of the cake; this prevents the cake turning into a gooey, unattractive mess.
The fact that several unsightly cakes led me to this discovery never bothered anyone: my family doesn't care what dessert looks like as long as it tastes delicious.
And here's where chocolate cake, to a parent, is really essential (aside from the obvious bribes). More often than I'd like, I sense my daughters' frustrations as they learn a new skill, like roller skating or sewing or telling time.
When this happens, I remind them of my many baking disasters. "Keep trying," I tell them. "Remember how terribly that cake turned out the first time I tried it?"
I don't know how much this helps. I like to believe it makes more of an impression than some story about how, once-upon-a-time, I struggled to learn to read or how, my first year on the swim team, I hated every minute of it.
It certainly means more than hearing about my current frustrations, which involve abstractions like figuring out how to help high school students who don't want my help.
An ugly cake is concrete.
My daughters can watch me put together an ugly cake, and then, sometime later, they can watch me try again. Maybe it will be better the next time, but maybe not. Either way, we get to eat cake.
If that's not a good reason to bake plenty of chocolate cake, I don't know what is.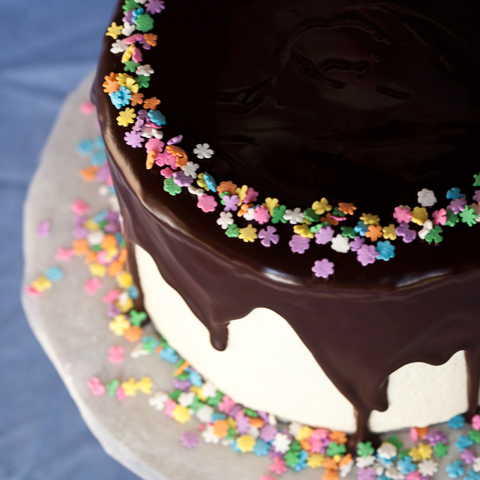 Ganache Glazed Chocolate Cake
Cake recipe adapted from The Foster's Market Cookbook. Frosting and ganache recipes adapted from adapted from Baked Explorations. Makes one 8-inch, three-layer cake.
Chocolate Cake
3 3/4 cups all-purpose flour
2 cups unsweetened cocoa powder, plus more for dusting cake pans
2 teaspoons baking powder
1 teaspoon baking soda
1/2 teaspoon salt
3 1/2 cups granulated sugar
4 large eggs
1 cup hot water
1 cup buttermilk or milk
1 cup canola oil
1 tablespoon vanilla extract
1 1/2 cup chocolate chips
Preheat oven to 350° F. Grease three 8-inch cake pans and lightly dust them with cocoa powder. Set aside.
Combine flour, cocoa, baking powder, baking soda, and salt in a bowl and stir to mix. Set aside.
Combine the sugar, eggs, water, buttermilk, oil, and vanilla in the bowl of a standing electric mixer. Beat until well blended.
Add the flour mixture to the egg mixture about one-quarter at a time, blending well and scraping down the sides of the bowl after each addition. Add chocolate chips and mix briefly to distribute.
Divide batter evenly between the prepared pans and bake for about 35-40 minutes, until the cakes are firm to the touch and a toothpick inserted in the center of each cake comes out clean.
Remove from the oven and cool cakes for 15 minutes in the pans. Remove from the pans and continue to cool to room temperature. Trim the top of each cake layer to create a flat surface.
Vanilla Buttercream
1 1/2 cups granulated sugar
1/3 cup all-purpose flour
1 1/2 cups whole milk
1/3 cup heavy cream
3 sticks unsalted butter, soft but cool, cut into small pieces
1 tablespoon pure vanilla extract
In a medium saucepan, whisk together the sugar and flour. Add milk and cream and warm over medium heat, stirring occasionally, until the mixture boils and has thickened, about 10 minutes to 15 minutes.
Transfer the mixture to the bowl of a standing electric mixer and beat with the paddle attachment on medium speed until mixture has cooled completely, about 10 minutes. Reduce speed to low and add the butter, mixing thoroughly until well incorporated. Increase the speed to medium-high and beat until the frosting is light and fluffy, about 1 to 2 minutes.
Add the vanilla, mixing until just combined. If the frosting seems too soft, refrigerate until it reaches the right consistency. If too firm, heat over a double boiler and beat with a wooden spoon until it softens.
Spread about 3/4 cup frosting between each cake layer. After placing the last layer atop the cake, spread a very thin layer of frosting on the top and sides the cake. Refrigerate the cake for 15 minutes before spreading the sides and top of the cake with remaining frosting.
Return the cake to the refrigerator for at least 30 minutes before glazing.
Chocolate Ganache
8 ounces dark chocolate, coarsely chopped
1 1/2 sticks (3/4 cup) unsalted butter, softened and cut into 1/2-inch pieces
1 tablespoon light corn syrup
To make the glaze, place the chocolate, butter, and corn syrup in the top of the double boiler over simmering water. Stir occasionally with a rubber spatula. Once the butter and chocolate are nearly melted, stir vigorously until the completely smooth. Remove the pan from the heat and transfer the ganache to a 2-cup heat-proof measuring glass with a pour spout. The ganache should be warm, smooth, and pourable but not hot. If needed, allow it to cool for a few minutes.
Slowly pour about 3/4 cup of the ganache over the chilled cake. With a small offset spatula, smooth the glaze evenly just to the outside edge of the cake. Place the cake back in the refrigerator for about 5 minutes before continuing. Slowly pour the remaining ganache over the cake. It should run down the edges in thick streams. The size and length of your pouring will control the look of the ganache on the sides of the cake. Garnish with sprinkles, if desired. Chill the entire cake for about 20 minutes to set the ganache.
Serve at room temperature.
Some of the links in this post are affiliate links. If you click through and make a purchase, I earn a small commission for my referral at no additional cost to you. Thank you for supporting Flour Arrangements.
PIN IT FOR LATER