Prepare these adorable S'mores Cups around the campfire or at home. Top ganache-filled graham cracker cups with marshmallows roasted over a bonfire or add mini marshmallows and broil in your oven.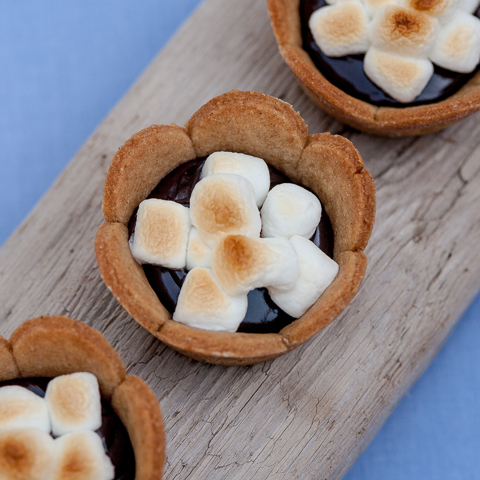 T
his summer's camping itinerary made it onto our calendars months ago. Following a tradition now in its fourth year, we're looking forward to monthly trips to different islands in the San Juan archipelago with a group of families.
Considering the varied commitments pulling us all in different directions, the consistency of this enterprise strikes me as a small miracle.
My friend
Val
facilitates this miracle. She's a planner, that Val, and without her, these summer jaunts to neighboring islands would never — despite our best intentions — occur. I, for one, have a hard time thinking about planning a single camping trip amid the darkness of a cold, damp Pacific Northwest winter, but not Val. In the darkest depths of winter, she envisions multiple trips, and then she kicks the rest of us into gear to make sure we book our favorite sites on various islands on the very first day the
reservation system
will allow it. Without Val, by the time we started thinking, "Let's go camping," we'd find these campsites unavailable.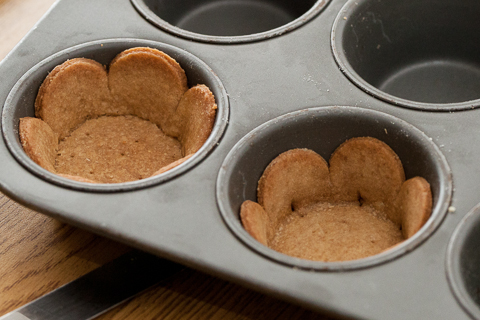 Aside from the actual coordination of dates, I haven't thought much about our camping plans for the summer. But now that the days have grown longer and the sun has been making more regular appearances, I feel grateful to have a friend who not only plans ahead but makes me part of her forward-thinking process. I'm now ready to camp, and thanks to Val, I have three weekend adventures arranged and organized with an amazing group of people. And now that I have camping on the brain, my mouth wants camping food. So while our first trip to Orcas Island won't happen until June, I'm gearing up for camping with some fancy S'mores Cups.
When I brought these little ganache-filled graham cracker cups to a bonfire last weekend, we topped them with freshly roasted marshmallows. Imagine the flavor combination you already know and love ramped up with all the extra chocolate you can fit inside a graham cracker cup. And these cups dispense with the one small issue I have with s'mores: unmelted chocolate. In theory, the toasted marshmallow should melt the chocolate, but this rarely works, at least to my satisfaction. Of course there's the great trick of balancing the chocolate on the graham cracker next to the fire, but this can end in tears. And then there's the leakage of gooey chocolate and molten marshmallow out the sites when you bite down on the graham crackers. Pouring ganache into the cups ahead of times solves these troubles. Ganache hardens a bit when cool, but it melts more more readily than solid chocolate does. Topping it with a toasty marshmallow softens it right up so you can sink your teeth in and enjoy the melted chocolate goodness. No more precarious balancing of chocolate-topped graham crackers at fire's edge, ever hopeful that the chocolate will melt while you rotate your marshmallow over the embers. Bring on the ganache, and lots of it.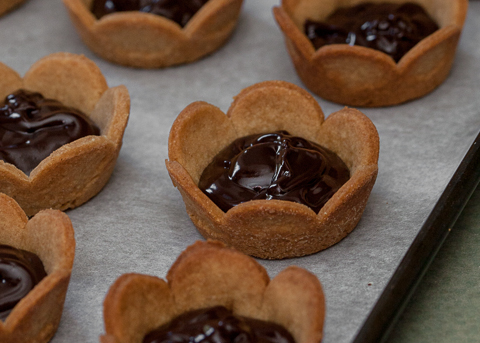 Sure, we're still a month away from our first camping adventure, but that doesn't mean I can't enjoy this take on the traditional camping treat whenever I want. Just to see how it would work, I made some S'mores Cups again and finished them in the oven. I topped the ganache with mini marshmallows just before popping them under the broiler to toast. Roasting the marshmallows under the broiler felt much less perilous than watching small children wave sticks topped with fiery marshmallows around a smoldering fire, which for me, enhanced my own personal enjoyment of this sweet treat. Sure, you lose that primal satisfaction of cooking your food over an open fire, but nobody complained about this deprivation when offered pre-toasted S'mores Cups; their mouths were too busy devouring their dessert. Fortunately for everyone, we'll have opportunities aplenty to roast our own marshmallows over the fire come summertime. As long as I'm not in charge of kids wielding sticks ablaze with marshmallows, I'll bring ganache-filled graham cracker cups.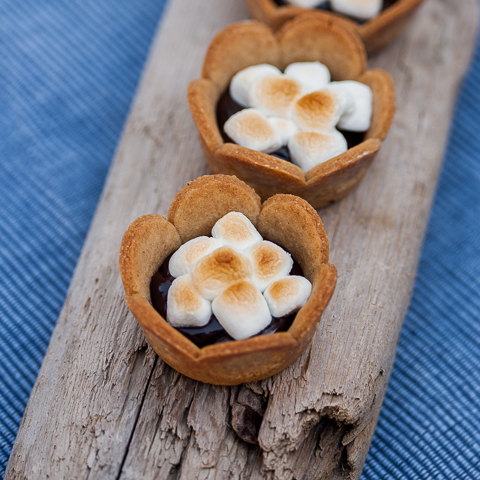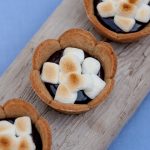 Print Recipe
S'mores Cups
Ingredients
Graham Cracker Cups

11

tablespoons

unsalted butter, softened but still cool

½

cup

firmly packed brown sugar

2

tablespoons

honey

1½

cups

unbleached all-purpose flour

1/3

cup

graham or whole wheat flour

½

teaspoon

salt

generous ¼ teaspoon ground cinnamon

Chocolate Ganache

9

ounces

dark chocolate, chopped in small pieces

¾

cups

heavy cream

1

teaspoon

vanilla extract

Topping

18

large marshmallows or about 2 cups mini marshmallows
Instructions
To prepare the graham cracker cups, combine the butter, brown sugar, and honey in the bowl of a standing electric mixer fitted with the paddle attachment. Beat until fluffy, about 5 minutes.

Whisk flours, salt, and cinnamon in a small bowl to combine.

Add the dry ingredients to the butter mixture in three additions, beating until just combined after each addition. Beat the mixture for about 1 minute after the final addition to ensure even distribution of ingredients. Wrap the dough tightly in plastic wrap and refrigerate for about 30 minutes before rolling (if you refrigerate it for much longer, let it soften a bit before rolling it out).

Lightly grease 18 cups in two standard-sized muffin tins.

Unwrap the dough and divide in two pieces. Place one piece of dough between two sheets of parchment paper. Roll the dough to a thickness of about 1/8 inch. Peel away the top layer of paper and dust the dough lightly with flour. Replace the paper, flip the dough over, and remove the other piece of parchment paper. Using a 3¾-to 4-inch flower-shaped cookie cutter, stamp out as many flowers as possible. Gently transfer the dough to muffin tins, tucking each flower gently into one of the cups. The dough will be fragile; if you have difficulty transferring the flowers, you may need to dust with more flour before cutting the shapes.

With a toothpick or sharp skewer, prick holes in the dough around the bottom edge of the cup, about 1/8 to 1/4 inch apart, adding a few holes in the center as well. Gather the scraps for re-rolling and hold them until you've rolled and stamped flowers from the second piece of dough. Combine remaining dough with the reserved scraps and re-roll.

Transfer muffin tins to the refrigerator for at least 15 minutes before placing them in an oven preheated to 350° F. Bake for 10 to 12 minutes, until just set, shifting the baking sheets halfway through for even baking. Let the cookies cool in the muffin tins for 15 to 20 minutes before removing them carefully with a thin spatula.

While the cups cool, place chocolate in a 2-cup measuring glass with a pour spout. Bring cream to a boil over medium heat. Pour cream over the chocolate and let it sit without stirring for two minutes before mixing vigorously with a small spatula. Once the chocolate becomes smooth and glossy, add vanilla extract and mix until smooth. Working quickly, pour ganache into the prepared graham cracker cups, filling them about ? of the way full. If the ganache begins to look grainy, mix with a spatula to smooth it before continuing.

To finish in the oven, preheat the broiler. Place ganache-filled cups on a baking sheet and top each cup with a handful of mini marshmallows. Place the baking sheet on the top rack of the oven, and, watching carefully, toast the marshmallows to desired doneness. Serve immediately.

To finish around the campfire, toast large marshmallows on the end of long sticks to desired doneness. Carefully scrape marshmallows onto the ganache-filled cups. Eat immediately.
Some of the links in this post are affiliate links. If you click through and make a purchase, I earn a small commission for my referral at no additional cost to you. Thank you for supporting Flour Arrangements.