The addition of toasted pecans to this 100 percent whole wheat bread adds a rich nuttiness to this already flavorful loaf.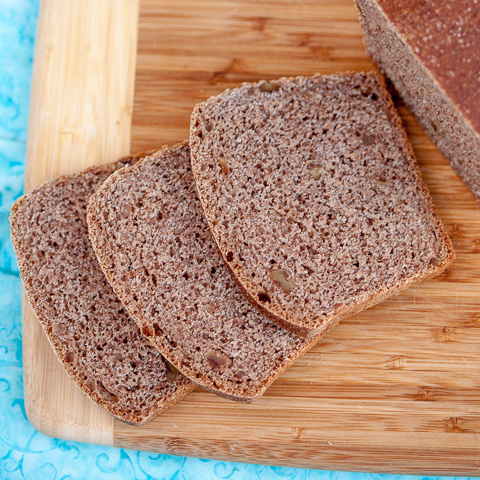 T
he other day, Eliza asked if I knew that whole wheat bread was healthier to eat than white bread. Before I could answer, she added, "Oh, and brown rice is much better for you than white rice. Did you know that, too?"
I told her that I was so glad to know, and then I promptly asked her where she had learned these important and useful facts.
"P.E," my second-grader explained nonchalantly. "We've been talking about whole grains."
Tales from Eliza's P.E. class have impressed me before. Usually, she recounts descriptions of her teacher's magic tricks or class activities like "Titanic," where students must cross the length of the gym without touching the floor. This interest that P.E. had sparked in healthy eating, though, was something new.
We talked about how the bread I've been making lately, Seeded Wheat Bread, incorporates whole wheat flour as well as all-purpose flour. When I asked if she wanted me to try making bread entirely from whole wheat flour, a smile lit up her face.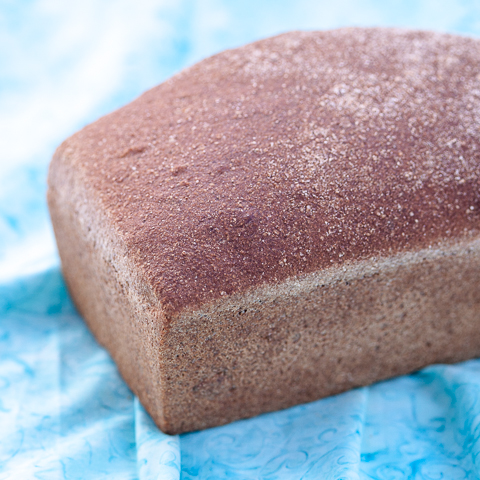 In the past, I have attempted 100 percent whole wheat bread but never with much success. The bread either didn't hang together well, or it turned out dense and brick-like. Fortunately, these far-from-perfect loaves didn't make much of an impression on Eliza, who has cheerfully survived many baking failures.
This time around, the 100 percent whole wheat recipe I adapted from The King Arthur Flour Baker's Companion worked out perfectly on the first try. I'm convinced that King Arthur's technique of combining all the ingredients and letting them sit for 20 minutes before kneading made all the difference.
The coarse flour absorbs the liquid and softens up before kneading gets underway, which results in a tender loaf that doesn't crumble to pieces. And the addition of toasted pecans adds a rich nuttiness to this already flavorful bread.
With this new recipe, Eliza is even more pleased than usual about her sandwiches and toast. Her little sister Tessa has started snacking on toast in the afternoons as well.
And last weekend at Costco, I asked Eliza if we should buy a 12 pound bag of brown rice to use instead of the long-grain white rice that we usually eat. She flashed me that winning smile again, so I tossed it in the cart.
My kids rarely make food suggestions that increase our family's overall dietary fiber intake. When they do, I'm happy to oblige.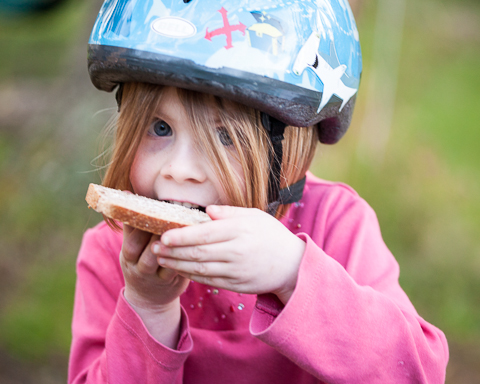 100 Percent Whole Wheat Bread
Adapted from The King Arthur Flour Baker's Companion. Makes one loaf.
1 1/2 cups warm water
1 1/2 teaspoons active dry yeast
3 tablespoons olive oil
1/4 cup, plus 1 tablespoon honey
3 1/2 cups whole wheat flour
1/2 cup toasted pecan halves, coarsely chopped
1 1/2 teaspoons salt
In the bowl of a standing electric mixer, combine water and yeast. Stir to dissolve the yeast, and then add remaining ingredients. With a spatula or wooden spoon, mix ingredients to form a shaggy dough. Let the mixture rest for 20 minutes.
Using the dough hook, knead the dough for about 10 minutes. Resist the temptation to add more flour; the wet, slack dough will eventually come together, but it will remain very sticky.
Turn dough onto a floured counter top and knead it into a ball with floured hands (the dough should still feel pretty sticky). Place the dough into a deep greased container, turning it once to coat the top with oil. Cover the bowl with plastic wrap and let it rise for about 1 hour.
Turn the dough out onto a lightly floured counter and shape it into a tight loaf. Transfer loaf to a buttered 9-by-5 inch loaf pan. Cover loosely with plastic wrap and let rest at room temperature until the dough rises above the top of the pan, about 1 hour.
About 20 minutes before baking, preheat oven to 350°F. Bake bread on the bottom oven rack for about 45 to 50 minutes, until deep golden brown and the loaf sounds hollow when tapped. If the loaf browns too much for your liking, slide a baking sheet on the top oven rack the last 20 minutes or so of baking. Transfer loaf from baking pan to a cooling rack immediately after removing from the oven. Cool completely before slicing.
Some of the links in this post are affiliate links. If you click through and make a purchase, I earn a small commission for my referral at no additional cost to you. Thank you for supporting Flour Arrangements.