This comforting, indulgent chocolate chip oatmeal skillet cookie can be on your table in about 30 minutes. Piled high with vanilla ice cream, it's completely irresistible.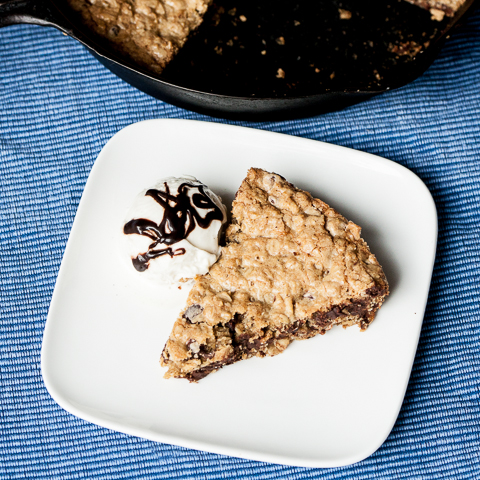 Almost always, I can pinpoint with elaborate detail the source of a much-loved dish.
Usually, I can tell you who made it and then shared the recipe with me. If it came from a magazine, I can name the magazine — sometimes to the issue — that dazzled me into trying a recipe the first time.
I can even, with frightening regularity, blindly open a cookbook to to the very page that holds a coveted, edible treasure.
I can't remember the date of my parents' anniversary or the numbers on my license plate, but for some reason, my food memory rarely fails. So it puzzles me all the more that I can't, no matter how hard I've tried, remember where I found one of my favorite impromptu dessert recipes — Chocolate Chip Oatmeal Skillet Cookie.
The crumpled, chocolate-stained page bearing the recipe offers no clue about its origins. I'm completely stumped.
I do know that I first made this skillet cookie in when I lived in Pacific Grove, CA, because we often enjoyed a similar dessert at the Forge in the Forest, a cozy restaurant in neighboring Carmel-by-the-Sea (and yes, the name of this town is officially hyphenated). In fact, I recall regularly choosing to eat dinner at the Forge with the sole purpose of sharing this dessert at meal's end.
When it arrived on our table in a dangerously hot skillet, we usually dispensed with the idea of serving it onto plates, digging our forks right into the pan as we enjoyed the perfect combination of warm, chocolate-studded cookie and rich vanilla ice cream.
After gorging ourselves on more occasions than I care to admit, we finally decided to figure out how to make this enormous cookie on our own. Whenever we baked it, we usually followed tradition by loading ice cream atop the warm cookie and eating our dessert straight from the skillet.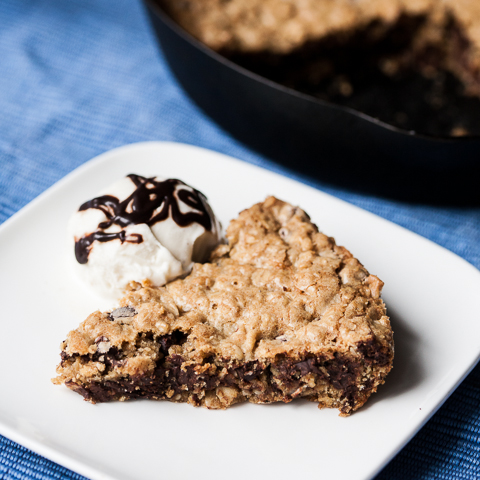 Aside from the sheer bliss of its comforting indulgence, this dessert comes together in a flash. Once we decide to make it, we often find ourselves devouring chewy, warm cookie bites oozing with chocolate within a mere half hour of turning on the oven.
And the best part, I've never had to go to the store before throwing it together, which makes it officially easy.
Now that we have kids to share this treat with, we try to act more civilized, serving slices onto plates with a single scoop of ice cream. I'm wondering, though, if baking a skillet cookie and eating it right out of the pan piled high with ice cream will jog my memory about the recipe's elusive source. It may take a few tries.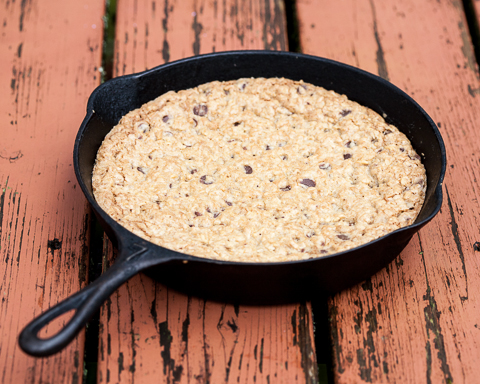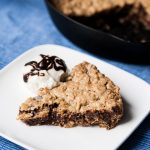 Print Recipe
Chocolate Chip Oatmeal Skillet Cookie
Ingredients
1/2

cup

butter, softened but still cool

1/2

cup

brown sugar, packed

1/4

cup

granulated sugar

1

large egg

1

teaspoon

vanilla extract

3/4

cup

all-purpose flour

1/2

teaspoon

baking soda

1/4

teaspoon

salt

1 1/2

cups

rolled oats (uncooked)

1

cup

semisweet chocolate chips

1

pint

vanilla ice cream
Instructions
Heat oven to 350° F.

In the bowl of a standing electric mixer, beat butter and sugars with the paddle attachment until creamy. Add egg and vanilla; beat well. In a small bowl, whisk together flour, baking soda, and salt. Add to the butter mixture, beating until just combined. Stir in oats and chocolate chips; mix well.

Press dough into the bottom of a 10-inch ovenproof skillet, spreading it evenly in the pan. Bake for 20 minutes or until the top is lightly browned (do not over-bake as the cookie will continue to bake after it comes out of the oven). Cool for about 10 minutes.

Scoop ice cream directly into the skillet and serve, or cut into wedges and serve with scoops of ice cream.