Boston Cream Pie is not pie at all but airy sponge cake layered with rich, vanilla bean-flecked pastry cream and topped chocolate ganache.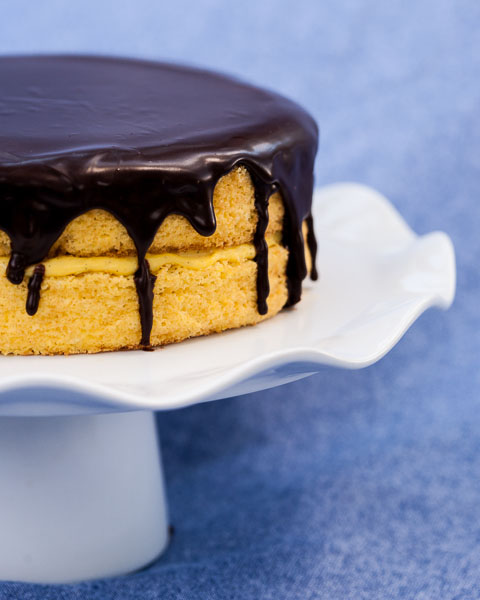 L
ast weekend, while we camped at Moran State Park on Orcas Island, my daughter Eliza gestured grandly to the water lapping at our campsite's edge. "I'm gonna jump in the freezing cold ocean," she declared.
Considering the rainy, bone-chilling weather and the fact that dinner-time was fast-approaching, I could have responded to this statement in any number of ways.
Here's what I said: "It's a lake."
She didn't respond. After a moment, I said it again.
My friend Val chuckled quietly at my insistence that the nearest body of water was in fact, a lake, not the ocean.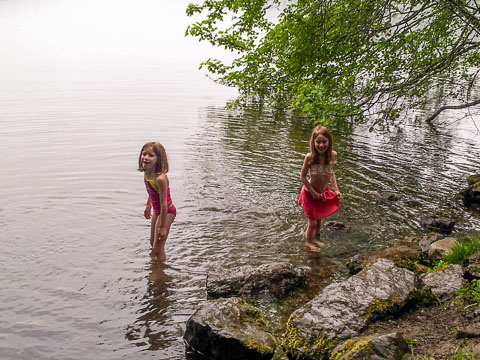 In that moment, I realized what a stickler I am for naming things correctly. As this epiphany hit me, lines from the poem, "Ballad of Orange and Grape," by Muriel Rukeyser, played in my mind. On a shivery afternoon in Moran State Park in the twenty-first century, I tried to paraphrase them for my friends.
In the poem, an East Harlem a hotdog vendor refills soda machines with the wrong kinds of soda:
I watch the man as he stands and pours
in the familiar shape
bright purple in the one marked ORANGE
orange in the one marked GRAPE,
the grape drink in the machine marked ORANGE
and orange drink in the GRAPE.
Just the one word large and clear, unmistakable, one each machine.
His actions unnerve the speaker:
I ask him: How can we go on reading
and make sense out of what we read? —
How can they write and believe what they're writing,
the young ones across the street,
while you go on pouring grape into ORANGE
and orange into the one marked GRAPE —?
(How are we going to believe what we read and what we write and we hear and we say and we do?)
This may seem an extreme stance to take, but I'm right there with the speaker. Sure, it may sound fanatic when talking about soda, but with other words, not so much:
He looks at the two machines and he smiles
and he shrugs and smiles and pours again.
It could be violence and nonviolence
it could be black and white women and men
it could be war and peace or any
binary system, love and hate, enemy, friend.
Yes and no, be and not-be, what we do and what we don't do.
Maybe it's the English teacher in me, but I believe in using language with care.
If you're going to use words to express something other than what they literally mean, you should do it deliberately and with a specific purpose in mind. For Europeans who routinely visit America, calling the Atlantic Ocean "The Pond" emphasizes a sense of closeness to a far-distant continent.
My daughter had no figurative tidings to deliver by calling Cascade Lake an ocean; she was just being careless. Looking back, it seems silly that I focused on her word choice rather than her desire to freeze herself in the lake.
Of course, I wouldn't feel like an English teacher if my epiphany and subsequent tirade didn't involve irony. After dinner, I unpacked two layers of sponge cake, dug a small container of pastry cream from the cooler, and heated up some cream on the camp stove to prepare chocolate ganache.
My friend Sharalyn had celebrated her birthday earlier in the week, so we needed birthday cake. The cake fixings I happened to bring along came together as Boston Cream Pie. Yeah.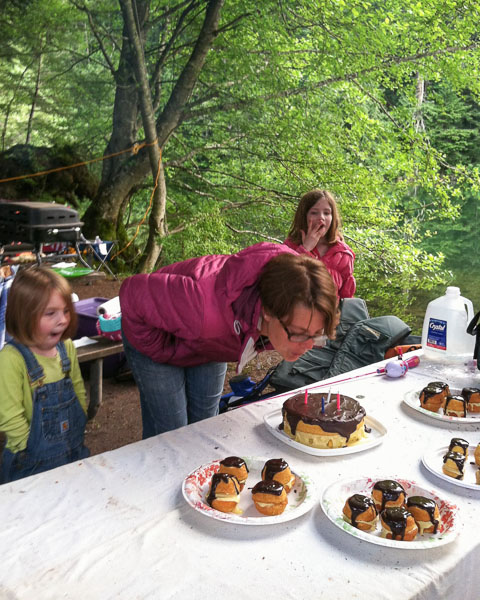 The name of this dessert unnerves me to the core, for there is nothing pie-like about it. And while I might feel inclined to boycott this inappropriately-named dessert on principle, honestly, it just tastes too good.
I love the moist, airy sponge cake layered with rich, vanilla-bean flecked pastry cream. Add that thick layer of chocolate on top, and I'm willing to forgive this cake its misnomer. My issue, after all, lies with its namer, not the cake itself.
Here's where things get confusing. I could simply call this dessert Boston Cream Cake, which would satisfy my need for precise diction, but since everyone else knows it as Boston Cream Pie, I fear I'd be skirting the territory of pouring grape soda into an orange soda dispenser.
Since I can't "make sense out of it," I'm just going to shut up and eat.
Boston Cream Pie
Sponge cake recipe adapted from The New Best Recipe Cookbook. Pastry cream recipe adapted from the The Joy of Cooking
(1997 edition). Makes one 8- or 9-inch layer cake.
Pastry Cream
1/3 cup sugar
2 tablespoons all-purpose flour
2 tablespoons cornstarch
pinch salt
4 large egg yolks
1 1/2 cups whole milk
1 vanilla bean, split and scraped
Sponge Cake
1/2 cup cake flour
1/4 cup unbleached all-purpose flour
1 teaspoon baking powder
1/4 teaspoon salt
3 tablespoons milk
2 tablespoons unsalted butter
1/2 teaspoon vanilla extract
5 large eggs
3/4 cups sugar
Chocolate Ganache
8 ounces dark chocolate, chopped
1 cup heavy cream
1 teaspoon vanilla extract
For the pastry cream, combine sugar, flour, cornstarch, salt, and egg yolks in the bowl of a standing electric mixer. Beat on high speed until thick and pale yellow, about 2 minutes.
In a medium saucepan, bring milk, vanilla bean, and seeds to a simmer over medium heat.
Remove vanilla bean. With the mixer running on low speed, gradually pour the hot milk into the egg mixture, mixing until evenly combined. Return the mixture to the saucepan and cook over medium heat, whisking constantly and scraping the bottom and sides of the pan to prevent scorching, until the mixture thickens and begins to bubble, about 3-4 minutes. Continue to cook for another 45 to 60 seconds.
Press the pastry cream through a fine mesh sieve into a clean bowl. Press a piece of plastic wrap directly onto the surface to prevent a skin from forming. Refrigerate until cool before using. Prepare up to 2 days in advance; store in the refrigerator.
For the sponge cake, grease two 8- or 9-inch cake pans and cover the bottoms with rounds of parchment paper.
Combine flours, baking powder, and salt in a small bowl and whisk well. Set aside.
Heat milk and butter in a small sauce pan over low heat until the butter melts. Remove from heat and stir in vanilla. Cover and keep warm.
Separate 3 of the eggs. Place the whites in the bowl of a standing electric mixer. Reserve yolks in a small bowl with the additional 2 whole eggs. Beat the 3 whites at medium-low speed until foamy. Increase speed to medium and gradually add 6 tablespoons of the sugar. Continue to beat the whites to soft, moist peaks, taking care not to over-beat. Transfer the egg whites to a large mixing bowl.
Add the whole-egg mixture to the mixing bowl with the remaining 6 tablespoons sugar. Beat at medium-high speed until the eggs are very thick and pale yellow, about 5 minutes. Add the beaten eggs to the egg whites.
Sprinkle the flour mixture over the beaten eggs and whites. Very gently fold the mixture 12 times with a large silicone spatula. Make a well in one side of the batter and pour the milk mixture into the bowl. Continue folding until the batter looks evenly mixed, about 8 more strokes.
Divide the batter between the prepared cake pans. Bake at 350° F on the lower-middle oven rack until the cake tops are light brown and feel firm and spring back when touched, about 14-16 minutes for 9-inch pans and 18-20 minutes for 8-inch pans.
Immediately run a thin metal spatula around the pan perimeters to loosen the cakes (work very carefully as the cake tears very easily). Place one pan on a towel and cover the pan with a large plate. Using the towel to protect your hands, invert the pan and turn out the cake. Peel off the parchment. Re-invert the cake from the plate onto a rack. Repeat with the remaining cake. Cool the cake layers to room temperature before proceeding.
Before preparing the ganache, set one of the cake layers on a small rack over a baking sheet. Spoon the pastry cream onto the cake, spreading it gently to make a smooth layer that reaches just to the edges. Set the other cake layer on top of the filling. Refrigerate while you prepare the chocolate ganache.
Place chopped chocolate in a 2-cup heat-proof measuring glass with a pour spout. Set aside. Bring 1 cup heavy cream to a boil in a small saucepan. Pour cream over chocolate and let sit for 2 minutes. Mix well until smooth. Add vanilla extract and stir to combine.
Remove cake from the refrigerator and pour ganache onto the middle of cake until it reaches just to the edges of the cake, using about half of the ganache. Return cake to the refrigerator for about 5 minutes before pouring on remaining glaze and letting it flow down the sides. If needed, use a long metal spatula to spread the glaze to the edges. Puncture any air bubbles in the ganache with a needle.
Refrigerate the cake until the glaze fully sets, about 1 hour. Transfer carefully to a serving plate. Serve the same day, preferably within a several of hours of assembly.
Some of the links in this post are affiliate links. If you click through and make a purchase, I earn a small commission for my referral at no additional cost to you. Thank you for supporting Flour Arrangements.