A crisp chocolate cookie crust layered with ganache and creamy peanut butter filling make these mini peanut butter pies rich and indulgent.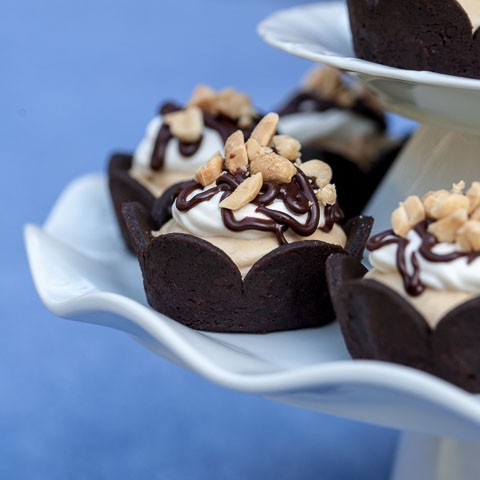 Few things have stunned me more than my daughter throwing up in the backseat of the car while we raced along the highway.
My mind, suddenly jolted from reminiscing about a fun weekend in the snow, tried to focus on comforting — from the distance of the front seat — my sad, sick child while pulling the car over to safety and simultaneously attempting to suppress feelings of horror about cleaning up a mess that would surely leave its aromatic mark on our brand new minivan for quite some time.
This happened last January, but it's one of those memories that refuses to fade. And while it still seems fresh, raw, and nearly un-toppable, it turns out I've found the thing that could stun me more: hearing that my daughter has thrown up in the backseat of someone else's car.
I never, ever imagined I could possibly wish, "If only she'd thrown up in my car," but I really did. Check out how incredibly nice Jennifer, the unfortunate driver of the vomit-laden minivan is:
She wouldn't let us clean up her car.
She laughed when we offered to trade cars until hers aired out.
She called to check on my daughter to make sure she was okay.
She managed to make me feel better about the whole situation.
I love her, truly, I do, and someday, I hope, somehow, to make this up to her.
Since I don't know when or how that opportunity will present itself, I did a pie-by. And because poor Talulah happened to be sitting in the line of fire, I made lots of little pies so I could drop some off at her house, too.
What says "thank you" or "sorry" more than Mini Peanut Butter Pies? According to two of my brutally honest tasters, they might be the best thing I've ever made; I'm hoping this means they'll do the trick. I let their creamy peanut butter filling layered over rich chocolate ganache do the talking for me.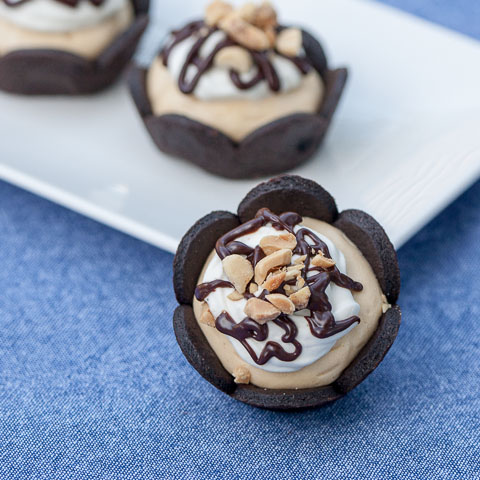 Mini Peanut Butter Pies
Inspired by Sara Foster's Southern Kitchen
. Makes 24 little pies.
Chocolate Cookie Crusts
1 1/2 cups all-purpose flour
1/2 cup unsweetened cocoa powder, plus more for rolling out the dough
1/2 teaspoon salt
1 1/2 sticks unsalted butter, softened but still cool
1 cup sugar
1 large egg
2 teaspoons vanilla extract
Chocolate Ganache Layer
6 ounces dark chocolate (or 1 cup semisweet chocolate chips)
3/4 cup heavy cream
Peanut Butter Layer
5 ounces cream cheese, softened
2/3 cup creamy peanut butter
2/3 cup sweetened condensed milk
1 1/2 teaspoons vanilla extract
1 1/4 cups heavy cream, divided
Topping
reserved whipped cream
reserved ganache
1/4 cup dry roasted peanuts, coarsely chopped
To make the crusts, combine flour, cocoa power, and salt in a small bowl. Set aside.
Combine butter and sugar in the bowl of a standing mixture on medium speed with the paddle attachment. Beat until light and fluffy. Add egg and vanilla extract and beat until well combined. Add flour mixture and mix on low speed until the dough comes together, about 1 minute. Turn the dough out onto a lightly floured surface and knead 2 or 3 times. Flatten into 2 disks, wrap in plastic, and chill until firm, about 30 minutes.
One at a time, roll out the chilled disks of dough to about 1/8-inch thickness on a counter generously dusted with cocoa powder. Using a 3 3/4-to 4-inch flower-shaped cookie cutter, stamp out as many flowers as possible. Gently transfer the dough to a greased muffin tin, tucking each flower gently into one of the cups.
With a toothpick or sharp skewer, prick holes in the dough around the edge of the cup, about 1/8 to 1/4 inch apart, adding a few holes in the center as well. Gather the scraps, re roll, and stamp out additional cookies to fill the remaining cups. Bake in an oven preheated to 350° F for about 10 minutes, until just set, shifting the baking sheets halfway through for even baking. Let the cookies cool in the muffin tins for 5-10 minutes before running a thin metal spatula around the outside edge of each cup. Leave cups in the pan to cool completely before removing carefully.
While the crusts cool, prepare the chocolate ganache. Add chocolate to a heat-proof 2-cup measuring glass. Set aside. Bring 3/4 cup heavy cream to a boil in a small saucepan. Pour cream over chocolate chips and let sit for 2 minutes. Mix well until smooth. Set aside about 1/4 cup of the ganache before pouring remaining ganache into the prepared crusts. Refrigerate for about 30 minutes, until firm.
To prepare the peanut butter filling, beat the cream cheese and peanut butter in the bowl of a standing electric mixer. Add sweetened condensed milk and beat until well blended. In a separate bowl, combine heavy cream and vanilla extract. Whip the cream until stiff peaks form. Gently fold 1 1/2 cups of the whipped cream into the peanut butter mixture. Transfer remaining whipped cream to the refrigerator.
Transfer the peanut butter filling to a large pastry bag and pipe it into the crusts. Refrigerate prepared tarts until firm, at least an hour. Using a spoon or a pastry bag, top pies with whipped cream. Reheat the reserved chocolate ganache for about 10 seconds in the microwave. Drizzle or pipe ganache over the whipped cream and then sprinkle with peanuts. Chill until ready to serve.
Some of the links in this post are affiliate links. If you click through and make a purchase, I earn a small commission for my referral at no additional cost to you. Thank you for supporting Flour Arrangements.