These rich, chocolate brownies bake up at least one-inch tall; halved lengthwise, they provide two sturdy brownie slices for making brownie ice cream sandwiches.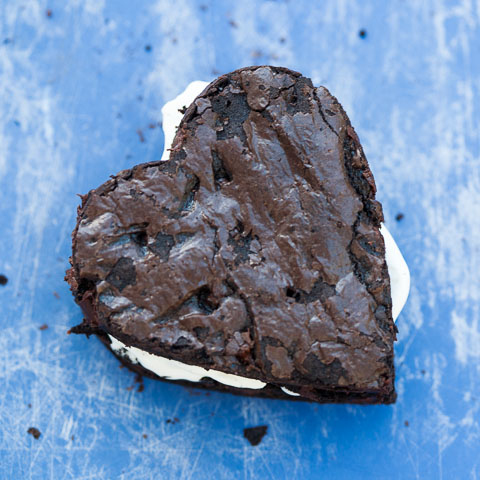 If you need sweets in a hurry, it's hard to beat chocolate brownies. You can have a batch ready and sliced into squares in almost no time at all. They're simple to make, simple to serve, and simple to eat.
But don't let all this simplicity belie the incredible flavor packed into these small squares of awesomeness; the deep brown color only hints at their rich chocolate flavor, which gets extra kick from a generous addition of chocolate-chips. Give me a hunk of chocolate brownie and a napkin, and I'm content.
Of course, it doesn't take much to dress these brownies up if you're feeling inspired; add a scoop of ice cream and a dollop of hot fudge or caramel sauce for a brownie sundae.
Just the other day, I baked these brownies with the idea of making sundaes. I was feeling fancy, so I decided to use a
heart-shaped cookie cutter
to slice the brownies.
As I prepared to plate out sundaes for us, my husband asked, "What do you think about brownie ice cream sandwiches?"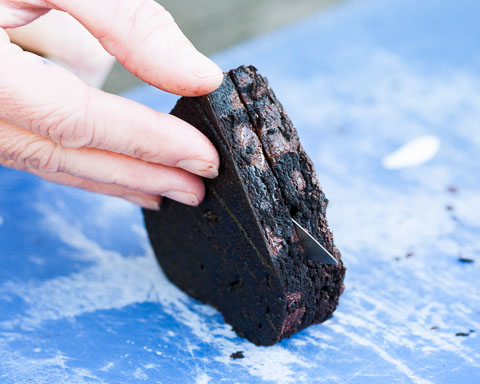 It was a stroke of brilliance, really. Now I can't believe it took us so long to take these brownies to the next level.
Since they bake up at least one-inch tall, when halved lengthwise, they provide two sturdy brownie slices to mound with ice cream and smash back together again.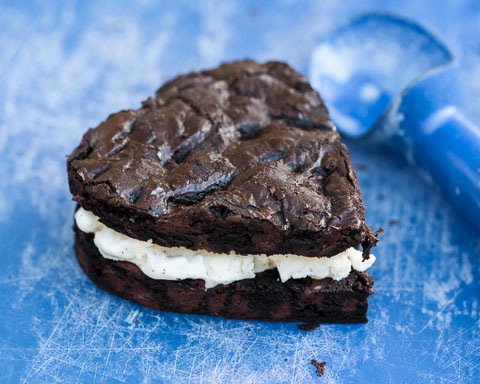 They taste darned amazing, and they make it simple to take your dessert outside on a gorgeous, sunny evening.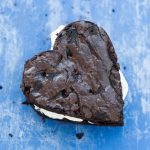 Print Recipe
Chocolate Brownies
Adapted from
King Arthur Flour
. Makes 2 dozen 2-inch brownies. If using cookie cutters to make shapes, the number will vary depending on the size and shape of your cutter.
Ingredients
1

cup

unsalted butter

2 1/4

cups

sugar

1 1/4

cups

unsweetened cocoa powder

1

teaspoon

salt

1

teaspoon

baking powder

1

tablespoon

vanilla extract

4

large eggs

1 1/2

cups

unbleached all-purpose flour

2

cups

chocolate chips
Instructions
Preheat oven to 350° F. Butter a 9-by-13-inch pan, and then add a layer of parchment paper, leaving the edges long enough to lift the brownies out of the pan once cool or easier slicing. Butter the parchment paper, pressing it to adhere smoothly to the pan.

Melt butter in a medium saucepan over medium heat. Add sugar and stir to combine. Continue to cook until the mixture is hot but not bubbling; it will become shiny as you stir it. Transfer mixture to the bowl of a standing electric mixer. Stir in cocoa, salt, baking powder, and vanilla. Add the eggs, one at a time, beating until smooth. Add flour and chocolate chips, stirring until well combined.

Scrape the batter into the prepared pan, spreading it as evenly as you can; it will be thick and glossy.

Bake for 28 to 30 minutes, until a toothpick inserted in the center comes out clean. Remove from the oven. Once cool, gently lift the brownies from the pan and transfer to a cutting board. Cut into squares or use large cookie cutters to make shapes.

To make brownie ice cream sandwiches, slice brownie squares or shapes in half lengthwise. If the brownies are still slightly warm, place slices in the freezer for about 15 minutes to cool them down. Scoop small mounds of vanilla ice cream onto the bottom half of each pair (do not pre-thaw the ice cream). Gently spread the ice cream to the edges of each brownie. Add brownie tops over the ice cream and press each sandwich together gently. Serve immediately or place in an airtight container and freeze until ready to serve.
Some of the links in this post are affiliate links. If you click through and make a purchase, I earn a small commission for my referral at no additional cost to you. Thank you for supporting Flour Arrangements.