Rich Bittersweet Chocolate Cake delivers the bitter edge that comes with deep, dark chocolate. Its texture somehow seems dense and airy at the same time.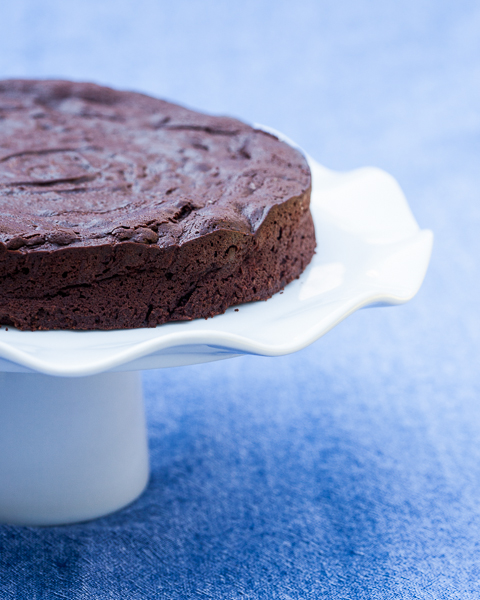 A
fter living on San Juan Island for five years, we're suddenly leaving. It shouldn't surprise me, but it does. Our move here was never meant to be permanent; in fact, we thought we were coming for just two years.
While my scientist husband has been looking for jobs the whole time, most academic hiring proceeds at a leisurely pace with months or even years passing between a job offer and a start date. I always figured that, when a job offer came, we'd have plenty of time to adjust to the idea of leaving.
But just a few weeks ago, my husband landed a non-academic job — you know, one of those real-world jobs where people expect that you'll show up for work soon after they hire you. Yeah. We're leaving the island, and we're leaving fast.
In many ways, this move is ideal for us. We're heading to the San Francisco Bay Area, a place where my parents still live in the house they bought the year I was born. My 97-year-old grandmother lives there as well, so my young daughters will get the chance to really know her. And old friends! We're looking forward to reconnecting with so many people we have missed while we've been away.
In addition to people, add on all those activities we try to cram in on our rare visits to the Bay Area — like trips to the Exploratorium or the California Academy of Sciences or Children's Fairyland. We are thrilled to savor the Bay Area's many gems at a more leisurely pace.
So it's nearly perfect, this move. We're excited, but, honestly, we're heartbroken at the same time.
We'll miss the stunning beaches and gorgeous rural scenery here. We'll miss the thrill of Orca sightings and the surprise of a river otter galumphing up the hill in front of our cottage. We'll miss hiking down to the beach on summer evenings to eat dessert and traipsing through the woods nibbling ripe salmon berries as we go. We'll miss rowing to town for dinner at the Cask & Schooner and twilight that lingers until 10:00 at night.
But mostly, we'll miss the people here who have helped us feel at home. We've found a family on this tiny little island, and we hate to leave it.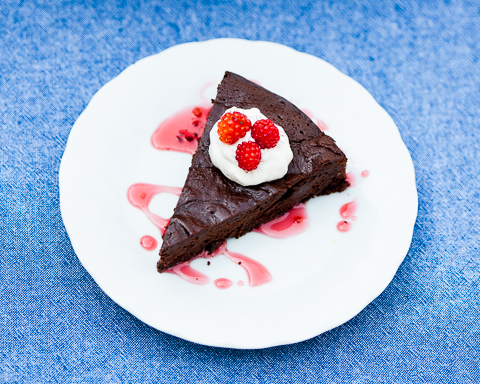 Whenever anyone asks how I feel about our move, I tell them it's bittersweet. After saying this so many times, I found myself translating my emotional landscape into something edible.
The resulting rich, moist chocolate cake delivers the bitter edge that comes with deep, dark chocolate. And somehow, its texture seems dense and airy at the same time, mirroring the simultaneous heaviness of heart and lighthearted joy that constantly overwhelm me these days.
In any case, a slice of this cake with a dollop of whipped cream and a drizzle of home-made salmon berry syrup tastes just right. It sure take my mind off the maze of boxes starting to pile up in my living room. And the fact that with just a few weeks to go, we still don't know where we'll be living.
I wish we had more time to get used to the idea of leaving, but in the mean time, I'm going to eat lots of cake.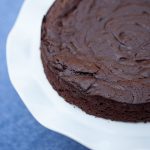 Print Recipe
Bittersweet Chocolate Cake
Makes one 9-inch cake.  If you like, sub in semisweet chocolate chips for the bittersweet chocolate, especially if you're in a hurry  -- it will save the somewhat messy step of hacking up chocolate bars.
Ingredients
16

ounces

bittersweet chocolate, chopped into small pieces

10

tablespoons

unsalted butter, sliced into small pieces

5

large eggs

pinch

salt

1

teaspoon

vanilla

1

tablespoon

unbleached all-purpose flour
Instructions
Line the bottom of a 9-inch spring form pan with parchment paper.  Grease the top of the paper and the sides of the pan.  Set aside.

Melt chocolate and butter in a double boiler or in a metal bowl over simmering water, stirring frequently, until smooth.  Remove from heat.  Add vanilla extract and stir until smooth.  Set aside.

Whisk eggs and salt in the bowl of a standing electric mixer at high speed until they triple in volume and turn very pale yellow, about 8 minutes.   Fold half of the chocolate mixture into to egg mixture with a silicone spatula.  Sprinkle flour over the top of the egg-chocolate mixture and add the remaining chocolate.  Fold until fully incorporated.

Pour mixture into prepared pan.  Bake for 20 minutes in an oven preheated to 375° F.  The center will still be soft.  Remove from the oven and cool for at least 30 minutes before cutting.

To prepare ahead of time, after removing the cake from the oven, cool to room temperature, top the pan with plastic wrap, and refrigerate for up to 2 days.  Let sit at room temperature for about an hour to take the chill of, if desired.