The sharpness of cheddar cheese adds an appealing tang to this Cheddar Millet Bread.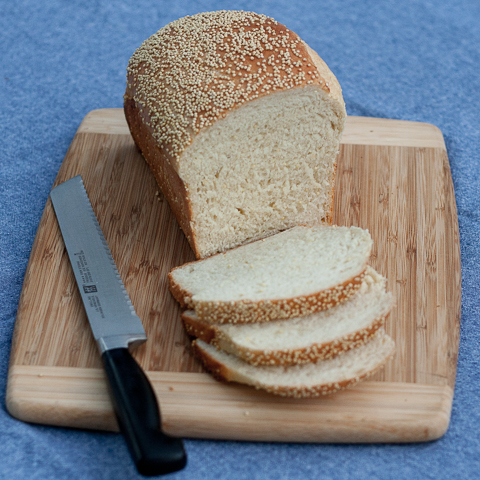 Eliza, now eight, stopped drinking milk years ago. I'm not a big milk drinker myself, so forcing her to chug it down never seemed quite fair. 
As long as she ate a variety of other dairy products I didn't mind;  milk isn't, after all, the only source of calcium out there.
When she stopped eating yogurt and cheese, though, I resorted to mixing her a glass of chocolate milk to accompany her breakfast.  She drinks it grudgingly, rarely finishing the glass.  This lack of excitement over chocolate worries me, of course, but it also underscores the magnitude of her aversion to milk.
One morning, as I sliced bread for toast and school lunches, it came to me;   I could sneak cheese into bread dough, easily adding more calcium into my bread-obsessed girl's diet, all without a fight.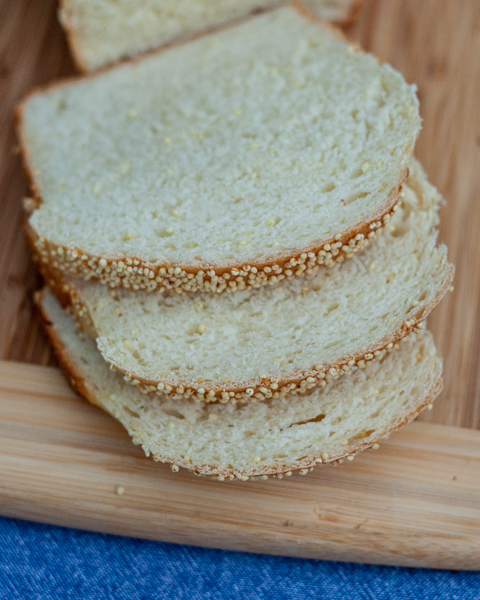 Rather than a cheese-filled bread, like the Zombies of my youth, I envisioned a sort of undercover cheese bread — a bread where the cheese blends into the dough and simply imparts richness and flavor.
The next time I made bread, I added a cup of shredded white cheddar with the other ingredients and hoped for the best.  And since the girl loves seeds, I tossed in a handful of millet to give the loaves some some crunch and texture.  For good measure, I sprinkled more seeds atop the loaves just before baking.
Not only does this bread toast beautifully, it slices into a perfect sandwich loaf.  The cheddar's sharpness adds an appealing tang that's subtle enough to pull off a peanut butter and jelly sandwich with high marks. Even Tessa, usually opposed to bread with seeds, likes this one;  given the fervor with which she gobbles up goldfish crackers, I suppose this shouldn't surprise me.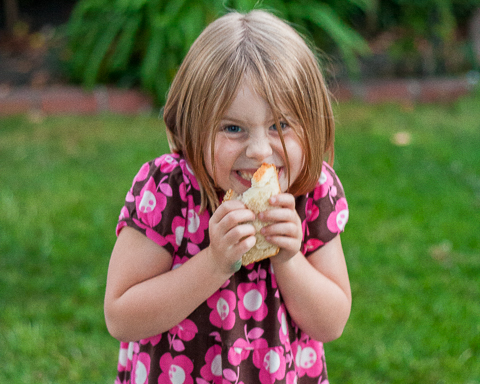 I didn't exactly tell Eliza that these latest loaves include cheese, but I'm not hiding it from her either.  The way I see it, if she willingly eats ice cream, which includes milk as a major ingredient, she can't complain about a bit of cheese mixed in to her bread.
Cheddar Millet Bread
Makes two 5-by 8-inch loaves.
1 1/2 cups warm water
2 1/4 teaspoons active dry yeast
1 tablespoon plus 1/2 teaspoon sugar
5 to 6 cups unbleached all-purpose flour
1 cup buttermilk, warmed slightly
1/4 vegetable oil
2 1/2 teaspoons salt
1/4 cup millet seeds, plus more for scattering in baking pans and atop the loaves
1 cup shredded white cheddar cheese (about 2 ounces)
1 egg, lightly beaten with 1 tablespoon water
Combine water, yeast, and a pinch of the sugar in the bowl of a standing electric mixer.  Stir until combined.  Let stand at room temperature until dissolved and foamy, about 10 minutes.
Add 2 cups of the flour, the sugar, buttermilk, oil salt, millet seeds, and cheese to the yeast mixture.  Beat with the paddle attachment until smooth, about 2 minutes.  Add remaining flour, about 1/2 cup at a time, until the dough begins to clear the sides of the bowl.
Switch to the dough hook and knead for about 3 minutes, until  the dough is smooth but still very sticky.  Transfer to a large, well-oiled bowl.  Turn once to coat the top with oil.  Cover the bowl with plastic wrap and let the dough rise until doubled in bulk, about an hour.
Deflate the dough on a lightly floured surface, and then divide it into two equal pieces.  Shape into balls, cover, and let rest for 10 to 15 minutes.  In the meantime, butter two bread pans and scatter a handful of millet seed in each one.  Add more flour to work surface if needed before flattening the dough into rectangles the length of the pan.  Roll each one up tightly,  pinch the seams together, and place seam-side down in the pan.  Cover loosely and let rise until the dough just reaches above the edges of the pans, about 30 minutes.  Just before baking, brush the surface of each loaf with the egg glaze and generously scatter millet seeds over the top.
Bake in an oven preheated to 350° F until tops are golden brown and the loaves sound hollow when tapped with your finger, about about 40 minutes.   If the tops get too dark, slip a baking sheet on the upper rack of the oven to diffuse the heat.  Turn the loaves out immediately and set on a rack to cool.