These Peanut Butter Chocolate Chunk Brownies, topped with decadent peanut butter frosting and a drizzle of chocolate, take this great flavor combination to the next level.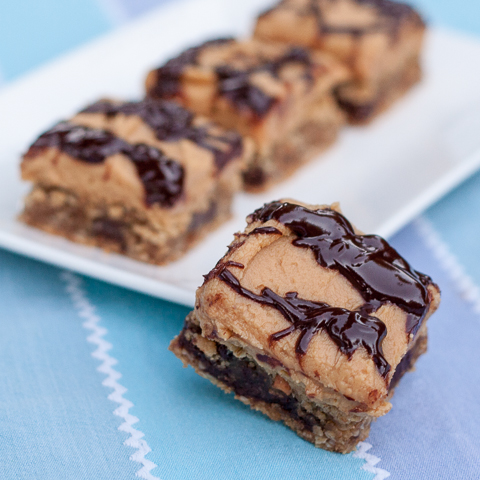 E
liza, whose nervousness about starting school in a new town gave even me a queasy stomach, has started to relax. She's bonded with new friends, one of whom loves to read as much, maybe more, than she does. Watching her laugh and smile like she means it — finally — has assuaged some of the guilt we feel about uprooting her from her comfortable life on San Juan Island. She's excited about her teacher, class activities, and especially Otter Pop Wednesdays.
About her new school, she has only three complaints: the playground isn't as big as the one she left behind, she doesn't get to play "Jungle" anymore, and she can't eat peanut butter and jelly sandwiches.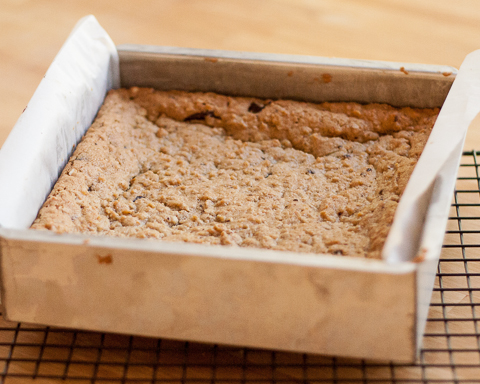 While her urban playground may occupy less square footage than the rural one she pines for, the variety of enrichment activities that come with our new urban setting, like a steady stream of carpentry, art, and theatre classes, more than offset the slight decrease in playground size.
As for her second complaint, when she first bemoaned the loss of "Jungle," I had no idea what she meant. When she detailed crossing the gym using a series of ropes, though, I immediately understood. Her former P.E. teacher had a knack for inventing amazing activities. I suggested that Eliza talk to her new teacher about some of the games she used to play. Who knows? If Eliza can build some excitement about these games, maybe her new classmates will get a taste of some of the creative skill-building, team-work-developing activities well-known to kids in Friday Harbor.
But when it comes to her lament about missing peanut butter and jelly sandwiches, I feel Eliza's pain. She's a picky eater, it's true, but peanut butter and jelly sandwiches make this picky eater happy. To be honest, happy may not quite capture her feelings for peanut butter and jelly sandwiches. Ecstatic? Jubilant? Euphoric? In any case, this peanut butter and jelly connoisseur has voraciously devoured her favorite sandwich nearly every day of her school career. Until now.
I recognize how lucky I am that my daughter has no significant dietary restrictions. I get that having a kid with a severe allergy sucks, really, I do. I'm sorry that people have to live in fear that their kids might eat, or touch, or inhale something that could kill them. Eliza will not die if she cannot bring a peanut butter and jelly sandwich in her lunch, and I am grateful that the school cares enough about kids to prevent allergic reactions from happening on school grounds. And the school clearly takes nut allergies seriously; in addition to omitting nuts of any kind from school lunches, families have been instructed to review packaging and include only food processed in nut-free facilities.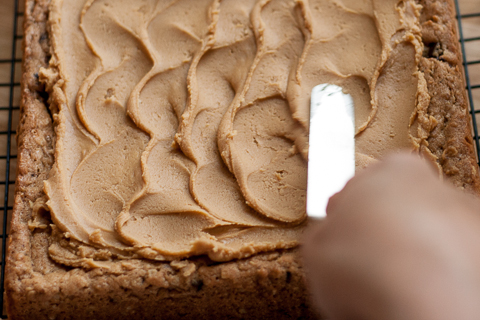 Eliza's maturity about the nut ban has surprised and impressed me. Unlike some of us who demand accuracy, she does not quip, "But peanuts are legumes, not nuts." Instead, she cheerfully takes a sunflower seed butter sandwich everyday, even though she says the flavor isn't quite right with the jelly. She rarely eats much of it, and we've been brainstorming alternatives, though nothing we've come up with so far has excited her.
In the meantime, we're eating peanut butter as much as we can at home: peanut butter and jelly sandwiches, apples and peanut butter, pears and peanut butter, peanut butter on a spoon, and Peanut Butter Chocolate Chunk Brownies.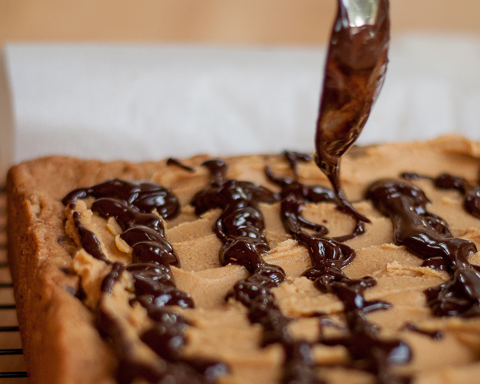 My children request the brownies, it may not surprise you, with great frequency. Anytime you combine peanut butter and chocolate you're going to make people happy (provided, of course, that no one has any allergies). These bars, unadorned, taste darned respectable, but I recommend taking the extra steps of adding peanut butter frosting and a drizzle of chocolate, which makes them completely irresistible.
And I'm really not kidding about their sheer irresistible-ness. The other day as my family walked down the street with a plate of brownies, a woman gardening in her front yard eyed the bars longingly and jokingly asked if she could have one. I offered her the platter, and she asked if I was serious as she reached for a brownie. I blurted out, "They include peanuts." She laughed and took a bite. Obviously, if she had a serious food allergy, she wouldn't have reached out to take an unidentified brownie from a woman she'd never seen before in her life.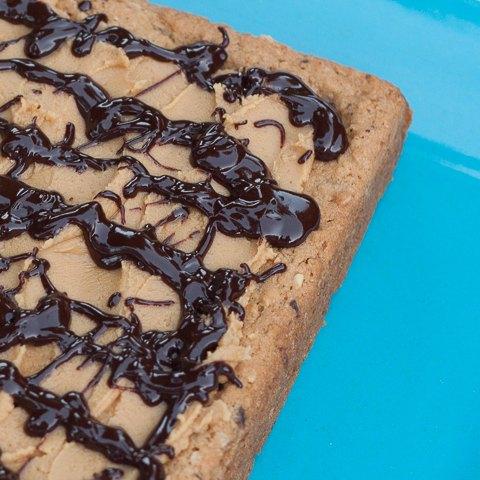 People who know me understand that I'm always pressing baked goods on others. Since we don't yet know many people in Albany, I felt delighted that a complete stranger had asked for one of these brownies. As I reveled in this experience, feeling strangely scrupulous for remembering to tell the woman that the brownies included peanuts, I realized that the bread I bake for my daughters' school lunches is prepared in a "facility" that processes peanuts. Yeah.
I'm grateful that Eliza has settled into her new school with a mere three complaints. While I'm trying to maintain a cheerful front about her last complaint, I have to admit I share it with her. Nuts.
Peanut Butter Chocolate Chunk Brownies
Adapted from Rebar Modern Food Cookbook. Makes 16 2-inch brownies. Both chunky and creamy peanut butter work well for the brownies and the frosting, but if you want a smooth texture for the frosting, go with creamy peanut butter.
Brownies 3/4 cup rolled oats 1 cup unbleached all-purpose flour 1/2 teaspoon baking soda 1/4 teaspoon salt 1/2 cup (1 stick) unsalted butter, softened but still cool 1/2 cup brown sugar 1/2 granulated sugar 1/3 cup natural peanut butter 1 large egg 1 teaspoon vanilla extract 4 ounces bittersweet chocolate, chopped into large chunks
Frosting 3/4 cups natural peanut butter 3 tablespoons soft butter 1 teaspoon vanilla 3/4 cups confectioners sugar 2 to 4 tablespoons heavy cream
Chocolate Drizzle 2 ounces bittersweet chocolate, chopped 1 tablespoon butter 1 tablespoon heavy cream 1 teaspoon vanilla extract
For the brownies, position rack in center of oven and preheat to 350°F. Generously butter an 8 -inch square metal baking pan. Add a layer of parchment paper, leaving the edges long enough to lift the brownies out of the pan once cool for easier frosting and slicing. Butter the parchment paper, pressing it to adhere smoothly to the pan.
Combine oats, flour, baking soda, and salt in a small bowl. Set aside.
Add butter, sugars, and peanut butter in the bowl of a standing electric mixer and beat until light and fluffy. Add egg and vanilla extract and mix well.
Add flour mixture in two additions, stirring until just combined. Stir in the chocolate chunks and spread the mixture into the prepared pan. Bake for 25 to 30 minutes, until just brown around the edges. Cool completely on a rack.
For the frosting, cream together peanut butter, butter, and vanilla. Blend in confectioners sugar, mixing well to combine. Add the cream, a little at a time, until you achieve a spreadable consistency. Add more cream or confectioners sugar as necessary. Remove the cooled brownies from the pan and spread the icing evenly on top.
For the chocolate drizzle, combine chocolate, butter, and cream in a small sauce pan over medium-low heat. Stir with a silicone spatula until melted and smooth. Turn off heat and mix in vanilla extract. Using a spoon, drizzle the warm chocolate over the icing. Allow the chocolate to cool before slicing.
Some of the links in this post are affiliate links. If you click through and make a purchase, I earn a small commission for my referral at no additional cost to you. Thank you for supporting Flour Arrangements.