These Pumpkin-Date Muffins taste like gingerbread with a pumpkin twist. Minced pecans add nuttiness and texture, while chopped dates add sweetness that lingers.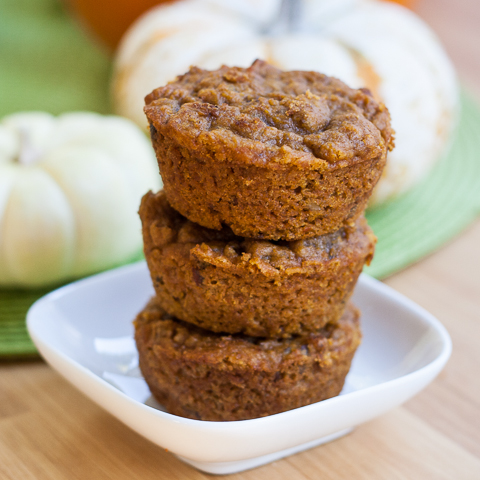 Unlike last year, I'm wearing shorts, t-shirts, and flip flops in this first week of October. California may be expensive, but you can't beat the weather.
The heat this weekend, coupled with an estate sale next door, provided the perfect opportunity for a lemonade stand.
The girls made enough cash to take our family out for burgers at Barney's, with extra to spare. Today, they've set their sights on a trip to Solano Avenue's IScream for cones, and I, for one, am not going argue with our enterprising girls.
Despite the balmy weather, I'm thinking about pumpkins. Maybe it's the "O" in October, which always jumps out at me like a plump, round winter squash. As soon as I flipped the calendar last Tuesday, I needed pumpkins in my life. In no time at all, we had pumpkins on our mantle, pumpkin art on our fridge, and pumpkin-date muffins in our bellies.
These muffins taste like gingerbread with a pumpkin twist. Minced pecans add nuttiness and texture, while chopped dates add sweetness that lingers, tempting you to reach for another. Moist and full of spice, these muffins are really just cupcakes masquerading as a snack.
Maybe the best thing, though, about these muffins, is the speed with which they transform from idea to reality. When the girls wanted to expand their lemonade-stand offerings, they had oven-warm muffins on their table in less than an hour.
It may not feel like fall yet, but we're happy to sip lemonade and nibble pumpkin-date muffins under California's warm October sun.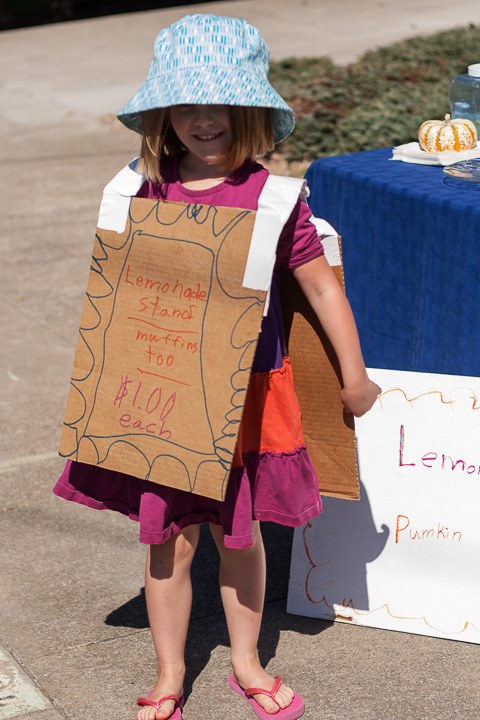 Pumpkin-Date Muffins
Don't let the long list of ingredients deter you. This recipe comes together in a flash. Makes 18 muffins.
1 cup unbleached all purpose flour
3/4 cups whole wheat flour
1 tablespoon baking powder
1 teaspoon cinnamon
1/2 teaspoon ground ginger
1/4 teaspoon ground cloves
1/8 teaspoon freshly grated nutmeg
1/2 teaspoon salt
1/2 cup pecans, toasted and minced
8 large dates, pitted and chopped
1 large egg
1 cup packed brown sugar
2 teaspoons molasses
15 ounces pumpkin puree
1 stick (8 tablespoons) unsalted butter, melted and cooled slightly
Whisk flours, baking powder, cinnamon, ginger, cloves, nutmeg, and salt in a medium bowl. Add pecans and dates and mix to combine. Use your fingers to separate the dates if they clump together.
Whisk together egg, brown sugar, molasses, and pumpkin in a large bowl. Add butter and stir vigorously until well combined. Add half of the dry ingredients to the pumpkin mixture and stir with a silicone spatula until the two just begin to come together. Add remaining dry ingredients and stir until just combined.
Using a large spoon or scoop, drop the batter into buttered muffin tins, dividing the mixture between 18 of the cups.
Bake in an oven preheated to 375° F for about 18-22 minutes, rotating halfway through baking. Remove from oven when a toothpick inserted into the center of a muffin comes out with a few crumbs attached. Cool muffins in the pans for about 20 minutes before turning out onto a rack. Stored in an airtight container, these muffins keep well for several days.