This Rosemary-Lemon Monkey Bread is warm, flavorful, and completely addictive.
When we moved into our new house in balmy Albany, California, we ignored our broken heater.
Of the many items detailed in our home inspection report, the $10,000 estimate for replacing the original 1938 furnace seemed more luxury than necessity. Basking in the sun's warmth, we watched contractors rip off the bottom third of our house, replace rotting, pest-damaged wood, and then re-stucco the repaired area to match the original pattern on our old MacGregor house. Faced with investing a substantial chunk of cash into structural repair, we liked to pretend that, once the weather turned cold, we could bundle up in polar fleece, sip hot tea, and feel just fine.
Having endured five Pacific Northwest winters on a remote island where we sometimes found snow on our front doorstep, we felt invincible.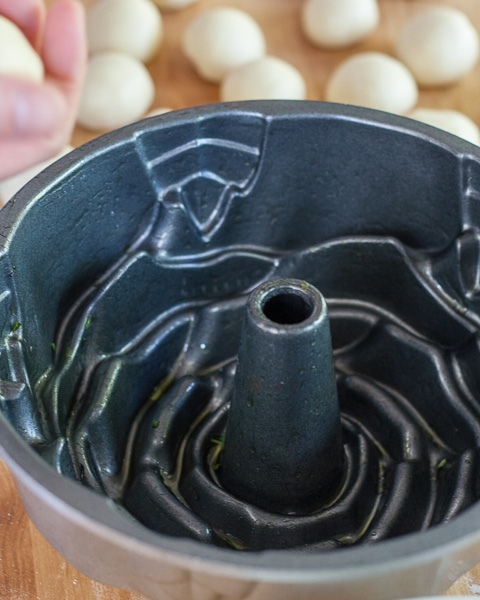 Then the weather turned cold. After a single day of polar fleece and hot tea, we started looking for an HVAC specialist.
No one, it turns out, would repair our heater. Apparently these old furnaces cause the lath and plaster walls to burst spontaneously into flame, or something like that. One repair guy described removing a furnace in a similar house where the wall was so charred from within that it literally fell apart in his hands.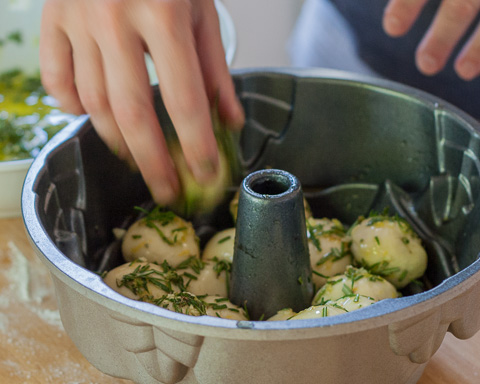 So much for reduce, re-use, repair, not to mention any hope of saving money: this project was going to be all or nothing.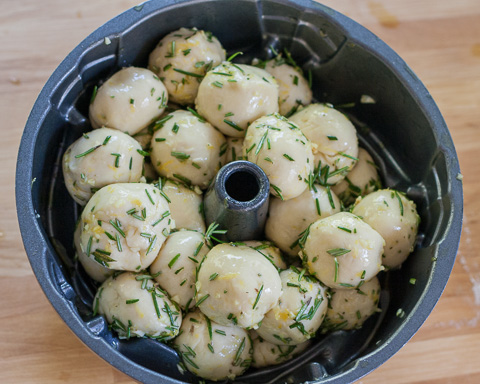 Within two days of receiving a reasonable bid from a furnace installer who lives down the street, we had central heating and a fancy Nest Thermostat
that learns our habits and anticipates our heating needs.
My gadget-loving husband tried to convince me that this high-tech contraption would save us money, but when he explained that I could control our home's temperature with my cell phone, he had me hooked. I can now turn up the heat without leaving the cozy comfort of my bed, and this means that I can dispense with the serious pep talk required to drag myself out from under the covers when the heater hasn't turned on yet. It's nice, too, that I can turn off the heater if I unexpectedly grab a cup of tea with a friend after dropping my kids off at school. It helps me feel like I'm doing my part to slow global climate change.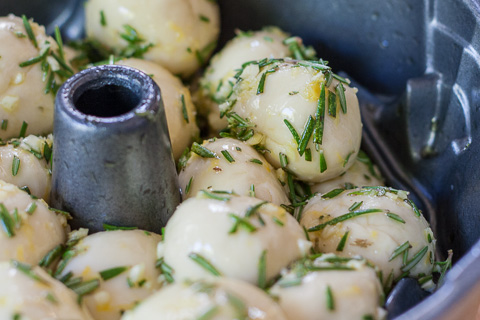 Thankfully, we can now dispense with donning multiple layers of polar fleece inside the house. In addition to increased interior temperatures and decreased savings, the sudden cold snap also brought us rosemary-lemon monkey bread.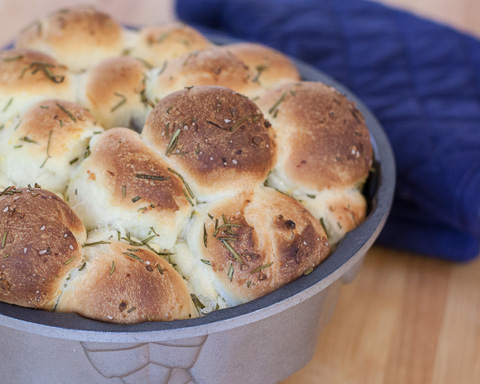 This savory pull-apart bread warms the fingers while its rosemary, lemon, and garlic flavors invigorate the senses. I recommend baking it for a crowd; if you don't, you may well consume what amounts to an entire loaf of bread on your own. I did this myself last week with only the smallest bit of help from my daughter Eliza and our visiting friend Becca. I meant for us to eat the bread with dinner, but my husband got home late and, well, it seemed a shame not to eat it right out of the oven.
Eliza, who helped create this comforting bread, felt especially excited to pluck a warm, tender finger-full from the pretty bundt-shaped loaf. I'd embraced her suggestion of adding lemon zest to the recipe, a brilliant contribution which adds brightness to the bread's savory personality. In addition to shaping the recipe, my eager eight-year-old helped make dough balls, roll them in the rosemary-oil mixture, and then plop them into our rose-shaped bundt pan.
Even though the weather has turned summery once again — my kids trick-or-treated this year without sweaters, let alone winter coats — we're prepared for the cold days that will surely return. When the mercury falls, we'll (via cell phone, of course) crank up our new energy-efficient heater and eat monkey bread, unhindered by the restraint imposed by so many layers of polar fleece.
Rosemary-Lemon Monkey Bread
Bread Dough
3 tablespoons warm water
2 1/4 teaspoons active dry yeast
pinch sugar
5 tablespoons butter
1 cup milk or buttermilk
2 tablespoons honey
1 teaspoon salt
1 large egg
3 1/2 to 4 cups unbleached all-purpose flour
Oil Coating
1/3 cup olive oil
1/4 cup plus 2 tablespoons coarsely chopped rosemary
zest from 1 large lemon
3 garlic cloves, minced
1/2 teaspoon salt
To make the dough, add water to the bowl of a standing electric mixer. Scatter yeast and a pinch of sugar over the water's surface. Stir to combine. Let stand until bubbly, about 5 minutes.
Meanwhile, melt butter in a small saucepan over medium heat. Remove from heat and add milk (or buttermilk), honey, and salt. Stir to combine. Add egg and mix well.
Add contents of the saucepan to the yeast mixture along with 2 cups of the flour. Beat with the paddle attachment until combined. Add remaining flour, about a half a cup at a time, until a smooth but sticky dough forms. Switch to the dough hook and knead for 3 to 5 minutes. Scrape the dough into a greased bowl, flipping it to coat the entire surface with oil. Cover with plastic wrap and let rise until doubled in size, about 1 to 2 hours.
To prepare the oil mixture, combine olive oil, rosemary, lemon zest, garlic, and salt in a shallow bowl. Set aside.
To assemble, lightly brush the inside of an 8-inch tube or bundt-style pan with the oil mixture. Turn out the dough onto a flour-dusted surface and divide it into 36 pieces of roughly the same size. Working a few at a time, roll each piece of dough into a small ball. Dip the rounds into the oil mixture, coating them completely before placing them in the pan.
If you have time, let the dough rise for 15 to 20 minutes; if you're in a hurry, putting it in the oven it immediately works out just fine. Bake in an oven preheated to 375° F until golden brown on top, about 35 minutes. Let cool for several minutes in the pan before inverting onto a platter. Serve immediately.
Some of the links in this post are affiliate links. If you click through and make a purchase, I earn a small commission for my referral at no additional cost to you. Thank you for supporting Flour Arrangements.
PIN IT FOR LATER